Houston was a relatively affordable city before Hurricane Harvey. The average rent for a one-bedroom apartment was in the low-$800s, putting it among the least expensive cities to live, according to Apartment List. Not only is Houston's average rent well below that of cities of similar population sizes, like Philadelphia and Chicago, but it also was the largest city to see rent prices drop between this year and last.
"Our region's abundant available land, which has been opened up for development by our freeways, has helped keep the region affordable," said Houston Mayor Sylvester Turner in his State of Mobility speech last year. "This affordability is important for the region's competitiveness and our quality of life."
It was good while it lasted. Those same developments and freeways are what also paved the way for Houston's unprecedented flooding from Harvey. They also set Houston's most socially and financially vulnerable families up for an uneven or redlined recovery, especially given that rents will likely no longer be affordable for many after this storm.
Writes Francis Monfort for Mortgage Professional America:
Prior to Harvey, the city had abundant affordable housing along with an unzoned metropolitan area covering about 8,800 square miles. Houston saw its population grow 10 percent between April 2010 and July 2016 as the city attracted newcomers with cheap housing, solid growth, and abundant jobs.

Homeowners in flooded areas must now move, while those whose homes were not affected now have desirable property. The resulting shortage is expected to drive prices and rents higher, with damaged homes being acquired by out-of-state investors who plan to repair and sell or rent the homes, Bloomberg reported.
A little less than half of Houston's population were renters (45 percent) before the storm, and many of Houston's densest renter-occupied neighborhoods got some of the steepest flooding, according to the Kinder Institute's Houston Community Data Connections. And, despite the city's reputation for affordability, the National Low Income Housing Coalition still lists Houston as one of the major metropolitan areas with the lowest availability of rental homes for families of extremely low income—families living below federal poverty levels.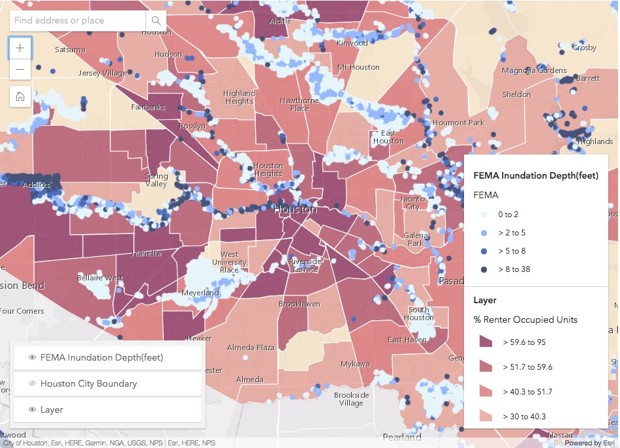 That Houston will need affordable housing is a given, then. The question, though, is where Houston will be willing to place it. As it stands, Houston was already one of the most economically segregated cities in the U.S., as research from Richard Florida shows. In January, Mayor Turner received a stern letter from the U.S. Department of Housing and Urban Development for caving into racist local opposition to a subsidized housing development in an affluent neighborhood. If Houston was struggling with where to place affordable housing before Harvey, then it has its work cut out for it post-Harvey. Past experiences in U.S. cities show that NIMBYism has no chill, not even after disasters.
"We haven't earned the right to call this an affordability crisis"
New Orleans is another city that was once known for its affordability until Hurricane Katrina came in and damaged nearly four-fifths of the city's properties. Now the rent is so high that even the white gentrifiers brought to the city post-Katrina can't afford to stay there. The housing construction for the city's renters and poorest families ended up getting delayed a lot longer than it needed to be.
Tracey Ross of Policylink chalks that delay up to a variety of factors:
The Katrina recovery process largely disregarded input from communities of color; housing assistance favored homeowners over renters; leaders prioritized building the tourism industry and attracting "gentrifying entrepreneurs;" and the city directed the majority of recovery dollars to large-scale, out-of-state contractors, rather than aligning rebuilding efforts with strategies to grow jobs.
Another reason was that New Orleans had no affordable housing strategy in place to guide the city on how to prioritize subsidized housing development, where it should go, and why. And of course, NIMBYism was a major problem: Hardly anyone wanted subsidized housing in their neighborhoods—not the more affluent, whiter Uptown and Garden District neighborhoods; nor the middle-class, African-American communities in New Orleans East. White suburbs like St. Bernard Parish fought the federal government for almost a decade (and lost) to keep low-income housing out of their sight. All of these communities had subscribed to the ideas that low-income housing brought crime and lowered property values.
Such sentiments paved the way for state officials to place a moratorium on affordable housing development in New Orleans. They also helped developers make cases for keeping the poorest families out of new apartment buildings and off their mixed-income townhouse front porches. Which explains why the city currently needs to build 33,600 affordable units by 2025 to prevent more of the displacement that has been happening since Katrina.
It wasn't until 2014, when New Orleans released its comprehensive zoning ordinance plan, that the city began laying solid groundwork for how affordable housing should be developed and distributed. The following year, a collaborative called HousingNOLA released a 10-year strategy that fleshed out the comprehensive zoning plan with specific paths to increasing the city's affordable housing stock. And last year Mayor Mitch Landrieu adopted the tenets of the HousingNOLA strategy for his own affordable housing plan. The goal is to build 7,500 new affordable units by 2021 through instruments such as inclusionary zoning policies, and density bonuses for developers.
For existing properties that could just use some rehabbing, the plan calls for converting many of the single-family and shotgun-style houses around the city into below-market units—the type that mostly existed before Katrina. The plan also recommends creating a citywide rental registry to monitor the health of current properties and hold landlords accountable. The idea is the city can bring down rental prices just by increasing the supply of units based on the availability of unused properties alone.
"We haven't earned the right to call this an affordability crisis," says Andreanecia Morris, executive director of HousingNOLA. "We are not San Francisco, or Brooklyn. We have not run out of room to put people. We have plenty of space."
And yet even those plans have been slow to launch due to outside pressure from the state. When the New Orleans city council pushed through an inclusionary zoning measure earlier this year, requiring developers to set aside 12 percent of new rental units for lower income renters, the state tried to stop it. Louisiana's senate approved a bill in April that would ban cities from enacting any kind of inclusionary zoning ordinance.
The homebuilders associations and real estate lobby strongly supported this measure, as did state legislators representing suburbs around New Orleans (and, of course, some state legislators are in the real estate business). Housing advocates were able to rally support from around the state however to defeat that bill in May. Now advocates are just hoping that a new mayor, and possibly a new city council, will carry the inclusionary zoning agenda forward.
Legislators wouldn't come up with such obstacles, though, if NIMBYism and the stigma assigned to subsidized housing wasn't so strong. A report from Tulane University in 2015 showed that landlords in New Orleans' low-poverty neighborhoods have been refusing to accept Section 8 vouchers, which have forced voucher holders to remain in higher poverty neighborhoods, reinforcing racial and class segregation. Myths about subsidized tenants include that they have high turnover rates, pay their rent late, decrease property values, and bring crime to neighborhoods. All of these beliefs have been largely debunked.
"I think the number one threat to affordable housing is the fact that systemic racism and classism still allow us to make distinctions between each other, to our own detriment," says Morris. "We'd be much further along with this issue if I didn't have to spend so much time convincing people otherwise."
When looking at New Orleans' music, particularly hip hop and bounce, there's a consistent message of pride in Section 8 and public housing life and resistance to the criminalization of those living that life. Same case could be made in Texas, where rap groups like The Geto Boys and UGK reclassified their historically segregated neighborhoods in 5th Ward Houston and Port Arthur into places that should be represented and honored. It's almost as if these songs are a direct response to the racism and respectability politics that would rather shame them out of existence.
Houston has no definition for affordable housing    
"Crime in the area will go up. Do you remember how bad the crime was after Katrina? Regardless of how charitable we would like to be, the reality is that in the lower income areas of Houston the crime is higher. Bringing them here will only bring down this area. …"
This was a comment from a resident of the Galleria district, a fairly affluent neighborhood that's roughly 87 percent white, where the Houston Housing Authority planned to build federally subsidized housing. The comment was quoted in a  letter of findings from the U.S. Department of Housing and Urban Development to Houston Mayor Sylvester Turner explaining that the city was out of compliance with the Civil Rights Act.
Only a portion of the 233 units slated for the project, called Fountainview Drive, would have gone to low-income renters. However, 78 percent of the people on the housing authority's waiting list, who were eligible to move into Fountainview, are African American, and 19 percent of them are Latino.
Galleria residents have been fighting against the location of this building since it was announced—they even have their own website: Stop Fountainview Project. According to its members, building the subsidized housing development would burden an elementary school close to the proposed site and increase traffic. Their mobilization was enough that they convinced Houston's Mayor Turner to reject the plan last year, arguing that the costs to build it were too extravagant.
HUD rejected the argument— "First, no city funds were involved in the proposed project," reads a letter from the housing department sent to the mayor in January. That wasn't all, though:
Second, cost is not regularly considered for [low income housing tax credit] resolutions. Third, projects with similar costs have been approved by the City. Fourth, facts demonstrate that the Mayor's decision was based in part on racially motivated local opposition. Finally, the City has an established pattern of failing to site or support affordable housing projects in predominately white neighborhoods.
It's fair to note that HUD's interest in having this low-income housing project placed in a white, affluent neighborhood was also somewhat racially motivated—but to fix a problem: The majority of low-income projects had historically been concentrated in Houston's poorest and most racially segregated neighborhoods, and HUD has a legal mandate to help desegregate America.
Turner still opposed, though, telling the New York Times, "I don't think the right message to be sending to kids in low-income families is that the only way they can succeed is that they have to move into affluent communities to do that," he said.
The alternative to that is telling kids in low-income families that the only places they can live are those where other financially distressed families live—and that are prone to flooding. The Houston Chronicle reported last year that there are at least eight federally subsidized housing projects built in the city's 100-year floodplain. Much of the city's historically black Fifth Ward flooded during Harvey.
Houston has no citywide strategy for affordable housing—the city didn't even have a definition for affordable housing before this summer and has mismanaged millions of dollars purposed for low-income housing, as a Houston Chronicle investigation exposed this year. Meanwhile, racial NIMBYism hovers in the city's air like mold and spores from subsided waters. Housing costs will spike for everyone in the city, erasing the reputation for affordability it once coveted. When that happens, some Houstonians might find themselves in the same position as those they kept out of their neighborhoods before the storm.