Locally sourced food, it seems, is pervasive these days—especially in cities. Once only available at a farmers' market one morning a week in front of city hall, it's now on offer at most urban supermarkets, many bodegas and corner stores, on converted buses driven deep into neighborhoods, and even delivered straight to the doorstep. Now that Amazon has acquired Whole Foods, some are speculating that drones will bring us our fresh produce in the not-too-distant future.
But don't count out the traditional farmers' market just yet. These aren't the fusty, American Gothic-like experiences of your parents and grandparents. Farmers' markets, especially the ones in cities, are adapting to the times, getting smart about data and technology, catering to new customer bases, and offering lots more than just food.
This phenomenon is not only improving the diets of American city-dwellers, it's bridging cultural and political gaps that have widened in recent years, says Darlene Wolnik, a farmers' market consultant and senior researcher with the Farmer's Market Coalition.
"The only place where rural and urban really meet are at urban farmers' markets," Wolnik says. "In the era we're in, that's provocative."
New markets continue to open
Despite the proliferation of local and regional food, the number of farmers' markets is still rising year over year. In 1994, there were fewer than 2,000 markets in the United States—and mostly outside cities. Nationwide, though the rate of growth has slowed in the last decade, the markets still did $711 million in sales in 2015. Nationally, more than 8,700 farmers' markets are currently registered with United States Department of Agriculture, and many of the newer markets are in cities, exurbs, and suburbs.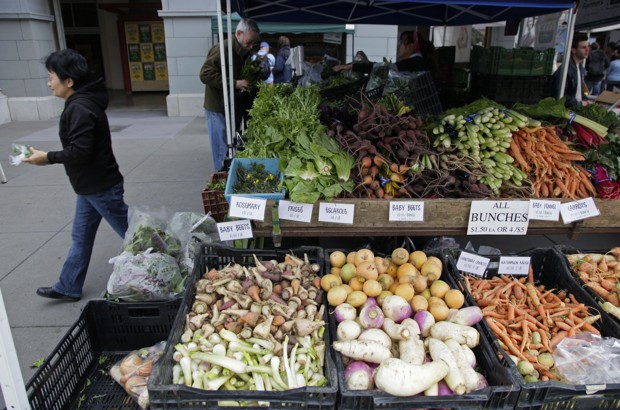 In some cases, the growth has been unsustainable. In Massachusetts, where the number of markets has tripled over the last decade to nearly 300 statewide, the customer base has failed to keep pace. The Boston Globe reported that some farmers at the Copley Square market—one of the city's biggest—see fewer sales than they used to, because of lower foot traffic. Folks don't need to pick up a bag of kale or a dozen eggs outside their office before jumping on the subway to go home—they probably have a market in their neighborhood.
Farmers grapple with the model
Markets aren't necessary a terribly efficient use of a farmer's time. Growers have to pack up loads of fruits, vegetables, and flowers in a truck, drive from their fields to a city square—sometimes more than 50 miles away—and sit there for hours waiting for customers to come to them. All this costs the farmer in paying labor, lost time in the fields, fuel, and spoiled inventory.
But not everyone has given up on a model that still works for many farmers—especially those just starting out. Jennifer Hashley, a farmer who directs the New Entry Sustainable Farming Project out of Tufts' Friedman School of Nutrition, says that farmers' markets are a great place for beginning farmers to hone their businesses, make mistakes, streamline production, and explore customer demands. Still, direct-to-consumer food markets can be a "rat race," she says, one she'll often encourage young farmers to leave in favor of wholesale accounts and selling directly to institutions like schools and hospitals.
"We'll always encourage people to use [the farmers' market] as a trial," she says, "and then pretty quickly encourage them to look at what makes more economic sense."
Appealing to new customers
Still, some markets are seeing huge upticks in both foot traffic and profits, and analysts say that's because of a concerted effort to open up local food markets to traditionally underserved populations.
For instance, markets are no longer reserved only for privileged, middle-class, largely white shoppers. Programs rolling out across the nation are attracting new low-income customers by allowing them to extend the value of government assistance funds used on fresh food. In Massachusetts, a three-year farmers' market pilot called Healthy Incentives Program matches, dollar for dollar, the amount that SNAP recipients spend on produce, up to $80 a month. Since it launched across the Commonwealth earlier this year, there have been long lines and record-breaking sales—much to the delight of producers and market managers. By August 28, shoppers had purchased $1 million with SNAP at farmers' markets in Massachusetts, compared to $470,000 in all of 2016, according to the Massachusetts Department of Transitional Assistance, which administers the program.
Similar incentive programs are being piloted at the local and state level in many other places across the country, such as Maine Harvest Bucks and Double Up Food Bucks Colorado, Wolnik says. Incentives, she says, encourage people who typically buy their food elsewhere—like supermarkets or bodegas—to give farmers' markets a chance.
"The idea of incentives and farmers' markets go hand-in-hand: What farmers' markets do in the modern world is incentivize behavior change," she adds. "The idea of all the incentives was to create a regular return shopper."
At less than five percent of overall food sales, farmers' markets still comprise a miniscule piece of the pie.
"In the past, we've thought people will find us because they're looking for local food, and they want to hear the stories of local food," Wolnik says. "Now, we have to fight for attention."
She adds that more of the markets with which she consults are collecting data on precisely who's shopping at the farmers' markets—and who's not—around which they can shape their marketing strategies. For instance, after learning from a focus group that a separate information tent for SNAP recipients felt stigmatizing to low-income shoppers and might turn some away from the market, market managers in Boulder County, Colorado, combined the general information tent and the SNAP tent and hired bilingual staffers.
More convenience, more options
Expect to see farmers selling fresh food in more places with heavy foot traffic—like health centers and subway stations—says Sibella Kraus, director of Sustainable Agriculture Education (SAGE) in Berkeley, California, an organization that consults with cities on how to connect cities with food grown regionally. And instead of selling one or two things, these markets will offer more products, and even take the extra step to turn ingredients into ready-to-eat foods—in turn putting more of the total share of a customer's food dollar in the farmer's pocket.
"I heard of a market in Harlem, where for every yam coming in from upstate there was a pie being sold," Kraus adds. "There are value-added food businesses being spun off, which is something that helps farmers and adds another piece of enterprise."
Plus, many markets seem to be adapting to the communities in which they find themselves, adjusting to the schedules and cultures of their customers. In a community with many blue-collar residents who work weekends, a Saturday morning market doesn't make a lot of sense, for instance. In East Boston, for instance, market managers found that the time that works best for the neighborhood's working-class immigrants from Central America and the Middle East is Wednesday afternoon. In immigrant-heavy communities like East Boston, farmers' markets that only sell foods grown regionally may not meet all shoppers' cultural needs, as several studies have pointed out. Still, "an extraordinary market manager" can help "bring in a diversity of products and maintain a crowd," Hashley says, through savvy scheduling, knowing which vendors to invite, and selecting games and music that appeal to shoppers.
Selling community
Almost everybody says the advantage farmers' markets will always hold over supermarkets, delivery services, and even community-supported agriculture (CSA) shares is the ability to build community and foster interaction between farmers and consumers, consumers and their food, and consumers from different backgrounds.
"We need to rebuild all of our community institutions and get back to what matters in some ways," Hashley says. "People are really struggling with that lack of community cohesion in their lives, and the farmers' market is bringing that back."
Adds Jeff Cole, Executive Director of Massachusetts Farmers Markets Association: "When you want to smell a peach, you can't do that through Amazon."
CORRECTION: This story has been updated to correct the name of the Northeast Sustainable Farming Initiative.