What does a Category 5 hurricane like Irma, now thrashing over the Virgin Islands, do to a house? Look no further than this short-but-mind-boggling animation of the various levels of destruction hurricane-strength winds can inflict:
As you can see, a Category 2 on the Saffir–Simpson wind scale—say, around 100 mph—can rip off parts of roofs and siding and, though not pictured, push over shallow-rooted trees and cause widespread blackouts for days. A Category 5, meanwhile, can nearly obliterate framed houses, smash trees to the ground like wet matches, and create uninhabitable neighborhoods that remain powerless for months. (The electric company in Puerto Rico has already warned residents about possible months-long outages.)
True, there are some criticisms to be had with this simulation, which was produced as an educational tool by the University Corporation for Atmospheric Research's COMET program. Modern houses built to code should withstand gusts a little bit better, and the first victims of hurricane winds are typically trees, not roofs.
Still, it's a good visualization of why people should take storms like Irma seriously, particularly in dense areas. Florida checks that box—last year, the U.S. Census reported the state saw the nation's second-largest population boom (right behind Texas).
The latest forecast from the Miami branch of the National Weather Service says that by "Friday night, Major Hurricane Irma will be approaching South Florida. At this time, NHC is forecasting Irma to move near or possibly over South Florida as a Category 4 hurricane." Before that, Hurricane Irma, which now has maximum sustained winds of 185 mph, is expected to keep moving westward and could swipe just north of Puerto Rico today and the Dominican Republic on Thursday. Aside from punishing winds, it's also carrying a serious storm-surge threat, with "large and destructive waves" up to five feet high along the northern Dominican Republic coast and 20 feet on the southeastern Bahamas, according to the National Hurricane Center.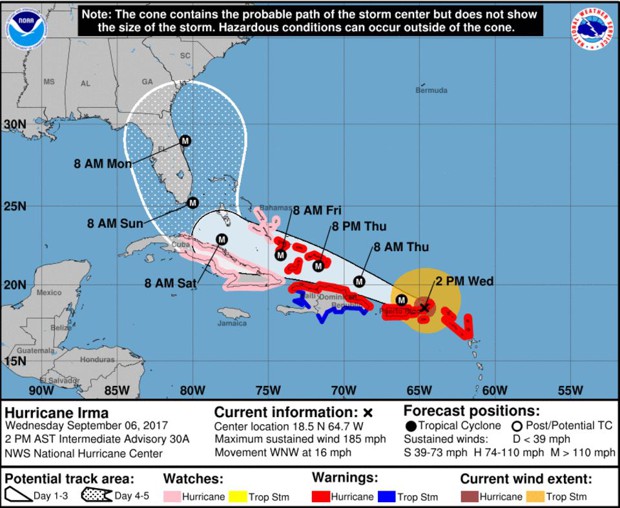 Since any talk about storms these days can't omit a climate element, it should be noted that the interaction between the warming atmosphere and hurricanes still appears complicated. Nevertheless, many scientists believe global warming could make hurricane activity worse. Here's a statement released today by Anders Levermann, a scientist at Columbia University and Germany's Potsdam Institute for Climate Impact Research:
"Hurricane Irma just entered the top 10 of the strongest Atlantic cyclones on record—we can only hope it will not make landfall in Cuba, the Dominican Republic, or densely populated Florida. Even I as a climate scientist am startled to see another potentially devastating storm in this region so shortly after Harvey. Unfortunately, the physics are very clear: Hurricanes get their destructive energy from ocean heat, and currently water surface temperatures in this region are very high. Greenhouse gas emissions from burning coal, oil, and gas raise our planet's temperatures and provide the energy for ever stronger tropical storms. So climate change is not causing these storms, but it can worsen their impacts. The question will also be how the U.S. government will react if it has to handle two natural disasters—at the same time."