If you were driving around Seattle on the weekend of August 18th, you would've run across an orange cone as big as Mt. Rainier, a Jack and the Beanstalk-sized cannabis plant rising from Puget Sound, and the giant, disembodied head of Tom Petty floating on the horizon.
At least that's according to a traffic map published by the Washington State Department of Transportation that looks pasted together from stickers and finger paint. The delightful depiction was made by Jimmy, the precocious 5-year-old son of department engineer … nah, it was actually drawn by Ally Barrera, a WSDOT spokeswoman and perhaps the most accomplished Microsoft Paint artiste in the halls of municipal government.
The origin of this and other official Washington maps scrawled in Microsoft Paint—a Windows fixture for more than three decades that, despite rumors, is not going away—dates to one hectic traffic weekend in June 2016. "Not only was it Seattle Pride, but the Mariners and Sounders had home games and the President was flying in for a quick visit," says Barrera, who works at a WSDOT office in Shoreline. "We're always trying to think of new and creative ways to get our traffic message across to our drivers, and one of our other communicators, Andrea, decided to do a quick doodle in Snipping Tool."
Here is that proto-map in all its scribbled glory: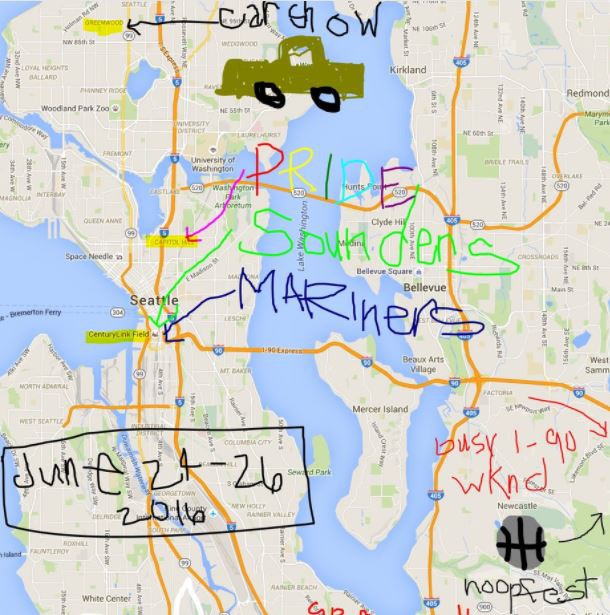 The drawing racked up a surprising amount of attention on Twitter, with the site's normally embittered users deeming it a "beautiful piece of art" that "brings a tear to my eye." So when the roads got busy again this summer due to big events and major construction, the agency decided to tap somebody to revive the concept.
Barrera was the natural choice. "I do not have an artistic background whatsoever," she says. "In all honesty, art was a class I really struggled in growing up."
The painter's process begins each week with a scan of all the things that could clog up the roads—lane closures, sports events, a Kings of Leon concert, Seattle Hempfest. She then takes a base map and plasters it full of clip art using a free photo editor called PicMonkey. "I hand-write the closure and event information in Microsoft Paint," she says, "and if I have the time or desire, I'll throw in a little doodle."
It's in these doodles that Barrera's craftsmanship shines. This slice of folk art, for example, could be hung in Baltimore's American Visionary Art Museum: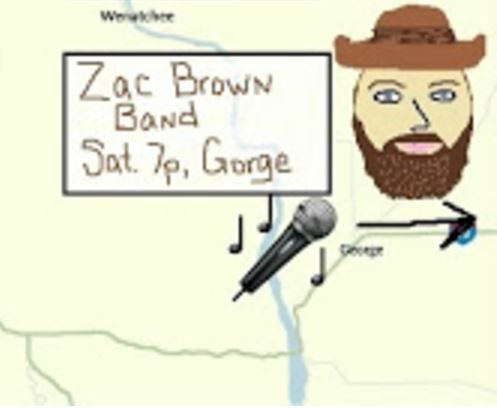 As you might've gleaned, the technological limitations of these programs make realism difficult. The "cannabis" shown at top, meant to represent Hempfest, doesn't look quite right. "Since there isn't an official cannabis emoji, I used the 'herb' emoji because it had a strong resemblance," Barrera explains. "I would have loved to use a potato-chips emoji if one existed."
She's fine with such inconsistencies, as these are not meant to be perfect creations but infotainment for drivers. "Not only does it show them how busy the roads will get, but it does it in a fun way," she says. "Some of them even look forward to the unveiling of the latest map, and ask us when we're going to post it."
Here are a couple more picks from Barrera's oeuvre, starting with last weekend's pine-and-pig lineup: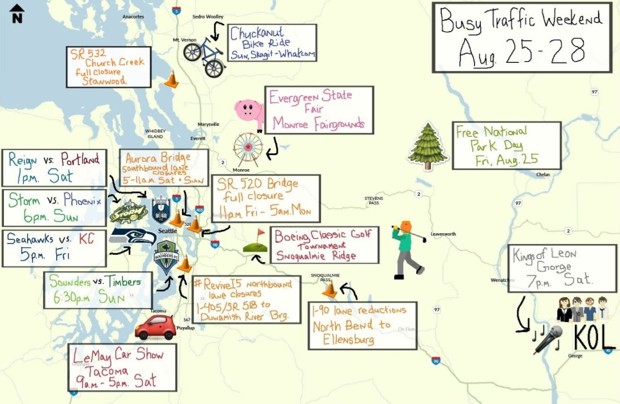 She sometimes includes a helpful weather forecast: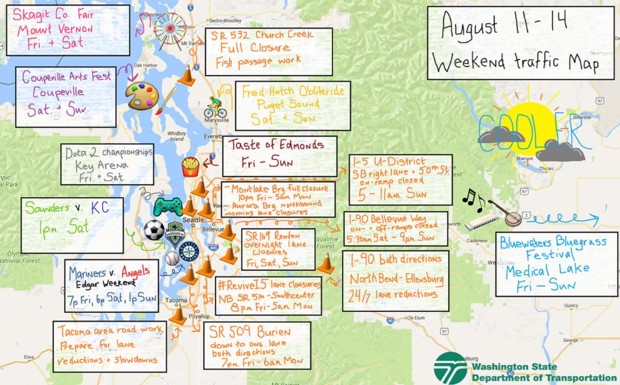 Barrera will sketch more maps through ongoing construction projects and the upcoming football season. "As long as the public continues to like them, and they're getting the vital traffic information they need, I'll keep doing them," she says. But she has no delusions about a second career as painter—after all, she is her own harshest critic.
"I think people like the idea that we're not just a faceless agency, but that WSDOT is full of real, genuine people," Barrera says. "We are just not that great at art."