For each restaurant that closes, three new ones open up. At least, that appears to be the case in Little Rock, Arkansas.
In the city's downtown, decades-old vacant buildings have been springing back to life amid new yoga studios and artisanal cheese stores. Argentinian eateries, Mexican grills, and trendy fast-casual spots have have also followed, bringing with them a flood of restaurant jobs.
That fact evokes pride among city and business leaders, who point out the importance of food to the southern city's identity. "We used to be considered a secret foodie city," says Jay Chesshir, president of the Little Rock Chamber of Commerce. "Now, we're not such a secret."
But the growth in this sector is also something of a cautionary tale, some economists say. For one, restaurant jobs don't pay particularly well, potentially exacerbating the inequality—in particular, racial inequality—in the region. Second, they don't necessarily have a long shelf life. "In the bigger picture, this [restaurant job growth] reflects this slide into a consumption economy in the U.S.," says Mark Muro, senior policy director at the Metropolitan Policy Program at the Brookings Institution. "I don't think they're the answer to the broader social issues that we've all been talking about in this country."
***
Three months ago, Kendra Lewis got a job as a waitress at Mexico Chiquito, a Tex-Mex chain restaurant in Little Rock. Lewis is 30 years old, and went to college with dreams of opening a hair salon one day. But when she graduated from the Arkansas School of Barbering and Hair Design in 2015, she didn't have the money to get a license. To make ends meet, she started working in the restaurant industry. So far, it hasn't been a pleasant journey.
"I make $2-something an hour, and it's not enough to feed my family," she says. "Some days, it's slow—and you never know how much you're going to take home at the end of the day."
This is one of the big issues with restaurant jobs: By and large, they don't pay all that well. According to data from EMSI, a labor market analytics firm, the average wage for the restaurant industry in Little Rock is $15,500 a year. That's just around 22 percent of what the average worker could make in the health care industry, the sector with the second-highest number of jobs between 2010 and 2016. Most of the new jobs in this metro are in "limited service restaurants"—fast food and fast-casual places where you order, pay, and then either sit at a table to eat or take the food to go. The average wages just within this corner of the restaurant industry are only around $13,600 a year.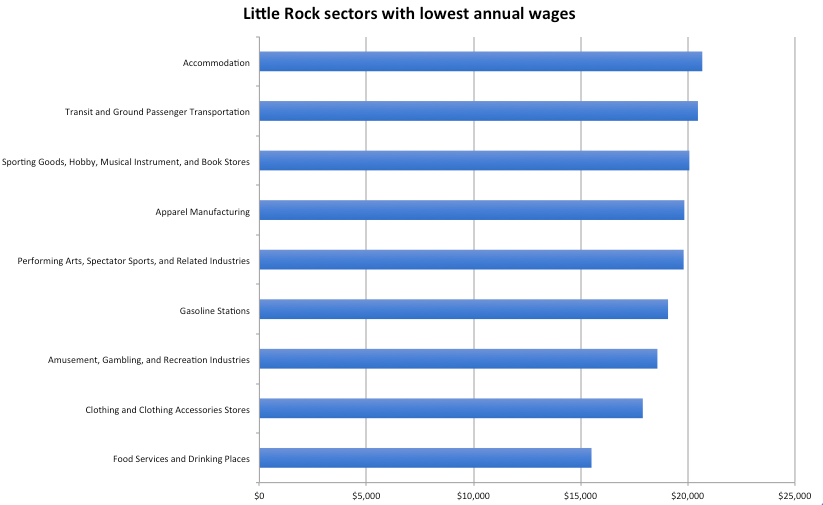 And who's likely to do these low-paying jobs? According to EMSI's 2016 snapshot of the industry in the Little Rock Metro, African Americans and Hispanics are slightly overrepresented among restaurant workers in the Little Rock metro. They made up 26.6 percent and 6.8 percent respectively, compared to their share of the metro's population (22.6 and 4.9 respectively).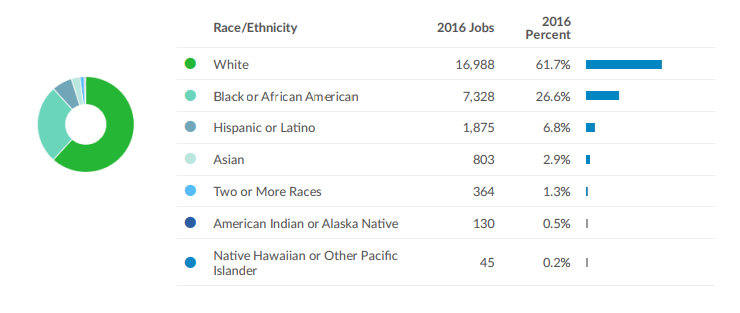 Of course, within the restaurant industry, too, there's plenty of wage variation. But research by Restaurant Opportunities Centers United (ROC), an organization advocating for low-wage restaurant workers, shows that workers of color tend to get the short end of the stick—they're often relegated to low-wage fast food jobs, and in sit-down restaurants, to back-of-the-house positions. The reasons for this can be structural: Latino and black workers may not possess the skills necessary for the better-paying positions. This trend may also have to do with discrimination, the authors of the research say. (For Little Rock, researchers found that African American workers tended to make up the majority of cooks, dishwashers, and hosts; white ones worked in the majority of bartending, serving, delivering, and fast food positions.)
Michael Pakko, chief economist for the University of Arkansas at Little Rock's Institute for Economic Advancement, sees the brouhaha about service sector jobs having low wages as a bit of an overstatement: "It's misleading to jump to the conclusion that these jobs make everyone worse off."
But even though the cost of living in Little Rock is lower than in cities in California and New York, the living wage—estimated by MIT—is $10.18. Workers like Lewis don't make enough even with tips to cover their own needs—let alone their kids'. Even if she wanted to invest in a more profitable set of skills, it's prohibitive, especially with the long work hours she keeps. "When I took a double shift the other day, I worked from 11 in the morning to 11 at night; I didn't get a break all day," she says. "It's hell—excuse my French." That's why she is among fast-food workers in Little Rock agitating for a higher minimum wage.
Mayor Mark Stodola has made strides connecting folks in high-poverty neighborhoods with jobs: he has set up reentry programs to help formerly incarcerated individuals get jobs, including in the restaurant industry. And he mentions that the city has a variety of training and certification programs, including in the culinary arts, through its technical colleges. But when it comes to raising the minimum wage, which is currently at $8.50 per hour at the moment, Stodola says his hands are tied. "Our minimum wage is set by the state," he says. "Good workers get more than that—at least the restaurant that I'm familiar with." (A state bill that sought to limit localities from raising the minimum wage failed this year.)
That's a primary difference between manufacturing jobs of the past and the current service sector jobs: the former used to pay well and come with bargaining power. In fact, in the late-1990s, even Little Rock's restauranteurs were keen to provide higher wages and benefits for their employees to reduce turnover and boost productivity. Some academics argue there's still a business case for that, even if it comes with costs. Others in the business community, like Chesshir, are not proponents. "Unfortunately, not everyone in our economy—even though we all wish it were different—have the skill levels to begin a new position at $15-30-50 an hour," he says."Having an economy that allows for people to enter the workforce, gain knowledge, gain skill, gain experience to then work themselves into better positions, I think is healthy."
Little Rock is ultimately emblematic of U.S. metros—big and small—where service sector jobs continue to make up a larger and larger share of the labor force. On the one hand, this trend seems to signal a longterm lifestyle shift: people are eating out more, its cheerleaders say. Others raise concerns about inequality and the future of these jobs (or lack thereof): As we head full speed towards automation, are restaurant jobs even going to be around?
"On the benefit side, [restaurant jobs] are a way into the economy," Brookings' Muro tells CityLab. "But I think we're seeing that in the United States, they're becoming the main anchor of employment, and that's when it becomes more problematic."
***
For decades, Little Rock was known as the site for the ugly battle against the U.S. Supreme Court's 1957 school desegregation ruling. Then, in the 1990s, it got a chance to rebrand. Bill Clinton, then governor of Arkansas, announced his presidency at the steps of the Old State House. The new image of the city as the launchpad for the 42nd president of the U.S. stuck, in large part, because local leaders made it. They lobbied for a presidential library and center, which opened in 2004—setting into motion spurts of urban revitalization. "That literally has been the launch pad of over $3 billion worth of economic activity," Chesshir says.
Stodola has taken this progress a step further. He's overseen the makeover of Little Rock's Main Street from a blighted stretch to a trendy, mixed-use "creative corridor" that businesses are flocking to. Together with the lively River Market district, the renovated Robinson Center concert hall, and Statehouse Convention Center, the snazzy new downtown attracts around 300,000 people every year.
The city is funnelling that foot traffic towards its restaurants, and reaping the benefits: "This year, our [tax] revenue from prepared foods at restaurants is up 2.7 percent," Stodola says.
The bustling restaurant scene in the city is indicative of Little Rock's economic trajectory. Before the recession, the metro wasn't in a great place, with unemployment at the national average and housing prices growing at a glacial pace. But because it wasn't really a part of the real estate bubble, it didn't suffer as hard a blow as other metros did when the financial crisis hit. As the economy has recovered, unemployment has fallen to 3 percent—way lower than the national average.
Since 2010, job growth has really sped up. Between then and 2016, the "food and drinking places" sector made up 41 percent of new job growth in the metro, according to EMSI. In absolute numbers, more jobs sprung up during this period in Little Rock than in sectors like health care and manufacturing. Jobs with the state government, which has been the major source of employment in the area since the recession, have been leveling off, the data show. "If the rate of growth continues, [jobs in] food services will surpass those in state government," Josh Wright, director of marketing at EMSI, says.
Pakko crunched the numbers at the county level and found an even more dramatic increase: nearly half of the net job growth over the six-year period in Pulaski County, which includes Little Rock, were within this sector. To Pakko, that's indicative of another shift in the state's labor market—from widely dispersed manufacturing jobs to very concentrated, largely urban service sector jobs.
In this sense, Little Rock is also a part of a national trend. "Restaurants are the new factories," Derek Thompson recently wrote in The Atlantic. In terms of sheer numbers, job growth in the restaurant sector has now outpaced manufacturing and health care. Whether that's a good thing or not depends on whom you ask.