Dorothy has lived in northwest Cedar Rapids all her life, moving just one block west 45 years ago to her current house, in whose tidy, bright kitchen I'm sitting. The neighborhood is a comfortable one, heavy on split-level ranches and well-tended lawns peppered with ceramic jockeys, deer, and other ornaments. Though it's only a few minutes by car to downtown, there's nary a whiff of the syrupy cereal smell that emanates from the Quaker Oats factory there.
I'm listening to Dorothy and her neighbor, Lucy,* discuss the nearby affordable housing complex that is set for imminent construction despite their best efforts to block it.

"I've lost I don't know how many mailboxes," Dorothy says. "People drive too fast down the hill and they lose control and end up in my yard. It's just not a safe place for an apartment building." Dorothy's house sits on Edgewood, the same road the housing complex—Crestwood Ridge Apartments—will occupy.
The building, on a nearly two-acre tract of flat land, will have 45 units: 36 allocated for low-income residents, five for homeless families, and four for those who can pay market rate. It's a modest project when compared to the most emblematic news stories of residents opposed to new development.
Cedar Rapids, though Iowa's second-largest city, is home to only around 130,000 people. Its best-known resident is perhaps the artist Grant Wood, who in 1930 painted American Gothic, the portrait of a dour, overalls-clad farmer holding a pitchfork, with his equally dour daughter standing beside him. In popular imagination, Cedar Rapids is more cornfields, Jello casserole, and that bleak pair than the intense NIMBY debates often chronicled in San Francisco, New York City, and other places marked by skyrocketing rents and insufficient lower-income housing.
Yet last year Dorothy, Lucy, and other neighbors launched a massive operation to counter Crestwood Ridge, collecting more than 1,000 signatures.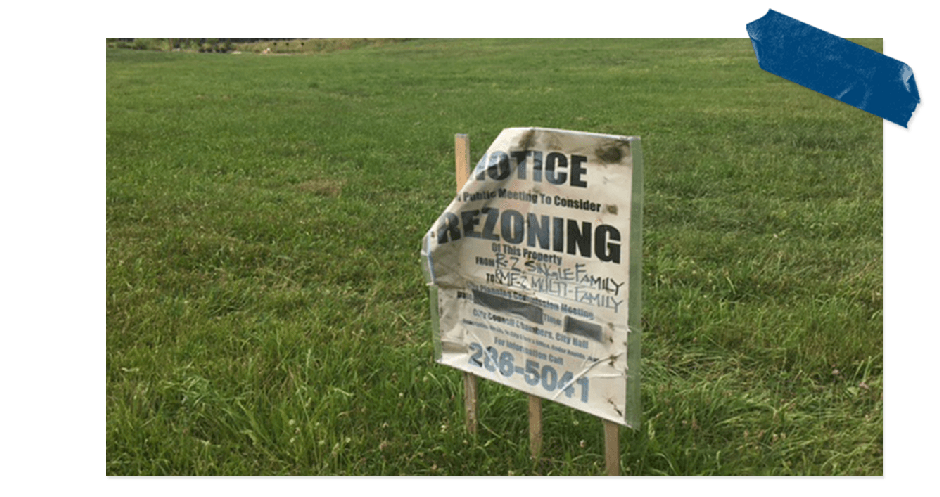 Neighbors said they didn't oppose affordable housing per se, but that they feared the burden of the construction on their area, citing issues such as an increase in traffic and car accidents, potential flooding, and a lack of walkability for incoming residents. The developer said it had selected the site because it would immerse residents in a middle-density community with access to family amenities, including a bus stop, parks, and an elementary school.
At first, it looked like NIMBYism had prevailed: The petition and complaints convinced the city planning commission to vote against the request to rezone the property at an April 2016 meeting. But a few months later, the proposal was revived, becoming a test of what it would take to defeat neighborhood concerns and develop affordable housing that was integrated into rather than segregated from low-poverty communities.
That's when the real animosity started to emerge, according to Phoebe Trepp, the director of Willis Dady, the local homeless services organization that would provide assistance at the development.
Justin Eilers, the project manager with the developer, CommonBond Communities, held a gathering in July 2016 at a local church to hear out neighbors' concerns.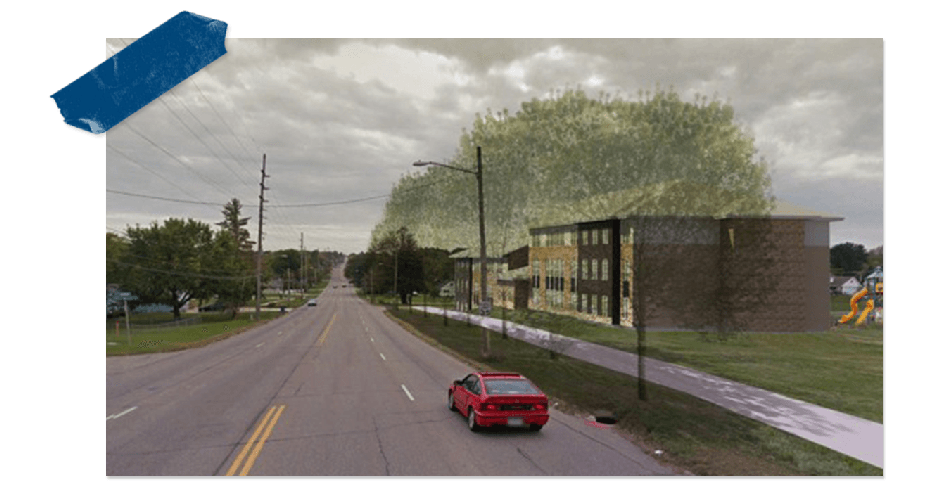 The neighbors I spoke with are adamant that their opposition to Crestwood Ridge does not have to do with the people who will live there. "We would have felt the same way if they were building luxury apartments," says Lucy.
But others at the meeting made comments to the contrary, Trepp says. "I will not live with drug dealers," Trepp recalls a woman exclaiming; later, a man addressed her with the comment, "If you like them so much, why don't you live with them?"
A woman at the July meeting also declared, referring to Crestwood Ridge children potentially entering her yard, "I don't want those little monkeys climbing up my trees."
Trepp notes the racial overtones of the comment, adding that while only about 6 percent of Cedar Rapids' population is black, around half of her clients at the homeless shelter are, which she says is likely true of the other shelters in the city. (Linn County, of which Cedar Rapids is the county seat, has about 1,500 homeless residents at any given time.)
Gary Bute, another neighbor involved in organizing the opposition, says the trees comment was taken out of context. "We attempted as neighbors to never focus on the fact that the complex was lower income," he says. Bute is particularly concerned about the number of people who will be living at Crestwood Ridge. "It's too big of a structure on too small a piece of land," he says. "They're going to cram as many people in there as possible. Maybe that's a better situation for the homeless, but is it a good situation?"
***
The transcontinental Lincoln Highway once wound through downtown Cedar Rapids. Since the highway moved just south of the city in the 1950s, Cedar Rapids' population has nearly doubled. In addition to the Quaker Oats factory, industries such as meatpacking and aerospace made their home there.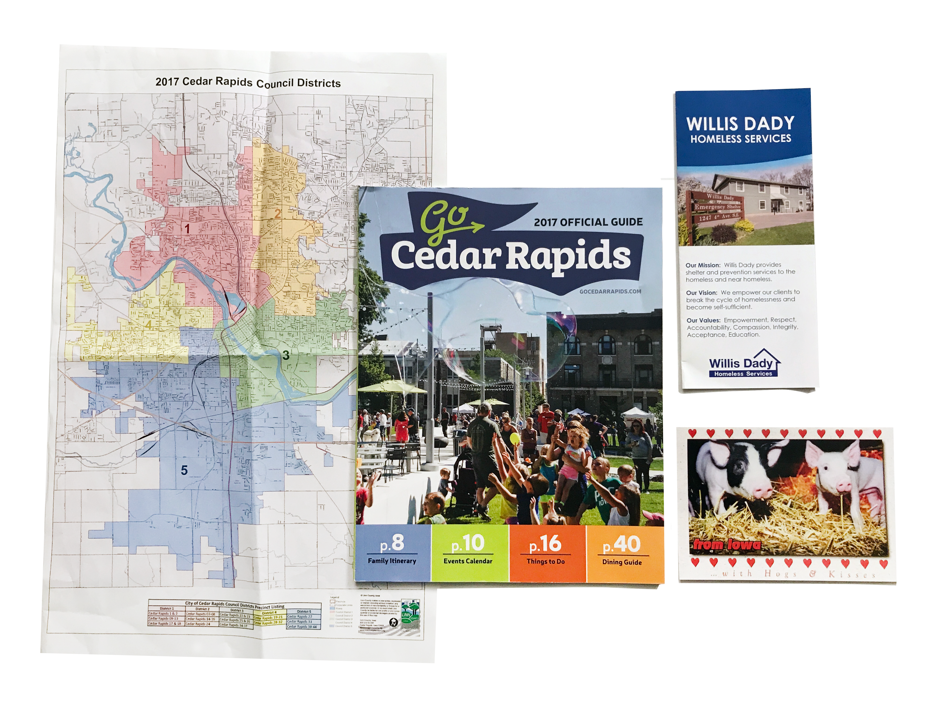 In June 2008, a mammoth flood threatened these industries and the city's residents, forcing the city to rethink its development. The waters of the Cedar River rose to their highest level in recorded history. The deluge inundated 14 percent of the city, displacing more than 18,000 people, affecting almost 5,400 homes, and damaging 310 municipal buildings, causing close to $1 billion in damage. Hospital patients were evacuated in the middle of the night, and waters reached the front door of the city's newspaper, The Gazette. Quaker Oats halted production for weeks.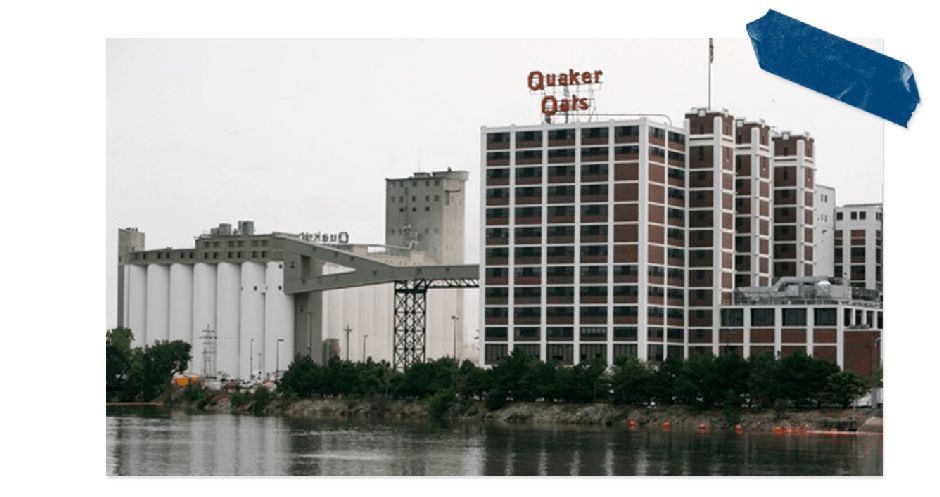 The redevelopment presented an opportunity to turn adversity into opportunity, including expanding the offerings of affordable housing, says Scott Olson, a City Council member who represents the district where Crestwood Ridge will be located. With hundreds of millions in funds from FEMA, leaders rebuilt such essentials as City Hall, a public library, and a bus transit station.
"We've constructed more than a thousand units [of affordable housing]," says Olson. Still, The Gazette reports that in Linn County, more than 10,000 households that qualify currently compete for only 1,296 affordable units.
City leaders are also interested in spreading affordable housing throughout the city, rather than clustering it in the poorer southeast quadrant. Susie Weinacht, a City Council member at large, says that city staff want "housing options available throughout the community."
Olson adds that Cedar Rapids is looking to make its neighborhoods denser through infill and more multi-family units. Justin Eilers of CommonBond says that's one reason they selected the site. The complex will feature a mix of one-, two-, and three-bedroom apartments.
Trepp says that despite the inroads made in affordable, multi-unit housing, Cedar Rapids lacks permanent housing for the chronically homeless. While Willis Dady and other agencies offer temporary shelter, Trepp says that up until now she has had no place to send people long term. "I can't wait for [Crestwood Ridge] to be there," Trepp says. "I will finally be able to direct clients and their families to a housing unit." (Willis Dady is also in the midst of a fundraising campaign to construct four permanent units for singles on its own site.)
***
Until this past spring, the chances that Crestwood Ridge would be built looked slim.
The City Council did not approve CommonBond's proposal in an October 2016 vote. Because of the opposition, the project required a supermajority of the nine voting members. With one member recusing himself because of a business interest, that meant six votes out of eight were needed. The project received five.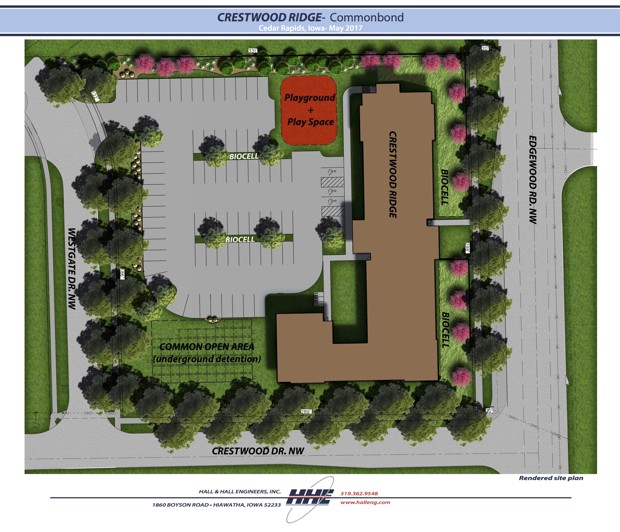 CommonBond decided to do what it could to see the project through. It submitted another proposal that included improvements such as a turn lane into the complex to slow traffic coming down the hill, sidewalks that will provide a path for children to walk to school, a playground, and an underground detention system that will collect and slowly release storm water. The sidewalks and turn lane will be under the city's purview, but CommonBond will pay for them.
The revised proposal needed approval from just one more council member. At the May 2017 vote, Scott Olson and Mayor Ron Corbett again voted against the project, but Justin Shields switched his previous "no" to a "yes."
"I think it's the right thing to do," he said at the meeting. (Shields declined to be interviewed for this article.) A month later, the Council gave the go-ahead for construction. Eilers says CommonBond will break ground this fall.
For Trepp, the neighbors, and others, the experience has been taxing. "The meetings were tough," Trepp says. "Some of the neighbors' comments were hard to hear." Lucy says the process was stressful. "I had to gather up my nerve to speak out," she says.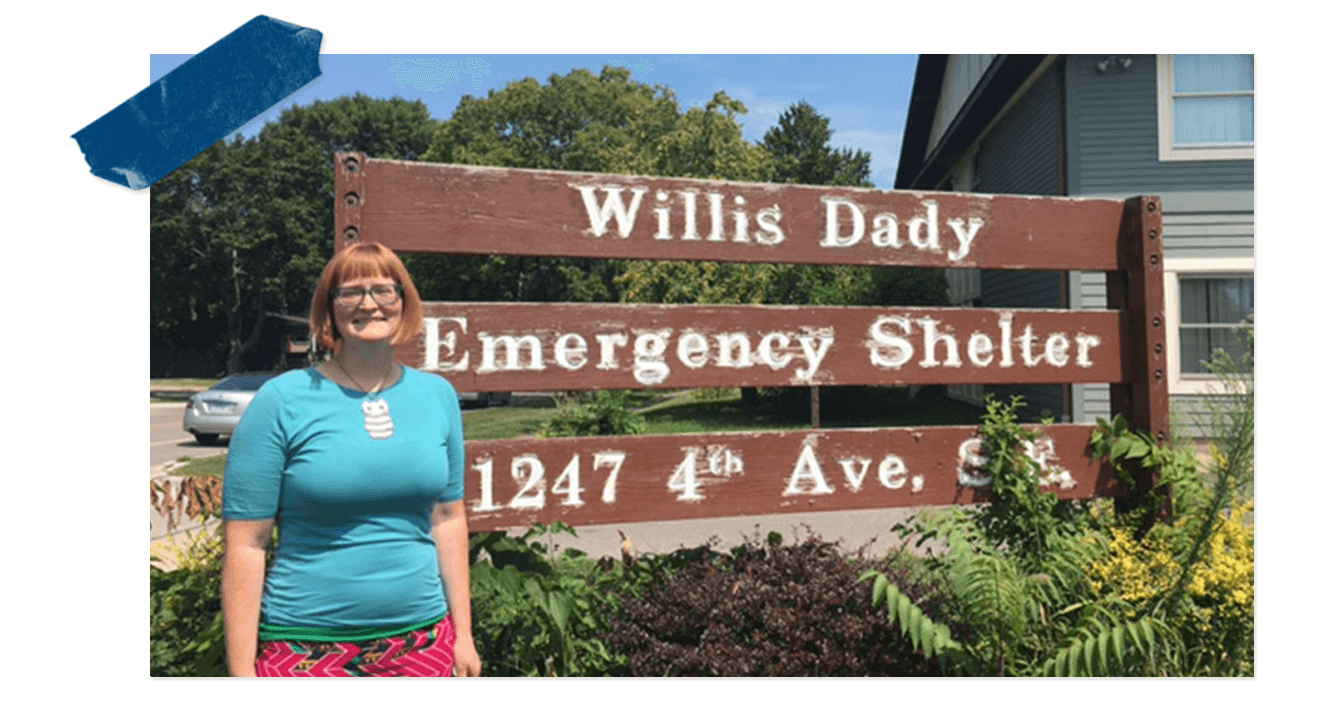 Yet Trepp says a positive outcome is that the Crestwood fight has encouraged dialogue on low-income housing and long-term apartments for the homeless—in Cedar Rapids and across the state. For instance, the Iowa Finance Authority, a state office that provides resources for affordable housing and awarded CommonBond $8 million in tax credits for Crestwood Ridge, is holding conversations in Dubuque, Des Moines, and the town of Carroll on how best to collaborate with residents who will be affected by new affordable housing and housing for the homeless.
"The push for [supportive] housing," IFA's Chief Programs Officer Carolann Jensen said in Dubuque, "has to be a grassroots effort. It has to be community driven." Part of this means making sure residents understand the tax savings they receive from such housing.
Iowa City's homeless shelter, for example, found that expenses tied to a homeless person dropped 82 percent when they moved into stable housing, because they were no longer cycling through hospitals, emergency shelters, prisons, and the like. On average, each person went from costing taxpayers almost $56,000 per year to less than $10,000 per year. Trepp adds that a mixed-use complex like Crestwood Ridge is self-sustaining, in that its homeless units and services are paid for by its rents.
Near the Crestwood site, the neighbors are still unhappy but moving toward acceptance. "I've learned to calm my feelings," says Bute. "Because it's coming whether I like it or not."
*Dorothy and Lucy are pseudonyms. The two women declined to use their real names because they felt they were misrepresented in the local press.