In 2009, Alex Dwyer was 19, two years out of high school and stuck in York, Pennsylvania. Like many of her cohort idling in the wake of the Great Recession, she was stuck in her hometown, waiting for anything to happen.
She'd grown up in the suburbs of this small city in south-central Pennsylvania. After a semester of college in Seattle and then more than a year touring with bands around the country, she'd come back—another Rust Belt returnee, full of ideas. She's seen flourishing arts scenes in cities like Asheville, North Carolina, and Pittsburgh, and she asked herself, "Why can't that happen in York?"

At the time, Dwyer was living with some friends from high school who had dropped out of arts schools in Philadelphia. "We hit this time period where they were moving back home and they were mad about it, you know? We didn't have much going on in York," Dwyer says.
They shared a rented rowhouse on the 100 block of King Street, two blocks from downtown. Bored with the city's limited cultural offerings, Dwyer and her roommates decided to create their own homegrown events—a series of monthly arts shows in her living room. "People thought we were crazy," says Dwyer. "There was nothing going on in that entire neighborhood. Most of the storefronts were vacant offices that nobody wanted to rent."
The shows were modest affairs. "We would put art on the walls, move the furniture out of our living room. We made sure everyone's bedroom was clean," she says. "It was like a meltdown every month preparing for it."
Soon, the shows started to draw hundreds of people through an evening. That attracted the attention of Dwyer's landlord, Josh Hankey.
While some landlords might see large impromptu gatherings as something to stop, Hankey saw a business opportunity. "I knew that art could create an attraction," he says. "I knew it could change the perception of a neighborhood, and I was going to help them whatever way I could."
Hankey started buying up nearby properties to redevelop them, inspired by the transformation of historic neighborhoods in Baltimore that he witnessed in the late 1990s and early 2000s, when he was in the Army stationed at Ft. Meade, Maryland. Using historic preservation tax credits and partnering with York's Redevelopment Authority, Hankey was able to buy four properties in a row on Dwyer's King Street block. He got grants to help improve sidewalks, plant trees, and install neighborhood lighting. And he tapped Dwyer, whose apartment parties had morphed into an art collective dubbed the Parliament Arts Organization, to help him find tenants: He paid her to recruit people to the neighborhood. With her help, art galleries, studios, and art supply stores were lured into the block, which soon sported its own name: Royal Square.
When I told Dwyer that Hankey had described artists as "early adopters," she snickered, "Oh, Josh makes it sound so colonial." Instead, she describes the effort to establish Royal Square as a less calculated, more improvisational process. "I never thought I'd be 'building a neighborhood,'" she says. "But I cared about the success of the people I had recruited."
Dwyer and Hankey didn't know it for a while, but they'd kicked up a teeny ember of something that lit up the block.
Using the arts as a tool of economic redevelopment is one of the oldest tricks in the book, especially for smaller, post-industrial cities hungry to replace lost manufacturing sectors. Nationwide, Americans for the Arts lists over 200 state designated cultural districts across the country. Cities from Dallas to Denver have spent millions in an effort to rebrand themselves by creating cultural districts, and the National Cultural Districts Exchange touts similar success in smaller cities with art hotspots such as the Crossroads Arts District in Kansas City, Missouri, or Gordon Square in Cleveland, Ohio.
But York's Royal Square was a little different: It sprouted up without any official encouragement from the city or a formal arts district policy from the state. Dwyer and Hankey discovered the cultural district toolkit along the way as they built the Parliament Arts Organization from the couch up. What happened next offers a demonstration of how the arts can ignite economic growth, not through direct productivity but through a multiplier effect that creates new businesses, reshapes neighborhoods, and breathes life into a whole city.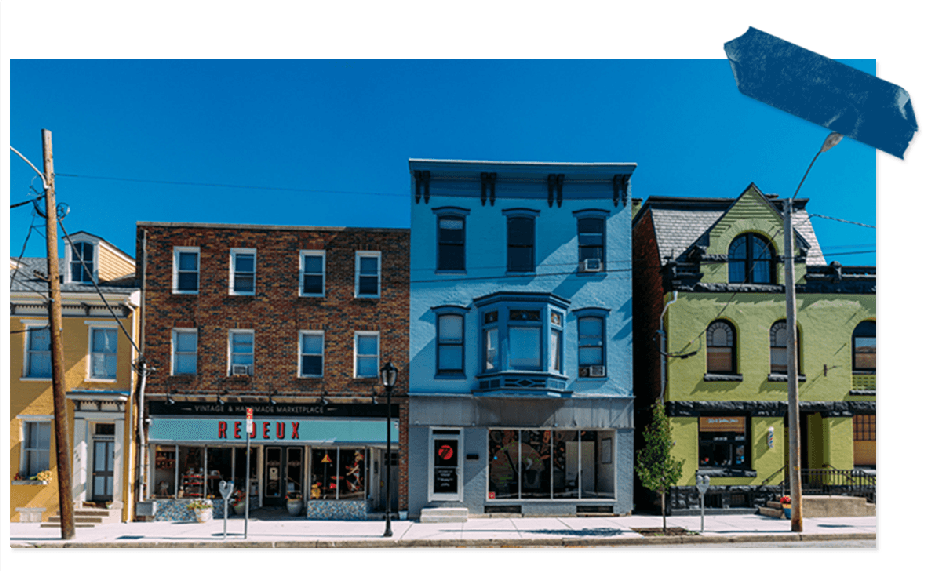 York has long known how use spectacle to draw people to town. Case in point—the Haines Shoe House, a five-story boot-shaped building built in 1948 by "Shoe Wizard" Colonel Mahlon Nathaniel Haines, when the Lincoln Highway was still the main east-west thoroughfare for tourists crossing Pennsylvania. Today, Interstate travelers going up and down I-83 know its modern equivalent, the York Barbell Man, a giant rotating weightlifter depicting local hero Bob Hoffman, the Father of World Weightlifting, atop the York Barbell factory.
The city's industrial roots run deep: Local factories are still turning out barbells and Harley Davidson motorcycles, and York was once the home of the Pullman motorcar company, makers of luxury automobiles of the pre-Model-T era. Years before the Lincoln Highway was established north of downtown York in 1913, York-made Pullmans had made the same trip from York to San Francisco and back in 1908. The trip, intended to drum up publicity, took a month. The company went bankrupt in 1917.
York's population peaked in 1950; like many smaller cities, its economic prospects dimmed after World War 2, as residents fled for the suburbs. Manufacturing plants emptied and department stores shuttered. Racial tensions accompanied the decline, an issue that haunted York into the 21st century: The tenure of two-term Mayor Charlie Robertson, who passed away this August, was cut short in 2001 when he was charged with the murder of a black motorist and put on trial for his actions as a police officer in 1969 race riots in York. (He was ultimately acquitted, but seven others were convicted.)
Recently, the population decline has reversed, as about 43,859 people live in York City today, up about 7 percent from 40,862 in 2000. A new report on postindustrial legacy cities by the Lincoln Institute of Land Policy notes that York's share of young professionals—25-to-34-year-olds with a bachelor's degree—increased by 22 percent from 2000 to 2010. But young professionals are still just 2.6 percent of the population, a far cry from Pittsburgh's 10 percent and lagging behind other mid-sized Pennsylvania cities such as Bethlehem (5.7 percent), Lancaster (4.7 percent), or Scranton (3.5 percent).
To boost those numbers, Mayor Kim Bracey has been touting York's cultural bona fides. A lifelong York native and the city's first African-American woman mayor, she's quick to remind me that artist Jeff Koons grew up here, and still spends summers on his family's nearby farm. "We may not be New York as far as galleries and studios," she says. "But when I have Jeff Koons living right up the road, I'm sorry, I got to say I can box the biggest ones."
The story of York's redevelopment is, in part, the story of its bet on artists, as Belt Magazine detailed in 2015. That work began before Dwyer threw her first living-room art show, says Bracey, with a state grant for a revitalization plan back in 2007. "We were fortunate enough to be designated the state's first 'Elm Street' [a Pennsylvania neighborhood grant]," Bracey says. "It's from that momentum continuing that Royal Square was born."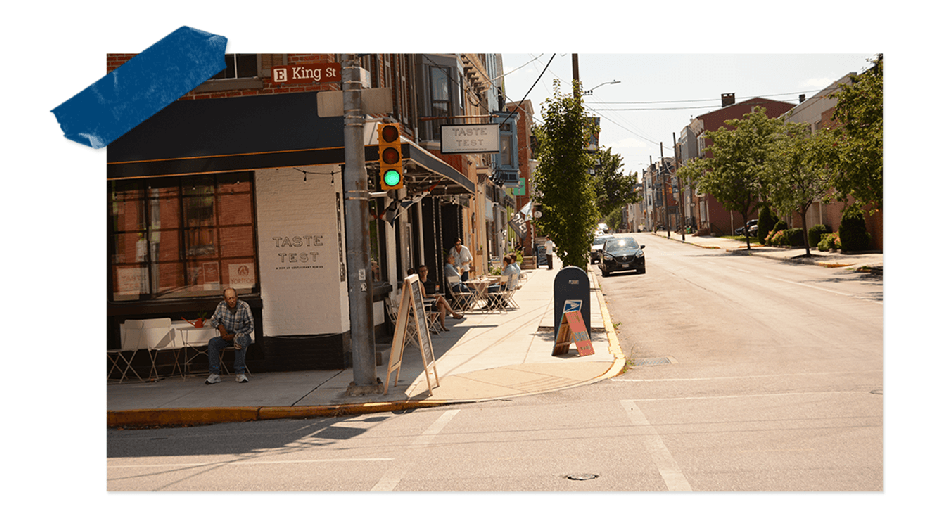 When I hop on one of the city's new bike-share bikes by the Codorus Creek's Heritage Rail Trail and roll around downtown, the progress of that effort is clear. York's tidy colonial-era downtown lies along Market Street, where brick sidewalks lined with trees pass Victorian and Classical Revival buildings and the city's historic "Colonial Complex." But before I get there, street sculptures, flags, and murals signal Beaver Street, where restaurants, boutiques, and art galleries lead to Central Market House, a nearly block-sized brick building from 1888 that now functions as a huge farmer's market during weekdays. Pennsylvania's American Planning Association just named the corridor a 2017 Great Public Street—and the crowds at the bar such as the White Rose Bar & Grill or the Holy Hound on a weekend can show you why.
On a recent First Friday, the art galleries along East King Street draw more activity to the east side of downtown. The street gets blocked off and all the doors are open. A DJ pumps out music across from a street truck selling Chinese food. Kids from the neighborhood run through a makeshift splash pad or make chalk drawings on the sidewalks. Students, parents, and retirees wind through the galleries and often find their way to a shared backyard cantina that connects the neighboring businesses to each other, as murals and gardens fill in an alley that people would have previously avoided altogether.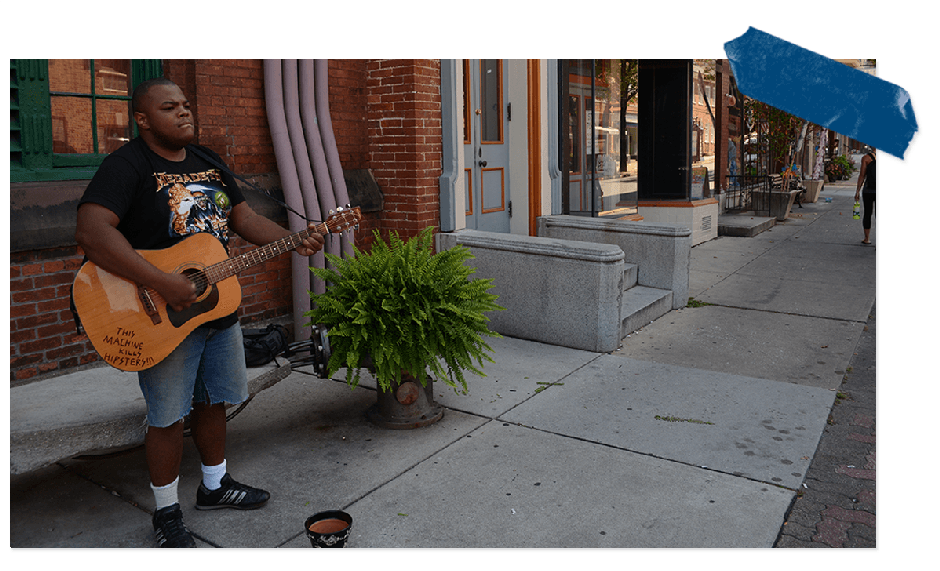 York has been promoting downtown First Friday events since 2006, but Dwyer says they had to beg to have the Parliament included when she first opened the gallery. She now says she understands the reluctance. "In those early days, so many people would have a project, make a big poster, put it in a window, and then turned out they didn't have the financing for it," Dwyer says. "People were really skeptical and disappointed from previous promises that didn't pan out."
But once the Royal Square scene took off, non-arts-related businesses got in on the action. Dwyer encouraged a barber shop called DiDi and Smiling John's to relocate from its original space on George Street as their clientele expanded. "Me and DiDi thought we were just going to cut hair there [on George Street] for the rest of our lives until we died," says owner John Shilling. "But as our reputation grew, we got busier and busier, and when we had to hire people, we needed more room to grow."
By 2011, Dwyer realized her homegrown gallery was not going to be a profit-producing business in its own right. "I went on a gallery tour of central Pennsylvania and every gallery I called and talked to had a lifetime of about three years." She decided to turn the Parliament into a nonprofit and she tapped Hankey to be the nonprofit's treasurer. "I used our late rent to convince him," Dwyer says. "I said, 'You can pay the rent, if you have the books.'" The apartment would soon be renovated into a proper public building.
After an appliance store downsizing left a 3,000-square-foot space empty on Duke Street, Dwyer opened her own vintage store in the space in 2014, called Redeux, stocking it with crafts made by vendors from around the city. More recently, Dwyer and Hankey finished turning a former janitorial supplies warehouse they bought with the help of the redevelopment authority in 2012 into a high-end wedding space called The Bond, with a new brewery called Collusion Tap Works that opened this year.
Another signpost for the neighborhood's transformation came when a bar called Allison's, long a source of complaints from nearby residents, closed in 2013. Now a cafe and pop-up restaurant incubator called Taste Test fills the space, where chefs audition meals in the cafe and run three-month trials in the restaurant to building a following. The restaurant also runs a cantina bar in the backyard they share with other Royal Square tenants. "We're like a family," says Toni Calderone, the owner of Taste Test. "Everyone in the neighborhood shares in and contributes to each other's success."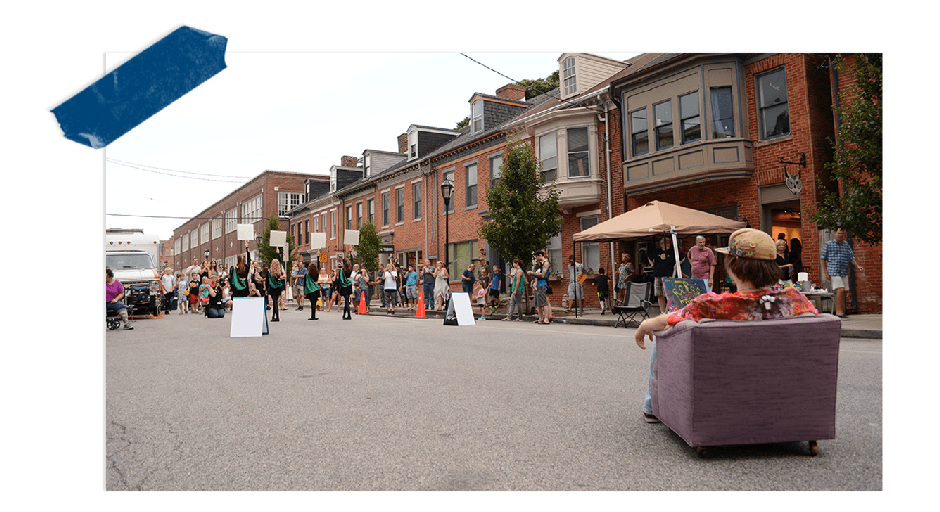 The logo of Hankey's Royal Square Development & Construction company makes a cameo on nearly every construction site you'll see downtown. The firm is now taking aim at the city's "big dinosaurs," as Tim Fulton, a program coordinator at York's Downtown, Inc., calls them—huge buildings that are a challenge to reuse. In the past, a Bear's Department Store was repurposed into York's City Hall, while an old Bon-Ton Store became a social services center. Now, RSDC is working on projects with massive square footage—rebuilding an old Woolworth's into new apartments or renovating the old Weinbrom Jeweler's Building or Zakie's nightclub into new restaurants.
"There's momentum, in particular for rental housing and apartments at a moderate price," Fulton says. Just as in bigger cities, he cites the growing popularity of downtown living in York among both younger renters and empty nesters. But the downtown revival has also brought other problems into relief, including the city's stark "donut syndrome," he says—the neighborhoods outside downtown are still struggling. "We make a nice retail downtown but then we have surrounding neighborhoods that are in disrepair."
That Lincoln Institute of Land Policy report estimates that one out of ten homes in York is vacant or abandoned; the city still falls in the "low-performing" category among small Rust Belt cities, alongside places like Flint, Michigan, and Gary, Indiana. When I ride past downtown and circle the southeast neighborhoods, I see blocks full of boarded-up houses and empty lots. A block-long line of people waits at a soup kitchen on South George Street. Outside the cultural district, it's clear that York has a lot of work to do.
But that's a challenge that Josh Hankey plans to face. "Creativity, grit, and determination have been driving force of York's revitalization," he says. "We'll continue that spirit of working together to build a better city."