This story originally appeared in Spanish on our sister site, CityLab Latino.
When Cinthya Chavez and her husband were looking into buying an apartment in La Condesa, she remembers asking the key question: How did the building fare in the 1985 earthquake? "It is an important reference," says Chavez. "The neighbor we asked told us that nothing had happened. And, in fact, nothing major has happened to the building," Chavez adds, minutes after sweeping up some broken glass that fell on her bed during Tuesday's powerful earthquake.
Despite Chavez's experience, the Roma and Condesa "colonias," or residential neighborhoods, have been featured prominently in the early reports of damage following Tuesday's powerful quake, which measured 7.1 on the Richter scale. Although these neighborhoods are hardly the only areas damaged, they're notable because they've experienced the recent consequences of gentrification in the Mexican capital.
"They are neighborhoods founded at the beginning of the last century, [and] were middle class for a long time," explains the economist and city planner Salvador Medina. "They were badly affected in the 1985 earthquake, but in the last few decades they've had a rebirth, [and are] where bars, stores, and gentrification have generally concentrated."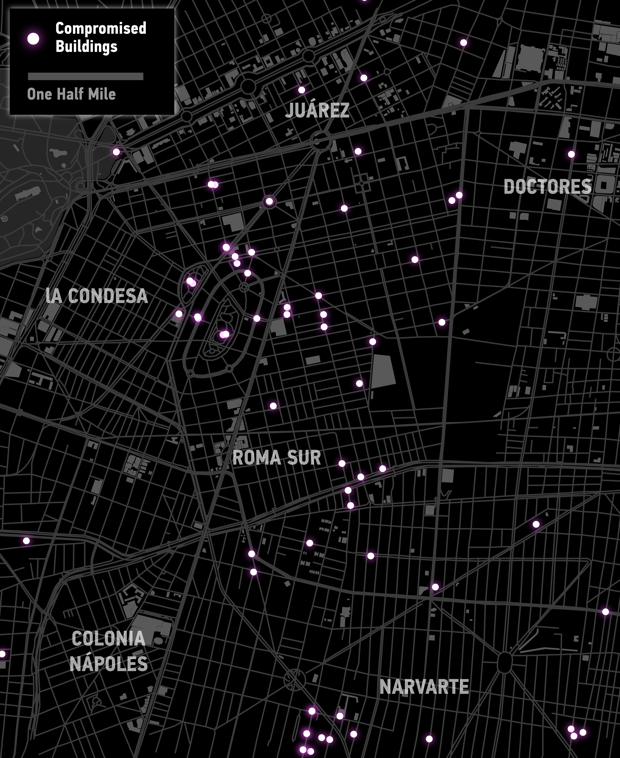 According to the property site Properati, Condesa, Roma Norte, and Hipódromo Condesa have some of the highest real-estate costs in the city, reaching up to 43,000 Mexican pesos (approximately $2,400 dollars) per square meter in Condesa. To put it in perspective, property prices in a lower-middle-class neighborhood don't exceed 20,000 Mexican pesos ($1,121 dollars) per square meter.
For many, this boom—which has even been called a "bubble"—began just after the massive earthquake that struck the city in 1985. Up until then, the area, which sits on Mexico's old lakebeds, was characterized by its middle-class population. It was badly affected in the disaster. "After the earthquake, it became a very cheap area to live in, and by the end of the 1990s, many artists had moved there," says Medina.
Andres Cruz is an Argentine musician and filmmaker who lives with his family in Roma Sur. He says he loves his neighborhood, where he settled when he arrived in Mexico 17 years ago. "It's an area that's very central, convenient," says Cruz. "We have all the facilities and it is very pretty, it has parks—everything. There are lots of families living here, but it is also very trendy. There are lots of restaurants, cafes, and shops. It's an area made up of ​​people who dedicate themselves to art, design, and television."
Cruz's house held up well, but the panorama he sees from the park looks strange. "There are old buildings that are intact, and others that were new, have been affected. There is just no guarantee," he says.
He knows the story well: There are still plenty of signs of the unstable marshy terrain and of the 1985 earthquake in some small details of the neighborhood. Cruz recalls when he went to see a potential apartment building he wanted to move into a few years ago: "I wanted to rent there because it was beautiful, but it looked crooked. I put a marble down on the floor and it rolled to the side," says Cruz. "But today, after the earthquake, the place is in one piece, perfect. Other buildings, which are newer, do not look good at all."
The musician says he does not know how this earthquake will affect his future decisions. Before, he says, the subject of possible earthquakes was a consideration, but it was weighed against other factors, such as the appeal of the neighborhood, the possibility of living close to friends, and being able to avoid the terrible Mexico City traffic.
"The problem, which is what we are going to see now, is what will happen with the buildings that are on the verge of falling," Cruz says. "They may be repaired, but the next earthquake can end up knocking them down."