American urban renewal has produced no lack of flawed and catastrophic projects, while others are regarded as excellent and worthy of preservation themselves. But Pittsburgh's Allegheny Center is much harder to characterize.
It would be nice to hail a scheme of unsung genius at work here, but there wasn't one. There are a few reasonably meritorious buildings but most are just midcentury acceptable, arranged in actively inharmonious ways. Yet it isn't an unambiguous flop—the complex, considerably decayed as recently as three years ago, has experienced a resurgence with numerous renovated office and residential structures. It features a typical dead mall turned successful office park, a forbidding ring road, a deadening pedestrian main artery, and far too many parking lots. But there are proposals afoot to change all of this.
In a city that rarely met an urban renewal plan it didn't like, some of the most extensive demolition was undertaken in the business district of the city's north side, itself the center of the former city of Allegheny (annexed in 1907). Once a rich neighbor, Allegheny found its core sufficiently faded to attract attention at precisely the most unfortunately ambitious post-war moment of urban redevelopment. The 1961 proposal, Allegheny Center: From a Rich History, a New Way of Life, strikes familiar notes:
The Allegheny Center of today is obsolete and tired—a relic of a period of rapid but frenetic and unplanned growth. Its once well-kept structures have given way to a mixture of inharmonious commercial, residential, institutional, and industrial uses. Poorly maintained structures, some of which contain both commercial and residential uses, dominate the area and seriously detract from its residential and business potential. Allegheny Center is further characterized by the overcrowding of structures on the land and a grave deficiency of open space which have further placed the area at a competitive disadvantage in trying to attract the discriminating shopper, employee, or resident.
This "grave deficiency of open space" was a ludicrous characterization of an unusually well-planned center ringed on three sides by over 100 acres of parks. The neighborhood, defamed as a typical collection of urchins and derelicts, was also substantially vibrant. As former Steelers chairman Dan Rooney (who grew up in the neighborhood) wrote in his 2014 book, Allegheny Center: A History of Pittsburgh's North Side:
The 1960 Pittsburgh directory shows that the 36 city blocks around the historic Allegheny Diamond included approximately 15 churches, eight barbershops, seven pharmacies, two print shops, six hotels, two dry cleaners, two bookstores, five furniture stores, two automobile dealerships, 11 beauty shops, four jewelers, five cigar stores, and 22 restaurants, among scores of other buildings.
Over 500 buildings and 850 families were removed and all but about ten structures within 30 blocks in the area. Preservationists scored successes in retaining the former city's Carnegie Library, Buhl Planetarium, and Post Office, but nearly all else was leveled, including a historic market house.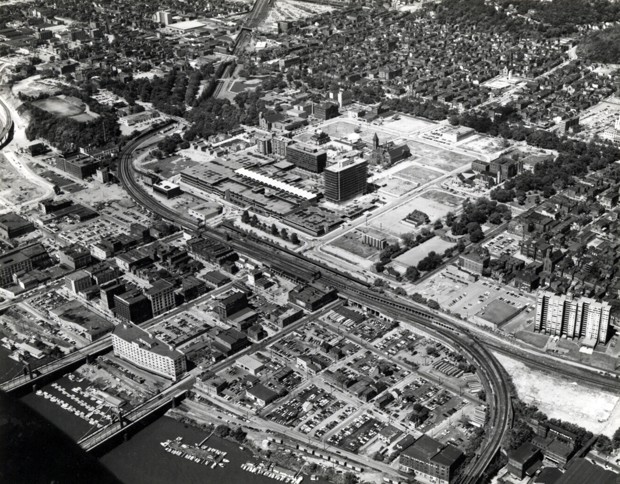 Reconstruction, largely undertaken by Alcoa Properties, the real estate arm of the locally-headquartered aluminum manufacturer, involved several residential and office towers and an indoor mall oriented around pedestrian streets and bordered by a four-lane ring road.
Most of the project was the work of Deeter Ritchey Sippel, a local firm ubiquitous in the city in the 1960s, designing Civic Arena and Three Rivers Stadium (both have since been demolished) as well as a number of University of Pittsburgh structures. Most of their buildings for the project were aesthetically adequate, conforming to the era's structural archetypes: superstructure malls, residential towers in a park, underused plazas, and so on.
One office tower, built originally for IBM and arguably the complex's best design, was done by Bruno Conterato of Mies van der Rohe's firm. It conforms to the firm's work, a Miesian rectangle with a colonnade on all sides.
The complex included one intriguing townhouse development on its perimeter, Foster Square, with 50 units originally designed as Alcoa executive housing subsequently converted to a co-op in 1979. Alcoa's interests extended beyond housing its executives into advertising its wares. Donna Green, who purchased a unit when initially available says the original interiors "were mostly very basic, all white walls and neutral carpeting. The windows were single-paned and aluminum-framed. She adds, "there was tan aluminum siding on the exterior, and the fences, gates and railings were aluminum."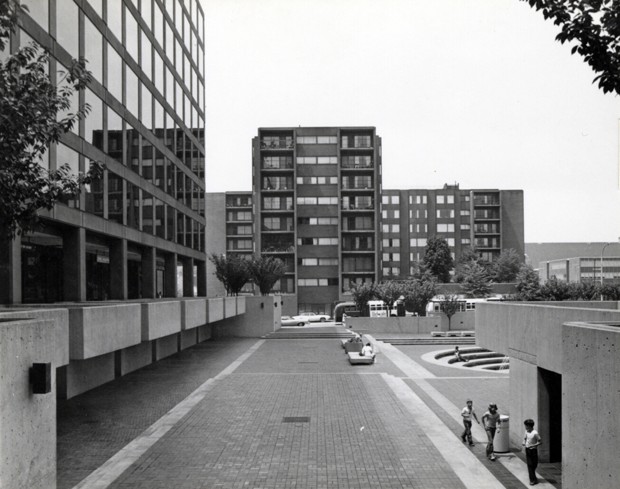 The townhouses turn inwards, oriented largely around small courtyards. They aren't triumphs of design but have remained attractive throughout their existence. On another side of the complex, a public housing development by Tasso Katselas—a highly idiosyncratic local talent—boasts a winding and semi-Italianate village plan.
The original plan for Allegheny Center involved numerous additional townhouse developments planned for a variety of income levels. Only one additional nondescript residential building was built, with the remainder of cleared sites being sold for other uses: a post office, a telephone building, religious and educational uses, and countless parking lots. The Martin Luther King School, a one-story ribbon concrete hexagonal structure, looks almost metabolist. A steam plant is possibly the modern highlight of the complex, designed with a large windowed wall to provide a view of its internal workings. Programmatically differentiated paints prefigure James Polshek's Newtown Creek Wastewater Treatment Plant by some time, with steam pipes painted orange-red, chilled water pipes blue, and condensated water pipes green.
The overwhelming problem with all of it to this day is the number of physical and psychological barriers. Allegheny Center stands square in the middle of three of Pittsburgh's most historic rowhouse neighborhoods; Allegheny West, the Mexican War Streets, and Deutschtown. It's also adjacent to Pittsburgh's North Shore, which contains the city's NFL and MLB stadiums.
But a walk from any of them into the center is actively unappealing. Buildings at the center of the site are oriented inwards, offering little engagement with the street, and a particularly forbidding stairway on its south side, encouraging anyone who might traverse the few blocks from downtown Pittsburgh not to do it again. Obstacles don't stop at the moat road, but extend out with an assortment of hermit-like uses and parking lots that turn even handsome parks into lifeless stretches. On the south side of the complex, where there's not much of a park, an elevated highway and rail line stand between the complex, stadiums, a light rail stop, and beyond them, Pittsburgh's downtown.
One strong asset has been the Pittsburgh Children's Museum, located in the former Post Office since the 1980s. It expanded via an addition to encompass the former Planetarium in the early 2000s. The museum currently plans to expand into a portion of the former Carnegie Library, locating a charter school, several associated nonprofits, and multi-purpose space in the area. This will create what the Museum's director of marketing, Bill Schlageter, describes as "the largest cultural campus for children in the nation." It took on a valiant role in refurbishing the concrete plaza at the center of the site into the Buhl Community Park at Allegheny Square, with a green, varied seating, flexible spaces, and an "interactive mist sculpture." The former library also hosts an active theater and the National Aviary sits nearby. However, these are lonely outposts in a severely underutilized urban space which attract visitors for one activity with little choice but to leave afterwards.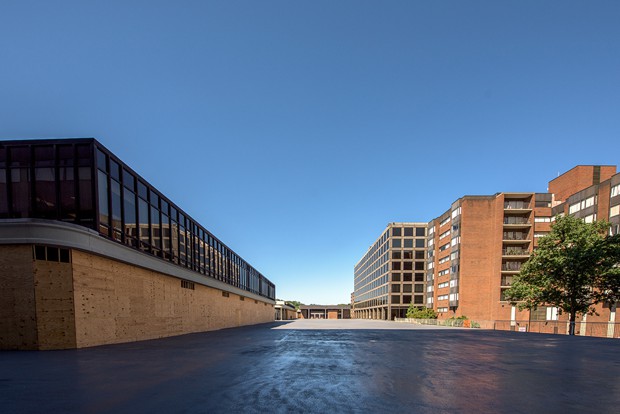 The curious salvation that emerged for Allegheny Center is that while its mall wasn't of much use for retail, it soon proved a prime spot for technology tenants, a process vaulted forward by its 2015 purchase by New York-based Faros Properties. The company, which rebranded its Allegheny Center holdings as "Nova Place," purchased four residential towers, the mall, and two office towers. The residential buildings were dilapidated, with one entirely empty, but have since been refurbished. The office towers and mall were also overhauled, stripping non-functional elevators and dated '70s orange tile.
The complex had some long-term tenants including PNC Bank and the nearby Allegheny Health Network. Riding the wave of Pittsburgh's recent technological boom, it eventually attracted a wide range of new economy tenants, including Innovation Works, the region's largest investor in seed-stage companies; Alloy 26, the region's largest co-working space; an Expedient data center; and headquarters of the software firm Confluence. A new fitness center has also been built.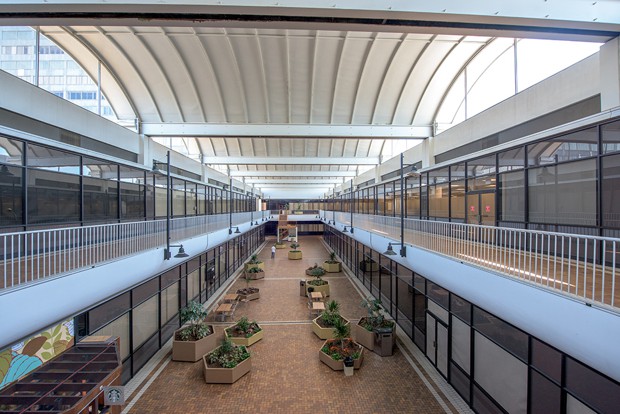 The former mall, is a disorienting site at first glance, but its main corridor is active and lined with armchair clusters that were well used on a recent visit. If their work began with revitalizing the interior of spaces that are badly designed for external interaction, the company is conscious of this problem of "reconnecting the properties to the community," according to Jeremy Leventhal, Managing Partner at Faros Properties. While many observers have dreamed of demolishing or cutting through the mall site to restore Federal Street, the building is immense and lately very useful; there would be no simple way to carve out its center. Faros is well aware of these flaws and has plans to alter this entrance. A full renovation is slated to begin later this year.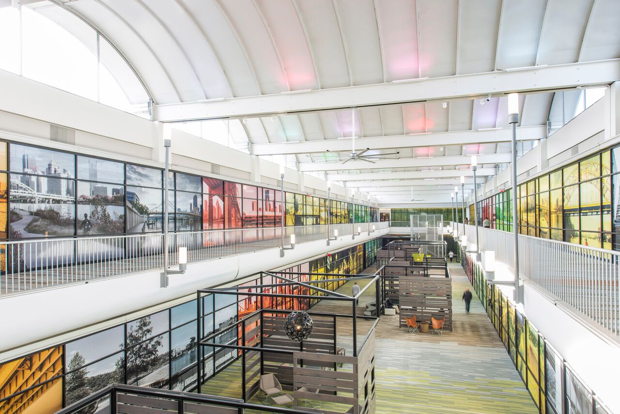 On the north side of the former mall, a variety of seating has been added to an elevated plaza and a former bank branch is being renovated into a food hall, Federal Galley. The space, designed as a sort of restaurant incubator, is organized as a food hall with space for four restaurant concepts and a bar located in the bank's former vault. Loren Wright, a principal at Pieper O'Brien, Herr Architects, which is conducting the renovation, says, "we're taking this building that was enclosed and brutal, and block-like into something very permeable." He adds, "The bones of this structure were actually highly accommodating. With almost none of the walls load-bearing, it was easy to clear away brick to expose the building's handsome core."
There are remedies also at hand, if not actively prescribed yet, for the area's biggest problems, its roads and its parking lots. The city has a plan to convert the four-lane ring-road into a two-lane, two-directional street featuring a bike lane and parking, and to reopen Ohio Street, the principal east-west road through the site to automobile traffic.
According to Leventhal, Faros is considering another 500,000 square-feet of construction on its properties, with prime sites eyed including parking lots at each corner of the ring road and at the south end of the property between the mall and rail tracks. The nature of these buildings would be unclear besides being either residential or office structures with street level retail. It's hopeful that if Faros builds out its site, underutilized properties at the periphery of the center might also become more desirable, and soon more dense.
It might be fitting that, in this particular instance, the aftermath of urban renewal is neither another spate of sweeping demolitions nor landmarking. Instead, what's happening at Allegheny Center is an evaluation of buildings that work at their function, and their gradual accentuation and alteration to functions that better fit the present.