On September 19, just 12 days after the second-largest earthquake in Mexican history shook the state of Chiapas and Oaxaca, another one struck the country's capital.
Authorities have reported 120 people dead in four states, plus 44 collapsed buildings, cracked highways, and gas leaks in Mexico City.
The earthquake hit on the 32nd anniversary of the country's deadliest shock. Thousands of people died in the earthquake that hit in September 1985. The damages totaled more than $4 billion.
After that disaster, Mexico City's local government rolled out an an avant-garde early warning technology in 1991. But this system has not been fully modernized or upgraded ever since. According to many reports over Twitter, several residents throughout the Mexican capital didn't even hear the alert, which is sent out through a network of sirens across the city.
Reportando desde la colonia Anzures, el altavoz de Alerta Sísmica ubicado en Thiers y Leibinitz no funcionó, no se escuchó la alerta

— Adolfo Zepeda (@350cid) September 19, 2017
"Reporting from the Anzures municipality, the speaker from the earthquake early warning system located on Thiers and Leibinitz did not work, the alert was not heard."
No sono porq el sismo no fue en costa. Urge homologar la alerta sísmica tierra dentro con costa, eso hubiera salvado muchas vidas.

— 🍅🍅AlexNM🍅🍅 (@luna_wolfe) September 19, 2017
"If only the alarm would have rung. My wife died and I don't know what I'm going to do," Carlos regrets.
"It didn't ring because the earthquake was not on the coast. It is urgent to standardize the coastal alerts with inland ones, that would have saved many lives."
Ironically, two hours before the quake shook the city, local authorities conducted a scheduled drill that was supposed to test the early warning system. Currently, the technology—called SASMEX—covers only six out of the 13 states located in the so-called Ring of Fire, regions vulnerable to strong, destructive earthquakes. More than 63 million people live in these areas, but only 35 million are covered by SASMEX.
Most of the system's sensors and distribution antennas are located in coastal states, where earthquakes are more frequent. In this instance, though, the shocks were also felt farther inland.
Morelos, a landlocked state just south of Mexico City, registered more than half of the casualties reported so far. Authorities still have not expanded the SASMEX system into Morelos, despite the fact that the state borders the so-called Eje Volcánico (or "Volcanic Axis"), a highly seismic territory.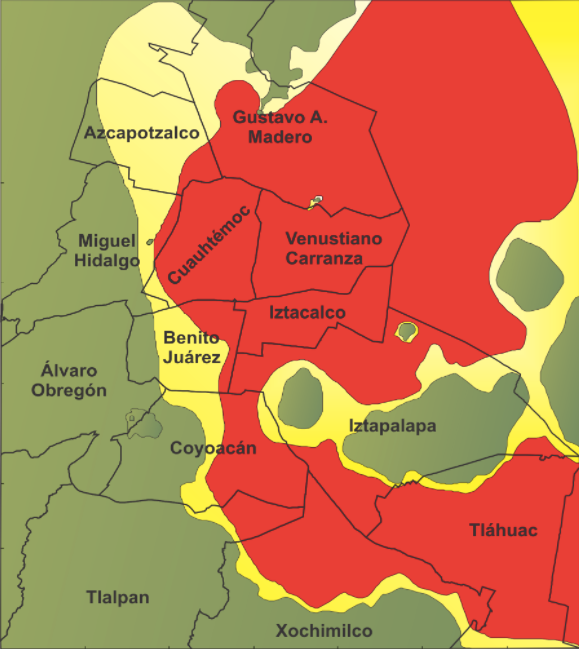 Mexico City's soft soil exacerbates the potential damage of a powerful earthquake. This megalopolis is built on what was, over six centuries ago, a 700-square-mile body of water called Lake Texcoco. Now, its waters are mostly drained, covered with concrete, and housing a growing population of almost 9 million people within Mexico City's proper limits, and more than 23 million inside its metropolitan area.