It's been a big year for Margaret Atwood.
In April, Canada's most famous author debuted a TV adaptation of her 1985 novel, The Handmaid's Tale, to widespread critical acclaim, and the show was just picked up for a second season.
But Atwood has been making headlines more recently for positioning herself at the center of controversial opposition to a mid-rise condo building in her Annex neighborhood in Toronto.
As the Toronto Star reported, the author and several of her wealthy neighbors have taken exception to an 8-story building planned near their homes, writing a number of hyperbolic letters and emails to their local councillor.
The building in question, known as 321 Davenport, would add 16 luxury residential units and 30 parking spaces to the Annex. Crucially, however, it will also back directly onto a number of wealthy properties, casting shadows on (and allowing peeks of) multi-million-dollar backyards.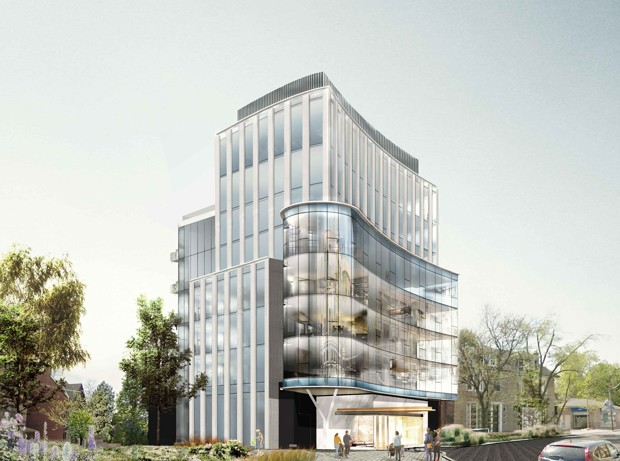 Tensions in Toronto always run high when it comes to housing, and Atwood was involved in several passionate Twitter exchanges last week over the motives behind her opposition to the building and the precedent she and her neighbors were setting.
Atwood was accused of being an NIBMY—worse, a wealthy, powerful NIMBY treating her high-income neighborhood like a gated community in a city struggling with a chronic shortage of affordable housing.
In April, the average home price in Toronto hit an all-time high of C$920,791 ($744,829 US). The market has since cooled slightly to an average of C$746,218 ($603,019 US), but property ownership remains out of reach for many and about 80,000 households are on waiting lists for affordable housing.
As the debate escalated, Atwood threw shade at a prominent local urbanist, accusing him of being in the pocket of developers, and went toe-to-toe with the architecture critic of a major Canadian newspaper.
The exchanges were confusing because, historically, Atwood has championed urban issues. She fought cuts to the Toronto Public Library under Mayor Rob Ford and opposed a plan by the University of Toronto to cover one of its historic green spaces in artificial turf.
In actuality, the opposition Atwood officially registered with the city was muted compared to those of others, particularly her husband, author Graeme Gibson.
"[The condo] hover[s] close to a brutal and arrogant assault on a community that has been here since the 19th Century," he wrote in an email to the local city councillor.
In her email, Atwood focused on potential damage to several trees with roots in the development area, and later insisted on Twitter she would prefer affordable housing and a community center in the building.
They rule partly thru' agit-prop that brands those who want ANY changes to their plans as evil NIMBYS. There really is Fake News!

— Margaret E. Atwood (@MargaretAtwood) September 3, 2017
Though she insists her opposition is for the sake of the greenery (she called the NIMBY accusations "fake news"), the language is typical of the blanket anti-development sentiment that is so strong in some Toronto neighborhoods.
Some backstory on the Annex. The neighborhood is in the inner band of neighborhoods, northwest of Toronto's downtown. It's well served by public transit, with several subway stops, streetcar, and bus lines.
In the 1960s, the Annex was at the center of one of the biggest, most fraught planning battles in Toronto's history. The Spadina Expressway, one of several "superhighways" planned for Toronto, was approved in 1961 and would have cut directly through the Annex at the expense of homes, businesses, and livability.
The "Stop Spadina Save Our City" campaign was set up in 1969 and championed by Jane Jacobs, who lived in the area and was arrested on two occasions during anti-Spadina protests.
The Spadina Expressway was cancelled in 1971 by Ontario Premier William Davis, but the legacy of that project is still a factor in planning issues affecting the Annex.
Make it affordable housing that doesn't kill all the trees and divert all the groundwater and the neighbourhood would be all for it! https://t.co/cvRKbZX4II

— Margaret E. Atwood (@MargaretAtwood) August 29, 2017
In 2017, the Annex is a highly desirable, wealthy neighborhood of mostly Victorian detached or semi-detached homes on large, green lots.
Those who moved to the area in the 1960s and '70s, when the housing was more affordable, now find themselves sitting on a goldmine, thanks to skyrocketing Toronto property values.
The un-rich have owned their houses for decades. Why should a devlpmnt go right up to their lot lines and kill their beloved trees? https://t.co/7WL9lKg1HE

— Margaret E. Atwood (@MargaretAtwood) August 29, 2017
The condo project at the center of the debate isn't particularly remarkable. It's a 100-foot building that will contain a few large units and an underground garage. It's on a major street within easy walking distance of a subway line.
According to City of Toronto planners, "the proposed development generally complies with the Official Plan policies and guidelines that apply to Mixed Use Areas and the Downtown."
Contrast that with the words of Galen Weston, the billionaire head of Canadian supermarket giant Loblaw's and member of one of the wealthiest families in the country:
"Designed as is, will change the neighborhood in such a negative capacity and will devalue all of the assets we currently love about living here; it will no longer be the ideal place for our young family to grow up."
"This building is an invasion on our privacy, our community and an environmental assault on our neighborhood."
Toronto has a chronic shortage of affordable housing and the image of billionaires and millionaires trying to kick the ladder from beneath people who want to join the community is a bad one.
Actually it's not my back yard. It's my neighbours' +their trees — some roots of which have already been cut. That's what I object to.

— Margaret E. Atwood (@MargaretAtwood) August 29, 2017
The city desperately needs more mid-rise, "gentle density" buildings, but often developers are fought tooth and nail over good buildings in the right places.
That's not to say developers are always right. Plenty of bad buildings are justifiably opposed and sometimes they turn into something better. But 321 Davenport Road isn't really all that bad.
It won't solve the city's housing crisis, for sure. It also won't ruin the childhoods of Galen Weston's precious offspring or brutally assault the neighborhood, as Atwood's husband thinks.
Hmm, maybe it's time for me to move out of #toronto. I didn't like it much when I moved in. #CatsEye

— Margaret E. Atwood (@MargaretAtwood) August 29, 2017
At worst it will give a few more people a place to live and hopefully, in some tiny way, help cool the city's eye-watering property prices.
The development still needs the approval of the local community council later this week and city council in October.