One of the most emotionally resonant exhibits in the 2017 Chicago Architecture Biennial is a quiet one: a set of tan-glazed tile arches in a hallway. The arches form a colonnade of sorts, which better defines a space that's too wide for a hallway but too narrow for a gallery.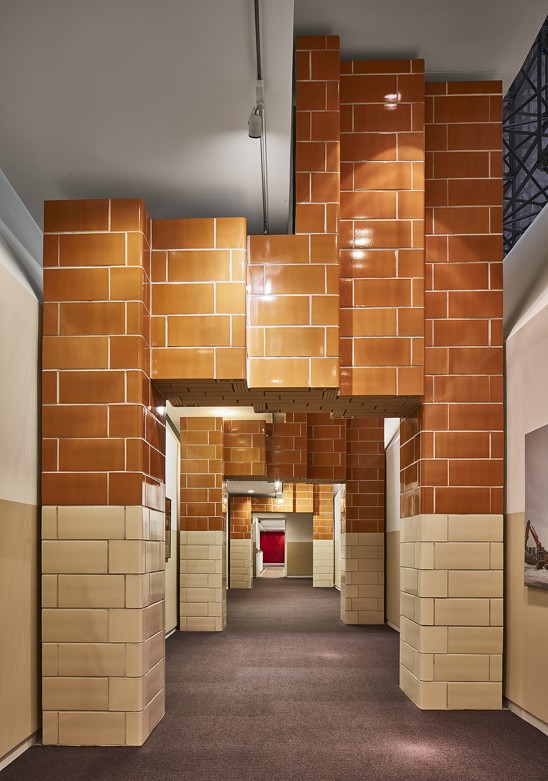 For its designers Paul Andersen and Paul Preissner, and for me, it's a powerful callback to childhood. The smooth tiles and grouted seams, stacked up monumentally, conjure memories of terrible pizza and tiny milk cartons in the cafeteria, the boisterous heart of so many functional, but not at all pretty, 20th-century public schools. One glance at this deep cut from our early years, and there's a mental rush back to recess and hall passes.
The arches evoke an "anonymous history that everybody has some direct experience with," Preissner says. But it lives on a subliminal level. "It's so common, you don't even pay attention to it," he adds.  
The boring, the banal, and the ugly
Why are cafeteria walls set up in the ornate, Tiffany-domed Chicago Cultural Center, home to the biennial's main exhibit? It turns out that Preissner and Andersen are in good company. Many of the projects here are similarly interested in elements of architecture that are boring, banal, or ugly. In various acts of image rehabilitation or re-contextualization, this festival makes a home for outcasts and weirdoes, often stigmatized in design because they just aren't weird enough.
The band of outsiders is rolled into a theme, "Make New History," established by artistic directors Mark Lee and Sharon Johnston. They asked the 140 participants to view history as a defiantly non-canonical place and not be constrained by linear chronology. So there are two separate exhibits on roofs; surreal riffs of abandoned big-box stores; re-examinations of the suburban McMansion; and a cosmic exploration of the banality that pervades all matter in the universe (really).
It's not new for architecture's grandest exhibitions to welcome the unloved. But this Chicago Biennial—which opened on September 16 and runs through January 2018—makes it happen with an image-centric ferocity. That wasn't possible until Internet visual culture began rapidly accelerating how architectural media moves across the world.
The widest-angle lens in the biennial's survey of the banal is that of J. Mayer H. and Philip Ursprung. In their photo collage, Modernist and traditional buildings share the same beige color. The collage is punctuated by images of war in the Middle East. Army fatigues, dust clouds from explosions: all beige. It just so happens that this is also, on average, the color of the universe. Astronomers call it "Cosmic Latte": the ultimate expression of blah that underpins all matter, which also serves as the title of the exhibit.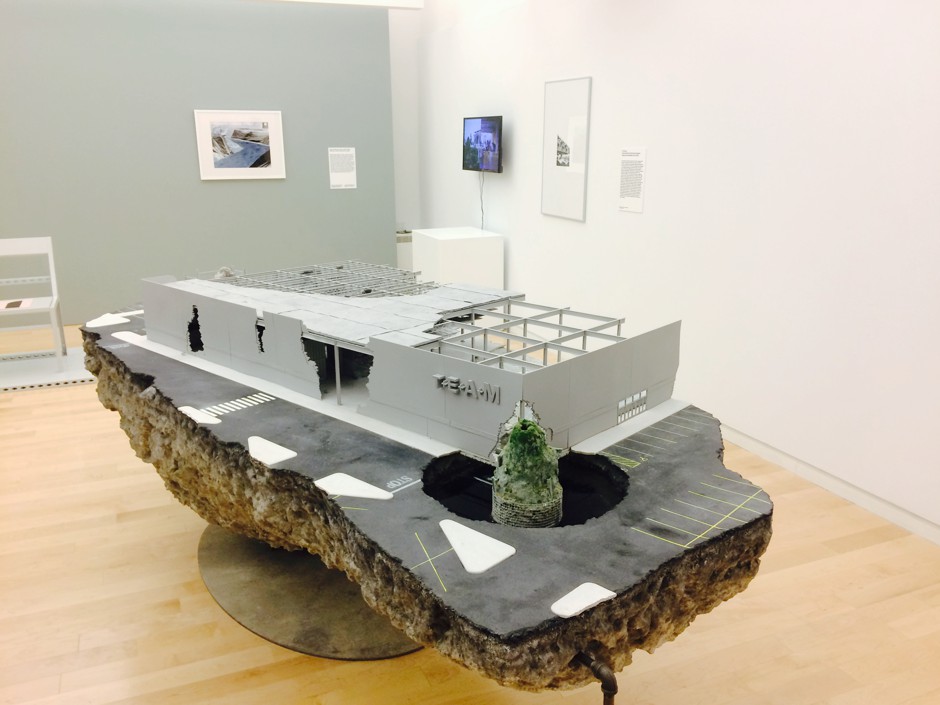 Rendered in dull grays instead of beige, "Ghostbox" by T+E+A+M examines the big-box store, using these massive, flat-footed shells as the setting for new species of public and private space. Building off their work at the 2016 Venice Architecture Biennale, the designers envision a disused department store that's continually recycled and recombined to create everything from apartment dwellings to topographical, park-like landscapes. One of the show's most impressive models, it sits on a boulder-sized foam and concrete mass, revealing an ideal setting for a techno-dystopian food hall.
Everyday elements made strange
Some of the most effective exhibits are simple found-art appreciations that put normally neglected elements of buildings on a pedestal. One is Philipp Schaerer's "Chicago Series," which consists of photographs of Chicago rooftops that have been digitally manipulated and collaged.
Schaerer's gray, 2-D depictions of roofs get a rainbow-colored counterpoint in "The dollhaus" by MALL. These photographs of a doll-scaled wooden model of a suburban mansion are bathed in neon light, with intersecting bands of purples, oranges, and blues adding a layer of geometric depth. Oddly gabled rooflines take this pink playhouse confection and shift it toward avant-garde abstraction. Something is just off about them. "The forms that I'm making are recognizable, but they're stranger than the existing condition," says Jennifer Bonner of MALL.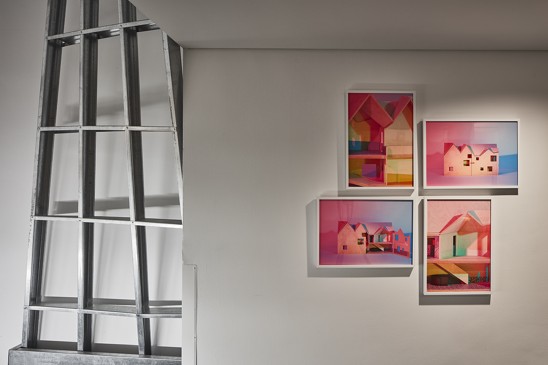 Bonner is re-contextualizing the everyday language of suburban roofs, part of "the contractor's canon," she says, that is yielding untold formal diversity in spite of itself. As McMansions have ballooned, along with arrivistes' ambitions for expressing their wealth, "the contractors are spitting out these completely crazy, intricate [forms] that they don't even realize," she says.
Keith Krumwiede's "Visions of Another America" offers a more directly satirical reconsideration of the suburban mansion.* One side of a hallway is covered in wallpaper featuring an idyllic 19th-century riverbank landscape, lined with contemporary mansions but populated by top-hatted men on horseback. Across the hall, collage paintings show burly European peasants threshing wheat as an obscenely bloated McMansion looms.
Gussying up these much-mocked dwellings in period garb is an attempt, Krumwiede says, to "ask architects to look at these things that we really would prefer not to look at, or we dismiss out of hand. To say: 'Look, these things are here. We need to think about them.'"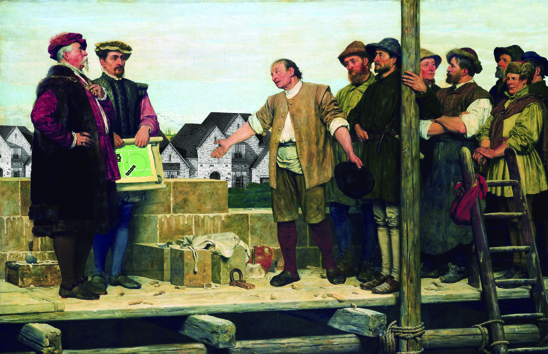 "Visions of Another America" is one of an entire category of projects at the biennial that use collage and aggregation to tear down hierarchies and widen the circle of serious architectural consideration. This idea, of transparently re-appropriating architecture for use in other architecture, is itself outside the canon, as architects have historically dreaded admitting their ideas aren't only peerless products of singular genius.
This architecture-by-aggregation approach peaks in Andrew Kovacs' "Proposal for Collective Living II (Homage to Sir John Soane)." It's an architectural model composed of detritus picked up at the dollar store: rubber ducks, a spray bottle nozzle, a plastic cupcake, toy models of the St. Louis Arch. The exhibit is an outgrowth of Kovacs' work curating architectural "B-side" imagery on the Internet. "What's interesting to me about [B-sides] is that because they exist on the periphery, there's an opening to rethink what the limits of the discipline of architecture could be," Kovacs says.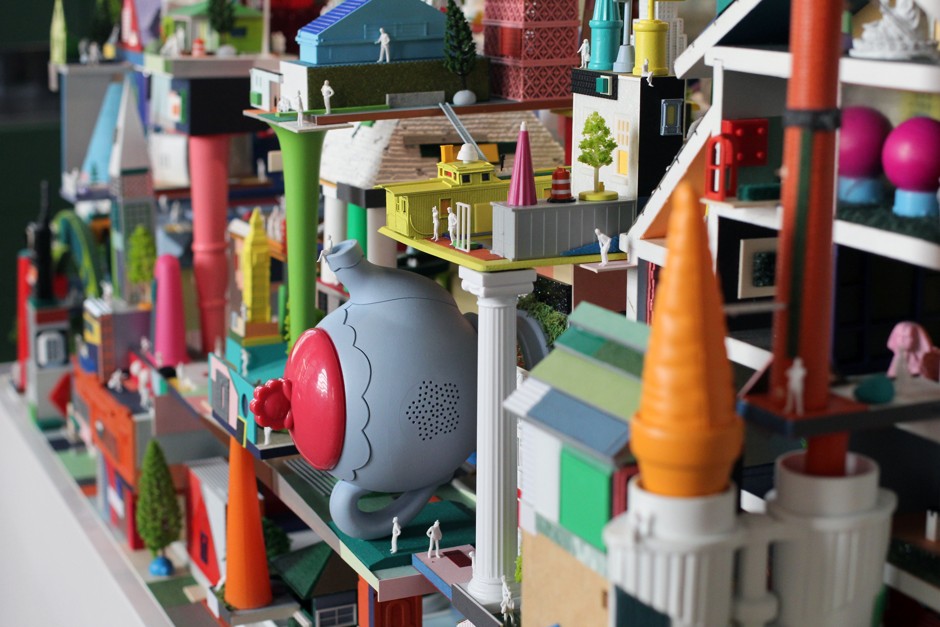 With a snow-globe cupola on top of a plastic tower, it's both an affront to the materials that are considered properly architectural and to the creative process of design, because it lifts freely and unabashedly from others. In isolation, each component is trite. But like Preissner and Andersen's glazed tile, they're easy for people to recognize in their own lives, especially the toy models of famous buildings, such as the Eiffel Tower—"things that non-architects recognize as architecture," says Kovacs.
"That's one way to find a broader audience and bring people that might not be interested in architecture to pique their interest," he adds. "At the end of the day, architecture should be for everyone, not just for other architects."
Off the sequential path
Kovacs' work is a metaphor for the exhibition itself. It reinforces the notion of today's experimental architecture as an atomized free-for-all. The field is registering the impact of the low, low cost to create and disseminate imagery in the Internet age, and the deep wells of content it can pull from.    
Back in the 1970s and 1980s, Postmodern architects like Michael Graves and Robert Venturi used exhibition stages to tear down hierarchy and merged low and high culture in similar ways, folding ostracized elements of architecture into the academy. But their experiments proceeded along a sequential path. The crop of designers in Chicago seem intent on burying the orderly progression of -isms that dominated the 20th century and covering their tracks with double and triple quotation marks around each historical allusion.
There is a populist advantage to not explaining history from an assumed position of authority (in architecture, usually a bespectacled and suited white man). But that risks the loss of a sense of coherent narrative the broader public needs to understand. The biggest danger with exhibits on the color beige and glazed tile is that visitors will see elements of their own lives on stage, but might not know how to connect it to a larger story. The question of whether there is a larger story to tell will be, explicitly or implicitly, on the mind of many biennial curators and visitors to come.
*CORRECTION: The original version of this article misstated the title of Keith Krumwiede's exhibit. The article has been updated.