Donna Paz Kaufman has grown used to hearing the melodramatic doom and gloom soundtrack around bookstores. "Every decade I've been in this business, somebody has said bookstores are going to die, and it was for a whole different reason," she says. Since 1992, she's been consulting with and training independent bookstore owners on how to navigate this ever-changing industry.
The threats have been many: CD-ROM, audio books, e-books, big-box bookstores, online book giants. And yet, Kaufman doesn't worry about the future of books and bookstores. "There's something to be said for the human aspect of knowing a good book, and not having it relate to any algorithm," she says.
In fact, bookstores are making a comeback. Just take a look at the membership numbers of American Booksellers Association (ABA), a trade organization that works with independent bookstores: In 2009, ABA membership hit a low, with just 1,651 locations. Like a phoenix, that number has risen for the last seven years, reaching more than 2,320 locations in 2017. Book sales in independent stores are also up. According to the ABA, book sales in U.S. indie shops grew more than 10 percent in 2015 over the previous year, and in 2016 sales at independent bookstore were up nearly 5 percent.
Even Amazon is getting on board with the brick-and-mortar concept. So far, the online giant has opened 11 physical bookstores across the U.S. Shoppers can peruse the shelves of front-facing books (so you see the cover, like you do on the site) that are, primarily, crowdsourced—they're rated at least four stars by customers. Reviews that sit next to the books were taken from online customer reviews.
If anything, the new Amazon stores are a study in contrasts with mom-and-pop shops. The Amazon store in Chicago, for example, feels more like a Best Buy than a neighborhood bookstore. It's transactional, rather than connective. Efficient, rather than cozy. It's a great place to come and grab the latest bestseller, but not a place where you'd go to lose yourself.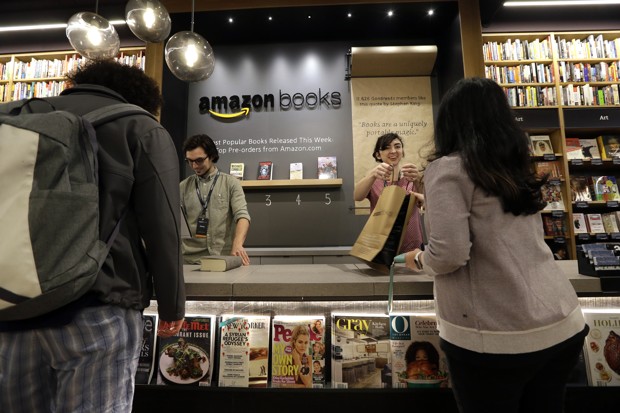 It's those contrasting reasons, Kaufman says, that the indies are growing and will continue to do so. Kaufman points out that the indie bookstores are on the rise because they are more than just places to buy books. They're comfortable hangouts away from home, welcoming spots where people can grab a glass of wine or a cup of coffee, meeting grounds they can read or talk with others about what's happening in the world, all while discovering a new book or author that the owner and staff believe in. "A bookstore is somewhat of a sacred place to people, especially to readers, so [bookstore owners must] create that type of place that people want to be," Kaufman says. "It's good energy. It's comfortable. It's friendly. It's all those words people use to describe their favorite bookstores." In other words, a bookstore is more than the sum of its stocked shelves.
Here are some of the ways bookstores are differentiating themselves, drawing people in—and even growing—in the age of Amazon.
Books, booze, and a BnB
When Nicole Sullivan was a stay-at-home mom, she'd put her kids to bed and unwind with a book and a glass of wine. She wished there were a space in Denver where she could get out of the house and do the same, without having to go to a bar. In 2013, she created that space when she opened BookBar, a bookstore that also has a café with a robust wine and craft beer list. "I've always been in book clubs, and book clubs are always looking for a place to meet, and book clubs always have wine and hors d'oeuvres," she says. "It made all the sense in the world to have a location that pairs books and wine." She says that combination has helped draw in a sizable audience: on any given day, three to five book clubs hold meetings in her shop.
And then there's this: upstairs from BookBar is BookBed, a literary-themed one-bedroom apartment that has helped attract high-caliber authors for readings and events. Sullivan banded together with four bookstores around the state (including Denver's bookstore institution, Tattered Cover) and they sent out collaborative proposals to authors: visit Colorado and you'll be invited to five stores in five different markets, while enjoying free lodging.
"We got such a huge response from it," she says. "It's brought authors from outside the area that may not have thought about coming here." And when she's not hosting authors, she draws in additional income by renting the apartment out on Airbnb.
Building a community
Businessman Paul Ruppert owns two restaurants in the Petworth neighborhood of Washington, D.C., so when a hair salon closed and a retail space opened up next to one of those locations (Petworth Citizen), he decided that a bookstore would be a good fit for the neighborhood—and his portfolio. He launched a Kickstarter campaign that served two purposes: to find investors from outside his circle, and to connect with the people who would become the store's customers.
"It was actually a way of building a circle of community around the bookstore," he says of the campaign, which helped raise more than $20,000.
Today, Upshur Street Books hosts a series of events inside and outside the shop, ranging from readings and dinners to singalongs and historic neighborhood tours. And every Friday and Saturday, the bartender at Petworth Citizen creates a series of literary cocktails dedicated to a particular author (to celebrate Cormac McCarthy's The Border Trilogy, she created "All the Pretty Horses" and "Billy Parham" drinks). Ruppert says that these types of events are vital to his bookstore's success, because they draw in old customers (like the Kickstarter investors, whom he recognizes regularly) and new. "Doing these additional events and outside events is critical to our business model," he says. "We still are competing with the ease of Amazon and their cheaper prices frequently. We need to step up our game and offer something that Amazon doesn't in order to survive."
Before opening Brewery Bhavana in Raleigh, North Carolina—a space that's home to a brewery, dim sum restaurant, flower shop and, yes, bookstore—co-founder and general manager Vansana Nolintha reached out to friends and family and asked them to donate a book that had shaped their path. "What showed up was a collection of about 4,000 books of people's hopes and dreams and the things that are sacred in people's lives," says Nolintha. It's that library, along with a retail section of new books on architecture, design, international studies, gender studies and more, that fosters dialogue among strangers, daily. Nolintha says it's helped transform the business into a gathering place where the books foster discussions that may not otherwise happen. "We feel like by carrying these books it becomes an invitation for guests to have these meaningful conversations," Nolintha says. "It is a bookstore, it is a flower shop, it is a brewery, it is a restaurant, but at the heart of it, it is a community."
Filling a void
A few years ago, Esther Dairiam was in Paris and visited a "culinary bookstore"—dedicated entirely to cookbooks and books about food. She loved it so much that, while abroad, she did a quick search to find out if Chicago, where she lives, had such a thing. There wasn't one, so she decided to open her own culinary bookstore when she returned home to Chicago. In addition to selling cookbooks, Read It & Eat has a kitchen and regularly hosts authors, cooking classes, wine tastings and even the occasional pop-up dinner.
Since opening in 2015, Dairiam says she sees a lot of familiar faces coming in. "We do cooking classes and there's a group of people who always just come to those classes regardless of if it's a repeat class or not, because they see each other and they also like the instructor," she says. The store has also developed a regular following of in the culinary community, including chefs and food-centric entrepreneurs. Starting Saturdays in October, Dairiam will be working with The Hatchery, a local non-profit food incubator, to host vendors selling prepared foods and other items.
"We're slowly starting to become more of a marketplace, bringing both the consumer and the culinary professional together," she says. "I think in the end the kitchen has done more for us than I originally thought it would."  
***
After consulting with others for more than 25 years on how to run their bookstores, Kaufman and her consulting firm, Paz & Associates, is putting the proverbial money where her mouth is. This winter, she and her husband, Mark, are opening their own bookstore, Story & Song, in Amelia Island, Florida. Not surprisingly, it will sell more than just books. The two-story shop will also have an art gallery and performance space, along with a café that sells beer, wine, coffee, and food. "We're really creating a living room of the arts and literature for our community," Kaufman says.
No matter how technology advances, Kaufman is confident that bookstores will continue to be important. "I think we are fascinated by technology and innovation, but we come back to things that bring us comfort and help ground us. And when you hold a weighty book and you feel that quality paper and you look at those end papers or you look at those illustrations, it's a very different experience than that same book online," she says. "I think a book is authentic, it is real, it is grounding and the other things feel less so. They feel more fleeting. A file? Big whoop. You just bought a file."