If renters paid just what they could afford in rent, the average household would have $6,200 a year more in their pocket to spend on groceries, childcare, medical care, and education—things one in five households have been skimping on to make rent. Collectively, that would amount to $124 billion that can help fuel economic growth.
These estimates of the 100 most populous U.S. cities come from a new analysis by the National Equity Atlas—a joint project by PolicyLink and the USC Program for Environmental and Regional Equity. "Renters are the lifeblood of cities,"Angela Glover Blackwell, CEO of PolicyLink, said in a statement. "If rents were affordable, renters could meet their basic needs like transportation, food, and child care and contribute even more to thriving communities. This would have a positive ripple effect throughout their regions."
In 2000, the share of rent-burdened households in the U.S. was just 39 percent, according to the analysis. But now—10 years after the Great Recession—more than half of the nation's renters divert more than 30 percent of their incomes towards rent and utilities, according to an analysis of of the 100 most populous U.S. cities. The folks at Equity Atlas calculated how much the nation's renters would save if they paid only 30 percent of their income in housing costs.
Of course, the affordability crisis varies considerably by geography—and so do the savings from ending it. According to the analysis, residents in Washington, D.C., would stand to gain around $8,600. That's relatively high among the cities analyzed: El Paso renters, on the other hand, would make only around $4,000 in savings. (National Equity Atlas created individual profiles for 37 cities that are participating in the "Renter Week of Action," a campaign to push for policies that help mitigate the affordability crisis.)
A quick recap on how we got here: The foreclosure crisis triggered a fundamental shift in the housing market, moving Americans away from owning homes and towards renting. In 2009, CityLab's Richard Florida deemed it the "great reset." This trend has slowed down, but not abated: "Growth in renters continued to outpace that in owners, with their numbers up by 600,000 last year," reads a 2017 report by Harvard's Joint Center of Housing Studies.
Meanwhile, construction of new housing is at historical lows. And whatever little supply of affordable units is being created, it has just not kept up with the climbing demand. Meanwhile, even as new jobs boost median incomes, wages remain stagnant. Inequality refuses to slough off, holding those at the bottom of the income ladder in a steady squeeze.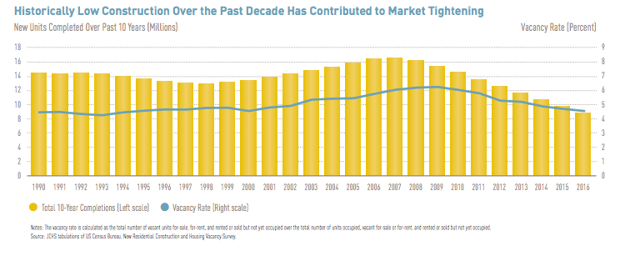 Renters of all ages and races are being pinched to keep a roof over their heads. But the affordability crisis is, at its core, an equity issue. Homeownership—the primary way to build wealth in America—has always been set up to favor the white and the rich. Then the recession hit, dealing extra blows to people of color. So, it's not a coincidence that the black homeownership rate has seen the steepest decline, plummeting to 1994 levels; simultaneously, minorities have made up the bulk of the increase in renter household numbers in the last two decades.
For the poorest Americans, there are already some programs that base rents on affordability, including the federal Section 8 Project-Based Rental Assistance which subsidizes private rent.
If the Department of Housing and Urban Development (HUD)'s affordable housing programs get slashed, renters would stand to lose the most—(in some ways, they already are). On the other hand, if the government prioritizes ending the affordability crisis through greater, more targeted rental aid and incentives for affordable housing construction, black and Hispanic households could see the highest gains. The two groups would see 13 and 11 percent increases in their disposable income, respectively (in chart below). Others would be better off, too, mounting credence to the claim that higher racial parity makes cities richer.