When you're looking to buy or rent a home, city and county boundaries may seem less important than a commute, school district, or tree-lined street. But for those in the LGBT community, one number in a ZIP code can mean the difference between being protected against discrimination and being left out in the cold.
With a new feature launched Wednesday, Trulia, a site for real estate and rental listings, aims to help prospective homebuyers and renters find housing that's covered by LGBT nondiscrimination laws. When searching for a home, the Local Legal Protections tool lets users see whether there are legal protections for housing, employment, and public accommodations regarding sexual orientation and gender identity. (Trulia uses the term "LGBT" instead of "LGBTQ," as "queer" is a term not commonly recognized or utilized in policy). Local Legal Protections tells users what protections exist within a certain jurisdiction, and if they are handed down from a state, county, or city.  
"We want to help people understand their neighborhood and find a place they love to live," said Tim Correia, Trulia's general manager and senior vice president. In order to actually build the feature, Trulia partnered with the Movement Advancement Project (MAP), a think tank that focuses on LGBT issues, to obtain data about LGBT nondiscrimination laws at the local level.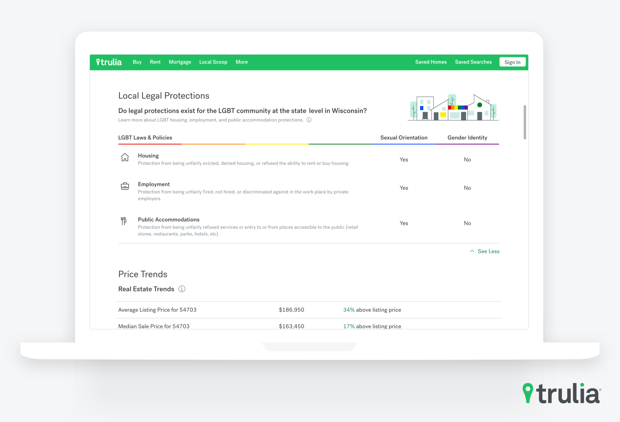 "Our agenda is not to change the civil laws or makeup of the city, but to give an authentic picture of what [exists] now," Correia said. According to MAP, 43 percent of America's LGBT population lives in states with a low number of nondiscrimination policies. In 2016, a study from the Center for American Progress found that a quarter of LGBT respondents had experienced discrimination in employment, housing, or public accommodations because of their sexual orientation or gender identity.
As housing law currently stands, there are national protections against discrimination for "race, color, national origin, religion, sex, disability, and the presence of children." But there are no national safeguards for sexual orientation.
That's unlikely to change any time soon. During his Senate confirmation hearing, Housing and Urban Development Secretary Ben Carson said he doesn't believe the LGBT community deserves "extra rights" when it comes to nondiscrimination policies. In July, 28 Democratic senators sent a letter to Carson protesting that resources on the agency's website designed to protect LGBT people from housing discrimination had been withdrawn or removed.
Yet there is evidence to suggest that such nondiscrimination policies are warranted. In one 2013 report, HUD said same-sex couples experienced worse treatment than heterosexual couples in the online rental housing market. A study done by four Fair Housing Centers in Michigan concluded that over 25 percent of couples looking for rental housing faced discrimination for being gay.
In regards to employment, while the federal Equal Employment Opportunity Commission has interpreted Title VII of the Civil Rights Act to include protections for LGBT employees, that stance is not necessarily binding in court.
Public accommodation laws that apply to discrimination—from bakeries to doctor's offices to libraries—vary widely among states. Nineteen states and D.C.—comprising less than half of the nation's LGBT population—have public accommodation laws that prohibit discrimination because of sexual orientation or gender identity.
Ineke Mushovic, MAP's executive director, and Naomi Goldberg, the organization's policy and research director, call the existing state of nondiscrimination laws "a patchwork," and one that can be difficult to navigate.
"At the state level, there are still 31 states that lack comprehensive protections," Goldberg said. "We've seen great advancements in Florida, Pennsylvania, Missouri: There are lots of cities and counties passing ordinances in absence of state action. But you also have places where there are very few passed, like South and North Dakota." And some states, like North Carolina, have gone so far as to ban cities and counties from passing nondiscrimination laws.
Goldberg identified two important trends in recent nondiscrimination ordinances for the LGBT community. One, they include gender identity in addition to sexual orientation. Two, most are fairly comprehensive—meaning they include housing, public accommodation, and employment.
Correia realizes how much of a difference state and city borders can make. "If you're taking a job in Cincinnati from somewhere else, and you're looking at price comparisons, it could be very easy to go over the border to Kentucky" for a home, he said. "But it's very different, in those two metros, what your protections are."
"If you travel to another state and you want to have a romantic dinner, you could get kicked out of the restaurant, or a taxi cab, and there's no state law to protect you," Mushociv said. This, she noted, is why Trulia's new tool fills a clear need. "It's important, when you're choosing a place to live, because a lot of these [policies] are at the city level. If you live outside the city boundaries, you aren't protected by local laws. Making people aware of this can be hugely important for folks."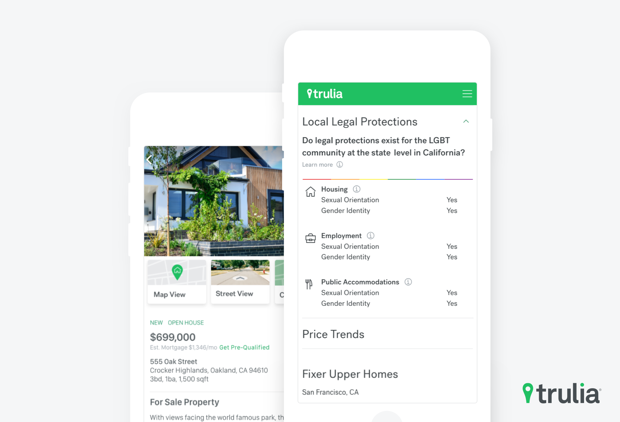 These protections matter deeply to the LGBT community, said Ryan Thoreson, a researcher at the Human Rights Watch's LGBT Rights Program. He recalled a woman in Michigan who, along with her wife, had decided to live in East Lansing due to the city's nondiscrimination protections. But after signing their lease, the couple discovered that their new home technically fell within the boundary of a different township, one without any protections.
"It's an illustration of the lengths LGBT people have to go to to make sure they're protected, and the importance of those protections," Thoreson said.
Correia said Trulia researchers have found that over 80 percent of consumers say that a neighborhood is of equal or greater importance than a home itself. He said that the process of creating this tool has expanded the company's understanding of what matters to people in a neighborhood, and that the next aim is to expand the project into other dimensions, looking into local laws about immigration status and disability.
Goldberg is aware that nondiscrimination laws don't automatically spell the absence of discrimination in a given area. But awareness can help bring change.
"I think that's part of why [Trulia's] feature is really exciting," she said. "It helps inform not only LGBT people, but also allies, about what's in that area. If they're surprised to learn the community they love doesn't have protections, maybe they'll add their voice to say 'Dear city council, we should have an ordinance. Discrimination against my LGBT friends is wrong.'"
"Particularly in urban areas, you have suburbs, and the LGBT friendliness of different communities changes block by block. People do have options of where they want to live," Thoreson said. "I think it challenges cities to step up to be a place where LGBT people can feel safe and secure living."