"I like to think of Park(ing) Day installations as the gateway drug for urban transformation," says John Bela.
He's one of the minds behind the urbanist holiday, held on the third Friday of September every year. Indeed, since 2005, when Bela and his collaborators installed the first Park(ing) intervention on a drab street in downtown San Francisco, the idea has gone on to enliven countless blocks around the world, and to enlighten countless urbanites, who get to enjoy spaces normally reserved for stationary cars. Last year's event, for instance, featured a streetside ping pong table in Los Angeles, a delightfully twee succulent garden in Madrid, and a giant inflatable Pokemon in Singapore.
For Park(ing) Day 2017, CityLab rode the wayback machine with Bela, to learn how this global phenomenon came to be, and how it might just transform our cities.
In 2005, recently returned to San Francisco from a project in the New Mexico desert, Bela and his urban design collaborators, Blaine Merker and Matthew Passmore, were hankering for a more urban project. They were inspired by the work of conceptual artist Gordon Matta Clark, who created installations in New York City's tiny, irregularly shaped lots that existed due to surveying errors.  
As they searched for "unscripted fragments" of land in San Francisco, parking spaces emerged as an under-appreciated land use type in an otherwise vibrant city. What's more, they could be rented on the cheap, at just a few coins per hour. "We looked at the parking spaces and thought, 'Oh wow, this is subsidized real estate,'" Bela says.
So one day in late September, the group found a parking space in a particularly gray part of downtown San Francisco, and converted it into a mini park. On what had once been concrete, they rolled out living grass, put up a bench, and placed a potted tree. Then they retreated across the street to observe the results, hoping their urban intervention was not an arrestable offense. Within minutes, a man sat down on the bench, took off his shoes, and began to eat lunch. Another person joined soon after, and the two began having a conversation. That's when Bela and his collaborators knew they were on to something: "We created an opportunity for social interaction that wasn't there before."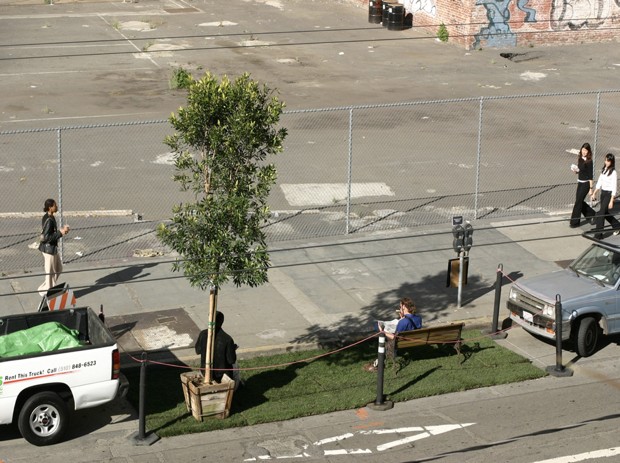 After posting photos of the intervention on Passmore's wife's blog, the group began getting calls from interested parties all over the world, asking them to create similar installations. But with limited resources, there was no way they could field all the requests. So they decided to make their idea open source. "The way it happened was us saying, 'This isn't ours, we don't own it. This is an idea, let's share it with the world," Bela says. The group, newly christened Rebar, set about making a how-to manual that not only addressed the technical aspects of Park(ing) installations, but also expressed some of their foundational values. "We tried to frame a number of things we thought were important about it; that this is an act of generosity; it wasn't necessarily about protest, but it was about demonstrating an alternative to storing cars in parking spaces," Bela says.
Soon, Rebar's project started receiving support from the Trust for Public Land. By the following September, on Park(ing) Day, every city where the TPL had an office also had their own Park(ing) installation. With each passing year, more and more cities have participated, making Park(ing) Day the global event it is today.
But its impact doesn't stop at just one day in September. In 2008, the city of San Francisco approached Rebar to prototype "parklets," which are more permanent Park(ing) style installations, sponsored by local businesses. Park(ing) Day helped inspire San Francisco's Pavement to Parks program to create its parklets initiative. The program has been a massive success, creating dozens of new public spaces across the city. Cities ranging from Ames, Iowa, to Accra, Ghana, have since deployed parklets of their own. Organizations like Better Block Foundation have sprung up to encourage these kinds of interventions in places they might not otherwise reach.
"Parklets have become a new urban space typology on their own," Bela says. Indeed, since Rebar's humble intervention in 2005, an average day in San Francisco and many other cities looks a bit more like the third Friday in September. Park(ing) Day, and all of the more permanent changes it helped spawn, portend a new paradigm in urbanism, Bela says. "Dialing back the space we allocate in cities for moving and storing private automobiles, which is inevitably going to happen, is going to unlock a whole lot of space and opportunity in these things we call streets today."
CORRECTION: An earlier version of this article mischaracterized Rebar's connection to San Francisco's parklets program.