In much of her work, Svea Josephy, an associate professor at the University of Cape Town's Michaelis School of Fine Art, examines how urbanization can be explored through art. One of her most well-known exhibitions, "Satellite Cities," explores the parallel between towns in South Africa and their namesake cities in other parts of the world: one photo set contrasts the National Library in Pristina, Kosovo, with the Kosovo settlement in Cape Town. "Blueprints," a recent project, examines how cities are laid out and tries to probe the reasoning behind those decisions. While mapping the project, Josephy was able to clearly see the infrastructural barriers of segregation.
She spoke to CityLab about her work, urban planning in South Africa, and how art can help viewers think critically about cities.
Your previous work has also dealt with cities and spaces. Do you have a background in urban planning? Where did the interest in cities first spring from?
I have no background in urban planning. I studied fine art, first a BAFA and then an MAFA. I teach photography at the University of Cape Town. I have always been interested in the contructedness of photographs, and that led to thinking about construction in other ways. I have always been fascinated by maps and plans and how things on maps and plans represent other things, have symbolic value. I guess photographs operate the same way.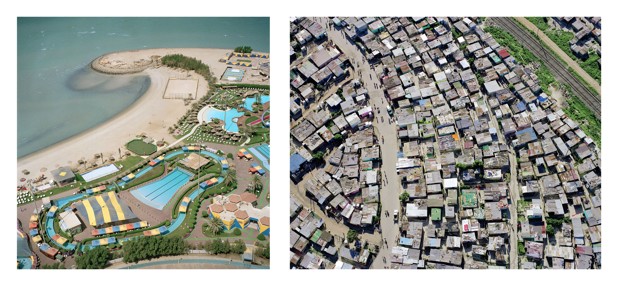 Through "Twin Town" and "Satellite Cities," I developed an interest in photographing places that were identically named but were worlds apart. These were almost always urban places. Many places in South Africa were named during the colonial and apartheid eras after places in Europe. Later, during late apartheid and post- apartheid, communities began to name the places they had settled, or to rename places. I am interested in the connections between places, what they share and what they don't.
More humans are urbanized than rural. We live and work in spaces that are not questioned. The fields of planning and the built environment can be critically addressed in fields such as critical urbanism studies, but what art can bring is a different critique—one that allows the viewer to explore things we take for granted about the city in different ways. It allows us to imagine, dream, and consider without the constrains of the "real." I'm really interested in imagined cities [in art], in films about the future, and in literature.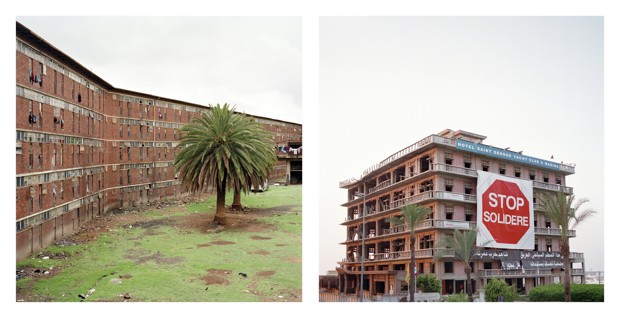 Where did the inspiration for your current cyanotype project, "Blueprint," come from?
Thinking historically through the use of the blueprint in relation to urban planning and architecture, I arrived at this "form fits function" moment, where the materiality of the cyanotype worked together with the concept of drawing apartheid-era planning into focus.
Working with aerial photographs, maps, documents from archives and photographs, I began the series. I draw the "structures" in Illustrator and cut them with a laser cutter so I have literally thousands of bits of card to choose from. I lay down houses, schools, hospital, clinics, and tower blocks in relation to each other in gridded or informal arrangements. Each cyanotype is original because it is constructed differently on the page, so it's unlike conventional photography, which can be infinitely reproduced.
It holds the contradiction of the original blueprints in planning, architecture, and industry, which were used for their accurate reproducibility—and yet a blueprint was also considered to be something secret and precious.
Whereas in my work as a photographer, I am out in the field, engaging with life of the city—the noise, the chaos—the darkroom is a very ritualistic and meditative space. It is dark, quiet, and allows me the space for to consider and contemplate the city: How is it laid out? Why? Who lives where? What footprint do they occupy? What is the shape of the structure? Is it big or small? Where are the services? Where are the recreational spaces?

What has the project helped you discover about the legacy of urban planning in South Africa?
It has perhaps helped me to understand what I already knew: that the legacy of apartheid city planning is still strongly with us in South Africa today. I think particularly in cities like Cape Town, where the geography of the mountains and the sea means that little can change, which is bleak. One can clearly see and represent the "buffer zones," green belts, railway lines, freeways, and industrial areas that were created to keep people apart.
On the other hand, it has helped me to understand some of the creative uses that people have put the city to. Spaces are being used in ways that were never intended by the bureaucrats who initially produced them.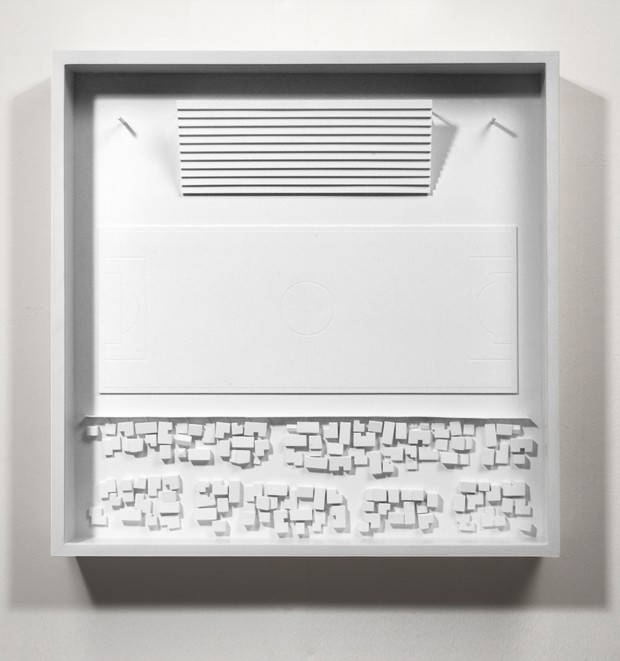 So what can art teach us about power and perspective in cities?
If we consider the work of an artist like Bodys Isek Kingelez, from Kinshasa, in the Democratic Republic of the Congo, one can learn a lot about African "tropical" Modernism. It does not have to be accurate, but instead it explores power, projection, hyperbole and imagination. The Benin artist Meschac Gaba's work "Sweetness," a giant sculpture of a city made of sugar, weaves together histories of cites, architectures, "great buildings," and colonialism and the slave trade in ways that point to the relationship between the structures, people, and the trade that contributed to the capital to build "Great Western" cities.
What about cities interests you that you have yet to explore?
I am embarking on a project with a colleague from the Wits City Institute, University of the Witwatersrand, which looks critically at modern architecture in Africa. She is trained as an architect, and I as an artist, and we are interested in this form of interdisciplinary collaboration. We collaborated on another project in 2010, called "Third Worlds: Model Cities."
I will continue with my "twin cities" project, which looks at shared naming practices. I still wish to photograph some of the cities, suburbs, and towns in the world that are named after African places.
Cities in Southern Africa are fascinating, fast, crazy, contradictory, sophisticated and contain so much of the unexpected, so there's a lot of material.