One reservoir designed to protect Houston from surging stormwaters has exceeded its capacity, according to a briefing by the U.S. Army Corps of Engineers, and another is not far behind. With heavy rainfall still predicted from Tropical Storm Harvey, the reservoirs may contribute to even more destructive flooding in Houston.
Floodwaters rose to record highs in both the Addicks and Barker Reservoirs, located about 20 miles west of downtown. An official with the Army Corps of Engineers said that the pool elevation at Addicks had reached 108 feet—the height of the spillway—as of Tuesday, up from a level of 105 feet recorded at 5 p.m. on Monday.
At the neighboring Barker Reservoir, the pool elevation reached 100 feet, just shy of its 104-foot spillway level, although the official said that this spillway would likely see work as well. The Army Corps of Engineers began controlled flooding to discharge floodwaters from the reservoirs, although the impending rain from Harvey may lead to more uncontrolled flooding, too.
Over the course of Harvey, approximately 34 inches of water have fallen upstream of Addicks and Barker. That's half the expected rainfall for the entire year.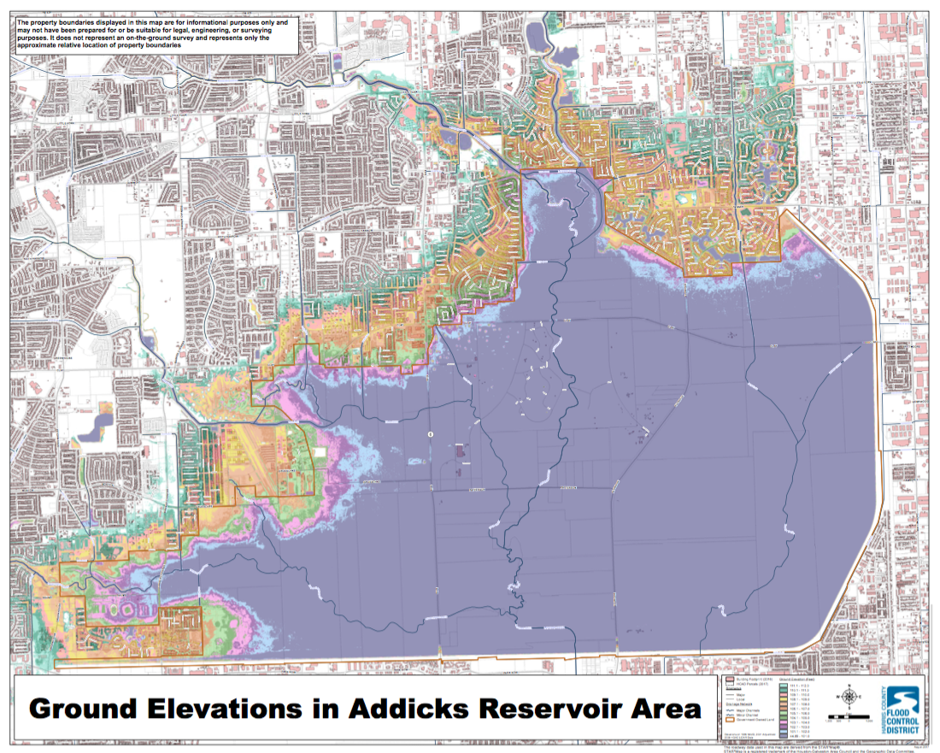 The map above shows ground elevations surrounding Addicks Reservoir. The green outline stretching well into surrounding communities represents elevations of 111–112 feet. Areas shaded in yellow show where reservoir floodwaters stand now (at 108 feet).
"Residents adjacent to the reservoirs, both upstream of Addicks and Barker and downstream along Buffalo Bayou need to be vigilant, because the water in the reservoirs is rising rapidly and has significant potential to cause additional flooding impacts," says Edmond Russo, deputy district engineer for the U.S. Army Corps of Engineers Galveston District.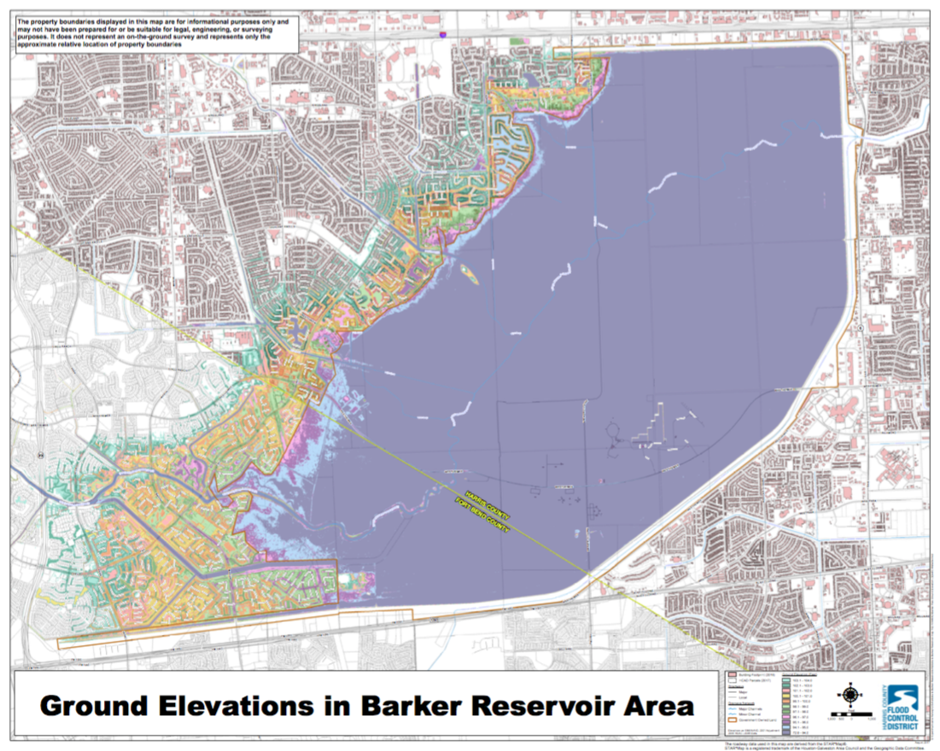 Upward of 3,000 homes near Addicks and several hundred more around nearby Barker have already flooded. More flooding will only add to the suffering of these dam-adjacent communities. But the flooding at the reservoirs has grave repercussions for all of Houston, especially along Buffalo Bayou.
Officials expect to conduct dam releases for months. They foresee spillway overflows for Addicks through nearly the entire month of September. But the uncontrolled discharges—the flooding along the north end Addicks and along both sides of Barker—is a total wild card. Currently, the water levels of Buffalo Bayou are so high that the dam outlets where water is supposed to discharge out into Buffalo Bayou are submerged underneath Buffalo Bayou.
This means that the floodwaters from the reservoirs can't effectively discharge. It also means that Buffalo Bayou will recede back to normal levels more slowly—and it could even rise by inches or even feet. The Army Corps of Engineers can't predict what happens next. This goes to show the strength of this storm: The reservoirs, built 80 years ago and considered so thoroughly unviolable that communities sprang up heedlessly all around the waters' edge, have met their limits.
"This is something we've never faced before," says Jeff Lindner, a meteorologist with the Harris County Flood Control District. "We are trying our best to wrap our [heads] around what exactly this water is going to do as it interacts with subdivisions, road-side ditches, underground drainage systems—that it's all going to be interacting with."