Hurricane Harvey, the worst rain storm ever recorded, unleashed heart-breaking damage, but there is little doubt Greater Houston will rebound. It's long been one of the country's fastest growing and most vibrant regions, with a population fast approaching seven million people and projected to grow to more than 11 million by 2050. With an economic output of nearly $500 billion, its economy is roughly the size of Sweden, Poland or Belgium, placing it among the 25 most productive nations in the world. It is a center of high-tech energy production, with concentrations of software engineers and high-tech talent that are among the highest in the world.
With its abundant economic assets and talent, we are confident that Houston will rebuild. The question is: How?
Natural disasters confront us with terrible tragedy: at least 50 people have died from Harvey's wrath, approximately 40,000 homes were destroyed, and property damage will likely add up to $100 billion dollars. But, they also provide an unprecedented opportunity to re-imagine growth itself, recasting urban infrastructure and economies in more resilient, sustainable and inclusive ways.
In his book, The Evolution of Great World Cities, Christopher Kennedy shows how many great cities have reset their development trajectories in the wake of natural disasters. London's rise to global commercial dominance in the 17th century was fueled by its response to the catastrophic fires of 1666, which led to sweeping changes in the city's building codes and the widening of its streets, which in turn led to increased densities, the adoption of new building technologies, and ultimately remade the city in ways that put it on a new growth trajectory.
This is what Houston can and must do today.
In the short term, there is much work to be done to rebuild the damaged homes, apartments, roads and commercial buildings. However, it would be urban malpractice if the region did not also take this opportunity to re-imagine its future, and create a long-term vision and plan for greater ecological and economic resilience. It should be premised on addressing both increasingly volatile weather events and creating a more economically sustainable and inclusive development model which lifts the quality of life for all Houstonians.
Greater Houston has been widely admired for its entrepreneurial approach to land use and zoning, which has fueled its growth. But its lack of development guidelines has also come under fire for producing its low-slung, sprawling, auto dependent urban form with little permeable surface area, which has left it vulnerable to devastating flooding. The region now has the opportunity to rebuild in a more forward-thinking, resilient and inclusive way.
The solution is not just more and better pipes, walls and infrastructure. It lies in better use of its natural systems of flood protection and mitigation. Philadelphia is now investing over $1.7 billion in its green infrastructure plan, planting trees, creating parks, gardens and swales in a way that will reduce the city's storm water outflow by 85 percent, and saving another $7 billion in hard infrastructure costs. Rotterdam's climate change adaptation strategy uses natural areas as veritable "sponges" to absorb storm water and canals to store and move water during floods. Adding trees, gardens and green space during the city's rebuilding will help to more effectively absorb storm water and reduce summer temperatures. A greener, more natural approach to infrastructure will enable the region to better manage floods, and contribute to the city's quality of life, increasing its ability to attract the talent that powers the knowledge economy.
With rising sea levels and increased weather volatility, Greater Houston will have to combat the encroachment of the Gulf of Mexico along its eastern edges, and improve its drainage capabilities in the city center in the west. Unfortunately, the region is very flat, sloping only four feet across its entire downtown. The solution is to rebuild in a more dense and clustered way which can be raised above the flood plain. Green construction, energy efficient building technology and distributed energy systems will not only increase the region's resilience to flooding and weather events, it will reduce operating costs, and create a market for new technologies, industries and jobs.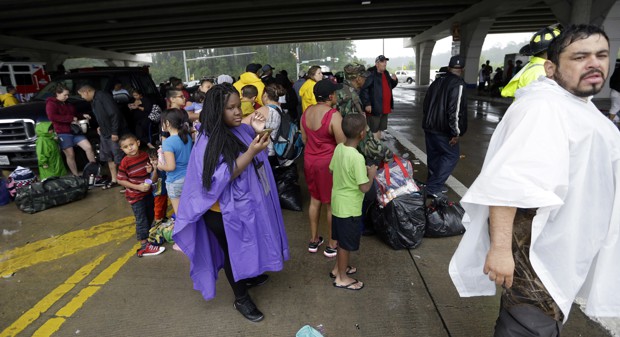 It is time for a thorough rethink and reset of the region's transportation infrastructure. Houston's notoriously car-dependent road and highway network has contributed to its sprawl and left it vulnerable to flooding. Its traffic congestion is horrendous. The average Houstonian spends an average of 74 hours–roughly two full work weeks—stuck in traffic each year, giving it the fourth worst rate in the nation.  And its clogged roads and highways make it virtually impossible to evacuate the city when disaster strikes.
The time has come to invest in mass transit and rail. It will not only make the region more compact, sustainable and resilient, it will increase the velocity of people, goods and ideas, creating a better ecosystem for innovation. And it can massively increase the scale and scope of its economy. Using high speed rail to link Houston to a broader mega-region spanning Dallas, San Antonio, and Austin would create an economic region of 20 million people, and more than $1.5 trillion in economic output, making it one of the world's ten largest economies, bigger than Canada, Russia, Spain or Australia.
Houston can also use its rebuilding to address the growing gap between rich and poor and bolster its declining middle class. The metro suffers from among the highest levels of inequality and segregation in the country, ranking behind only New York, Los Angeles, and San Francisco on composite measures of economic segregation and economic inequality. Even as its urban neighborhoods have revitalized, the city and region have divided into a patchwork of concentrated advantage and concentrated disadvantage, with the latter neighborhoods most at risk from flooding and environmental disasters: More than three-quarters of the city's closed landfills and nearly 90 percent of its hazardous waste sites are located in low-income, largely minority neighborhoods. Rebuilding must include a special and concerted effort to create a more inclusive development model based on mixed used development, affordable housing, and access to better jobs.
An affluent, rapidly growing and ambitious global city, Greater Houston can recast its economy and become a model for great coastal cities around the world. Human civilization emerged in the flood zones of river valleys, where the soil was the most fertile. More than three-quarters of the world economy is based around coastal cities. These are the world's most innovative and productive places, but they are also among the most vulnerable.
As it rebuilds from Hurricane Harvey, Houston has an unprecedented opportunity to recreate not just its houses, buildings, roads and infrastructure, but to reorient its economy and development model for the future. It can replace its old sprawling, car-dependent, energy-intensive model, which served it so well in the past but is nearing its sell-by date, with a new, leading edge model based upon clustered mixed-used neighborhoods connected by transit and ringed by abundant green space that makes use of green building technology. In doing so, Houston will provide cities around the world with a badly needed new model for how to build resilient, sustainable, economically vibrant, and inclusive communities.
This is a longer version of an oped that appeared in the Houston Chronicle.