In so many ways, the 1970s are making a comeback. Wide-leg jeans! Off-shoulder tops! Profound levels of distrust in government!
Here's a tentative addition to that list: carpooling. New Census data released on Thursday shows upticks in the proportion of workers who report they're sharing a ride to the office, across a number of major U.S. cities.
The American Community Survey 1-Year Estimates come with fairly wide margins of error, so take the local data with a grain of salt. Still, the national trend is that a smaller share of Americans are driving alone. So, where'd they go? Given continued declines in transit ridership, it doesn't seem that they're riding the bus. And they're not on their bikes: In a handful of cities, the share of bicycle commuters is surging, but national numbers show a small overall dip. Carpooling, on the other hand, appears to have ticked up as mode share for the first time in years.
In the environmentally-conscious OPEC years of the 1970s, one in five American workers hitched rides to work with colleagues. By 2015, that figure had dropped to one in 10. Carpooling's sharp decline has been called "the most significant change in commuting behavior in the past few decades." It's true that we've previously promised a carpool comeback. But the new local and regional Census data suggests things are finally looking up for Dagwood Bumstead's mode of choice.
Behold the trend for the 11 largest metropolitan statistical areas since 2013; the average is shown in the thick lime-green line: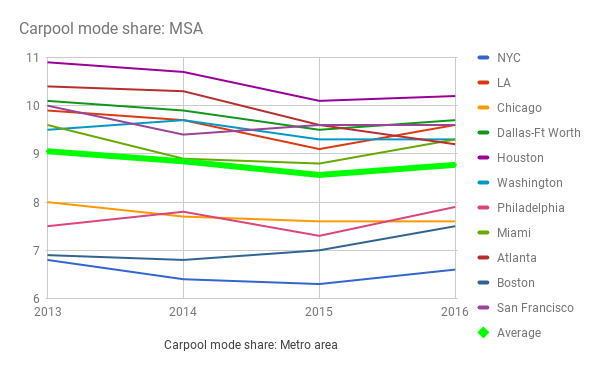 Measuring large U.S. cities by their municipal boundaries, the upward trend line of carpooling's mode share looks a little sharper: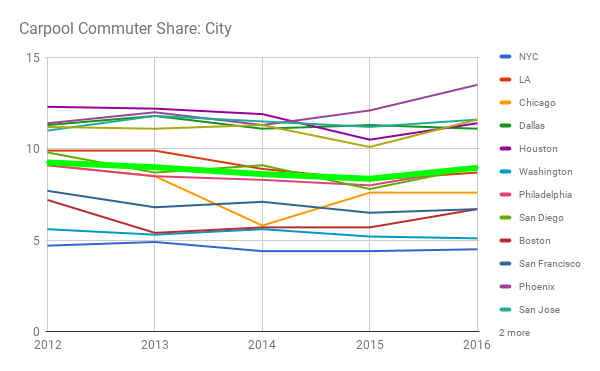 Note that these two graphs aren't perfectly comparable. I used a selection of different cities for a more expansive look, and I took advantage of data available at the city level that goes back further in time. (For an interactive look at these numbers, click here for the MSA graph and here for the cities.)
For decades, local governments have tried, largely in vain, to entice commuters to split rides in order to rein in traffic and pollution. More recently, transit pundits (we exist) hoped the advent of ultra convenient, algorithm-driven apps like UberPOOL, Lyft Line, and Waze Carpool—and lesser known entrants like Carma, Carzac, Duet, Muv, and Scoop—could reverse that trend.
Could that be what these Census numbers are showing? It's too early to say if the tide has finally turned, and certainly too early for carpooling and ride-hailing apps to declare victory—especially if they're cannibalizing transit ridership, which in dense cities is generally the most efficient mode. But it's a hopeful development nevertheless. May we suggest shared mobility fans celebrate by breaking out a single can of Tab?