After the exhibition "Never Built Los Angeles"—an exploration of the city's most compelling unrealized proposals—wrapped up in 2013, Sam Lubell and Greg Goldin decided it was time to give another city the same treatment.
"The next city would have to be a hub of talented builders and designers with a lot of appeal to people around the world," says Lubell. "Where there's good built work, there's good unbuilt work!"
So, New York it was.
One year after publishing Never Built New York (Artbooks), Lubell and Goldin have taken their project to the Queens Museum for a stimulating look back at 200 years of ideas that never left the drawing board.
The dizzying amount of grand proposals are thoughtfully spaced out through three separate galleries, taking viewers from Flushing Meadows, to Manhattan, to a "Never Built" twist on the museum's famous city panorama.
Despite its focus on could-have-been's, Lubell and Goldin (with the help of show designer Christian Wassmann) present their research with a genuine enthusiasm for the works without falling into nostalgia traps. While the duo have no lack of opinions on individual proposals, they hope that "Never Built New York" mostly taps into people's curiosities of how cities evolve through the planning process to this day.
CityLab spoke with Lubell and Goldin about their own highlights from researching for this project and what it took to make it museum-ready:
What were the most consistent or most surprising sources for good renderings?
Sam Lubell: The biggest lender was the Avery Archives at Columbia. Almost more than a third of what we have comes from there. It's just an incredible resource, many of the best architecture firms have their holdings there.
The treasure hunt was just the start of it. We then went to dozens more places including the New York Historical Society, unsurprisingly, but also some unexpected places late in the game like the MTA archives. We didn't find as much our first time visiting them but on our second round we found a lot great stuff through their Bridge and Tunnel Archives. We also ended up going to a bunch of other schools; Syracuse, Penn, Harvard, Princeton, USC, University of Texas, University of California… it's a long list.
Greg Goldin: The other big source was the Library of Congress. They have some of the best-quality drawings, including those of Robert Morris Hunt, who was the first Beaux Arts-trained U.S. architect, and Paul Rudolph, who was one of the greatest architectural hands, ever.
SL: We also visited the offices of existing firms, like Pei Cobb, Richard Meier, Michael Graves, and OMA.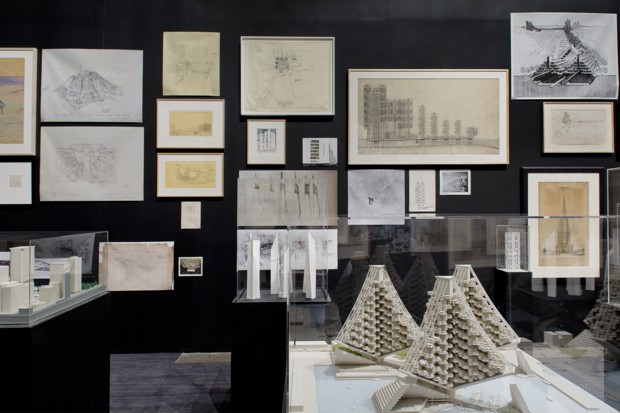 What about newspapers and magazines?
GG: The original drawings outweighed the stuff we'd find in newspapers or magazines. But that also depends on what period you're talking about. Closer to present-day, you're more likely to find original drawings and it gets murkier as you get deeper into the past. Sometimes all you could find for a project was in an engineering trade magazine from the 1890s, but even then that would lead you to one extant drawing.
SL: One tip will lead you to another place. The older the project, the more likely you'll get beautiful drawings. Contemporary firms just want to give you renderings, which don't have the same effect.
GG: Different firms treat these things differently. Some firms are happy to give you [the] rawest sketches of an idea on a napkin but other firms want to control the process behind the final idea more tightly, so all you'll get is a controlled idea of the drawing. We could never anticipate which kind of firm would give us which kind of drawings.
What kind of additional research or archival access was necessary after the book and before the show?
GG: We got to look at way more drawings!
SL: We needed a break after the book, but once you have the bug you keep looking. Sometimes things just come to you. People who saw the book would reach out and tell us about projects we hadn't previously seen.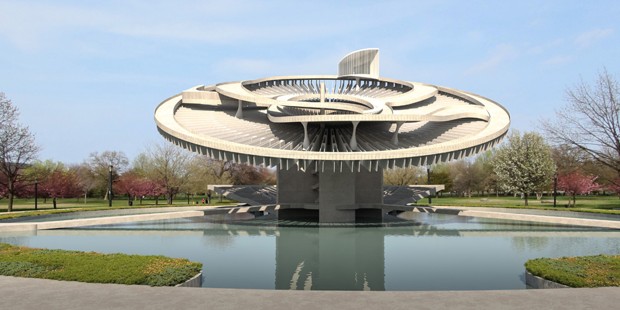 Was there a plan you came across that really surprised you?
GG: Galaxon by Paul Rudolph was probably the most impressive project we found after publishing the book. It was intended for the '64 World's Fair just outside the entrance to our show. Rudolph was commissioned by Portland Cement Association and they asked him to design the theme building for the event. He conceived this elevated, tilted, flying-saucer-like object where you'd get up to the viewing deck tilted at a perfect angle for stargazing. But God knows what you'd actually see with New York's light pollution. Maybe it wasn't as bad back then. Robert Moses nixed it, though, and the Unisphere ended up being built there instead.
SL: We found out about it by accident. Someone at the Paul Rudolph archives was getting us a Lower Manhattan Expressway drawing and he said, "You guys know about Galaxon, right?" We didn't, so he explained it and sent us some articles about it. We had looked through his archives at the Library of Congress before but they didn't tell us about it. It turns out it was off-site.
GG: We reached out to Portland Cement to see what they had and they ended up making a new, 3D printed model of it for us. It's the only model in the show that's a reproduction.
SL: The original drawings are amazing. In the show, we have a 30-foot-long drawing of it in the center space around all of the other Flushing, Queens, proposals.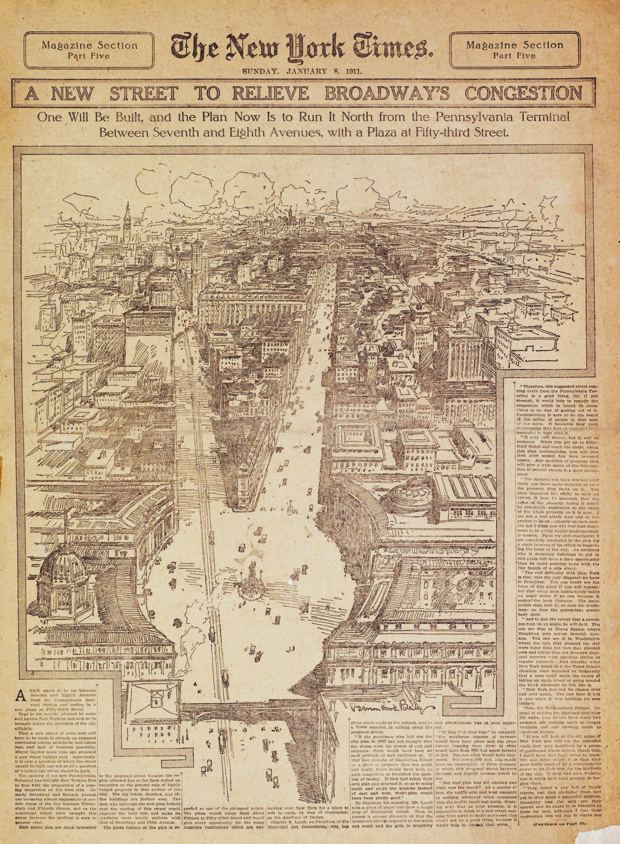 Is there an architect or developer whose ideas or drawings in this show impress you the most?
GG: Different eras evoke different things. Charles Lamb's drawings, with the blue-hued sidewalks in the sky are just a really gorgeous image. He was a really pivotal figure in the City Beautiful movement and was active in the Municipal Arts Society from its beginning through the 1920s. He could really draw. You get a deep sense of beauty and serious commitment to an enriching urban environment. He was a writer, an architect, an artist. He did everything and you can't help but fall in love with his drawings.
SL: My favorite is a 1930 model for MoMA by Howe and Lescaze. It has cantilevered tubes one over the next, and a glass block along the side. It's much more ambitious than what they ended up building. Howe and Lescaze was a very interesting modern firm but few today know who they were. They did the PSFS building—America's first truly modern skyscraper—in Philadelphia, which is where I grew up. MoMA had the model. We were praying we'd get it and we eventually did.
GG: There's also William Zeckendorf, a developer, first worked for his uncle's company and then for Webb & Napp, prominent developers in 1930s New York. He was a remarkable figure who presented amazing proposals for each idea. By the end of World War II, Zeckendorf had taken over the firm. He was capable of wild flights of fancy and made amazing proposals for the city. He had I.M. Pei as an in-house architect for a few years and had him design the Hyperboloid, which would have replaced Grand Central. Zeckendorf also proposed building an airport spanning over 40 blocks blocks of the West Side, putting a lid on top of the city over half the size of Central Park and stretching out onto the Hudson River.
SL: He was quite a showman. He had elaborate rollouts of projects and would place them in major publications. He became the nemesis of Robert Moses because of that. It's not a coincidence that none of these ideas ended up happening under Moses's watch.
Is there a single project that, if built, would have changed New York in a way that would have made the city notably different?
SL: There's a lot! Probably the most destructive ones are the Moses freeways, which would have sucked the vitality out of the city and divided it up. Those would have changed Manhattan for the worse and into something more like a lot of other American cities with highways through their hearts. There's no question LOMEX would have changed New York for the worse. One of the reasons Manhattan has remained such a vital urban space is because that project doesn't exist.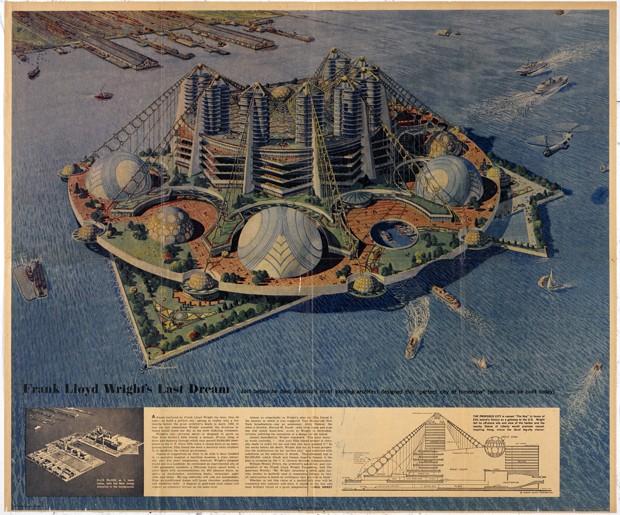 One that would changed things for the better would be that MoMA project because it would have changed the entire Modern architectural movement. Also, "Leapfrog City," John Johansen's fascinating plan for building above slums. He was enamored with the language of industrial architecture and the idea of things being attached above ground. Frank Lloyd Wright and Taliesin Associates' plan for Ellis island is another one. It was such an ambitious "city within a city" idea. It would have been a chance for Wright to experiment with changing urbanity. The scope of his futuristic phase would have been fascinating to experience. That being said, I wouldn't want to see Ellis Island be changed from what it is now.
GG: Matthew Nowicki's plan for Columbus Circle. What I like about that project is that it's a piece of very forward-thinking modern architecture with cantilevered trusses. It would have made it much easier for pedestrians to get around the circle without getting clobbered by cars. I think it could have aged really well.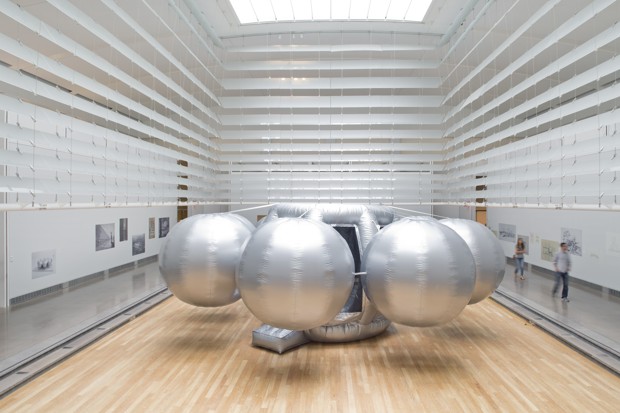 How did you decide on the Queens Museum for this show?
SL: We didn't know where we wanted to do it at first. We talked to a number of museums and got connected by Paola Antonelli at MoMA with the Queens Museum. The space offered us a chance to build over their city panorama, so that was a huge benefit. Also, the museum is just generally a beautiful space and it allowed us to arrange the show for a much better overall experience. Once we knew we were going to put this in the Queens Museum, we decided to have one space in the show dedicated to projects planned for the site surrounding the museum.
How were you able to build those glowing models for the panorama?
SL: We got lucky with that. We were looking for help, and we talked to a company that makes models for architectural firms, but their quote was astronomical. A friend connected me with Columbia University Graduate School of Architecture's model shop. Christian Wassmann, our show designer, met him with a copy of our book and they said they could do it. They pulled it off in a workshop over the summer, building 50 models in two months. They're different forms of plastic that glow and are embedded with LED lights. They did an amazing job, especially since they rarely had much info to go off of. I'm in awe of the work.
GG: We owe an enormous debt to our show designer, who found a way to use the space of the museum, including the Rubin Gallery where he created the effect of a busy Manhattan through the salon-style hanging of the drawings. One other element, the virtual reality which you can see in the panorama room, was the work of Shimahara Illustration. They were incredibly successful at bringing some of the unbuilt projects to life.
SL: It's important that the design all works together. The way you experience the show in Queens connects you to the site, makes it real, and then you're in the salon space before finally walking up to the panorama, looking above the projects with a sense of how it all would have affected the city. The combination of galleries makes for a really powerful experience.
Seeing these projects through our show doesn't just create a 'wow' factor: it can inspire people to learn more about how cities do or don't work. It clues people into the planning process. I think the emotions that come from looking back at these projects will make people think about what we can do now and in the future to improve New York.
Never Built New York is on view at the Queens Museum through February 18, 2018.