Dwight Eisenhower once said, "I have always found that plans are useless, but planning is indispensable." The same might be said for bike share.
Seven years after Washington, D.C., debuted the first major, modern, and carefully planned bike-share system in the U.S., the District opened the streets Wednesday to its younger, scrappier cousins: private, dockless bike-share companies.
Three contenders—Spin, LimeBike, and Mobike—are launching 400 bikes each into the nation's capital for a trial run of a new kind of privately operated bike sharing. Their introduction comes with tepid optimism, making small promises with big gestures.
On Wednesday morning, local reporters coaxed Spin CEO Derrick Ko out of the venue for his Silicon Valley-style unveiling of his San Francisco-based company's bikes. They brought the demonstration out to Dupont Circle, a popular D.C. park and notorious roundabout. There, Ko fielded questions about the doubts that come with dockless bike share. The stickiest among them: Why disrupt bike sharing in the city with the longest-running public bike-share program and the third-largest share of bike commuters?
Ko's answer was simple, "The more people on bikes, the better."
Indeed that seems to be the plan for Spin, LimeBike, and Mobike. All three work about the same. Using GPS-based tracking systems and QR codes, these dockless bikes can be unlocked and paid for with a smartphone. Once you're done riding, you can lock it just about anywhere within the right of way.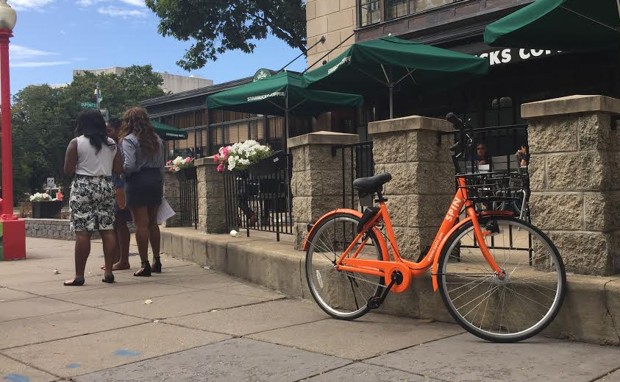 Ko considers his company a complement to the largely successful Capital Bikeshare program that launched in 2010, now operated by Motivate. The system now boasts 3,700 bikes and 440 stations in the District, Maryland, and Virginia. "Capital Bikeshare is an amazing system," Ko says. "But I think there are just inherent limitations to station-based systems, and that's where we've come in to fill in the gaps." He invited local community bike organizations to consider how his product fits into that ecosystem, with reactions ranging from curious to critical.
As Capital Bikeshare continues to expand service further into city neighborhoods, it's also facing increased costs to replace an aging fleet in the second half of its lifespan. The system's first bikes will reach their expected seven-year cycle this fall, and the earliest docks and kiosks have only a few more years. Amid uncertainty about corporate sponsorships or tax increases to cover replacement costs, these private companies think they can seize an opportunity.
"We're like the Uber and Lyft to their bus and subway system," says Toby Sun, the CEO of LimeBike. "It's on-demand, any time, any where. There's flexibility and convenience." The company first launched in Greensboro, North Carolina, and was among the many companies that recently launched in Seattle to fill the void left by Pronto. It currently operates in 9 cities and 8 college towns.
For riders, the bargain is tempting. The three companies have promos for free rides, and otherwise charge about $1 for each half-hour ride. That could mean a faster penetration of bikes into neighborhoods with no upfront costs to the city.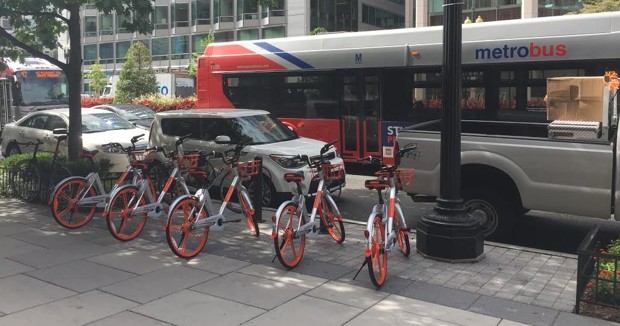 Near LimeBike's launch event downtown, I found a set of five Mobikes set up near bike racks. I watched someone circle around them to lock up a personal bike, then I took one for a quick spin around the block and locked it on K Street. In a busy square during the lunch hour, LimeBike's market launcher Jason Wilde explained the green and yellow bikes to passersby.
"We want everyone to know we're here as a piece of the transportation puzzle," he says. "Our goal is to connect as many people as humanly possible. … We can serve all eight wards without having to spend mass amounts of government and public funds."
In reality, that kind of penetration won't happen under the current trial limitations. Currently at 400 bikes a piece, all three companies say they'd ideally like to have thousands of bikes in the city to scale out their models. And there are extra limitations in D.C.: the National Park Service has asked the companies to forbid parking on their property, particularly the National Mall and Rock Creek Park. It'll be a challenge for the companies to enforce these rules at the two popular destinations—for starters, only Mobike's app shows that the National Mall as off-limits. None of the three show Rock Creek Park as being out of bounds, nor do they include any of the National Park Service's many smaller parks around D.C.
The companies say they'll share data with D.C.'s Department of Transportation, perhaps to provide evidence to advocate for new bike infrastructure. The apps' efforts to track bike rides and locations could help make more sophisticated plans for rebalancing—the trucking of bikes from places of low demand back to areas of high demand.
And about those "mass amounts of government and public funds": while these private companies' programs are "subsidy-free" or "cost nothing to the city or taxpayers," the fact is that many city-run bike-share programs can also cost cities next to nothing. Other public-private programs, such as Nike's Biketown in Portland or Ford GoBike in San Francisco, have found long-term deals to get complete funding through corporate sponsorship.
"There's a lot of different iterations with how traditional dock-based bike share has operated," says Zoe Kircos, the director of grants and partnerships at PeopleForBikes. "A lot of times cities have helped fund those with local tax money and a lot of times they haven't. Sometimes they've been completely operated without any city money." Capital Bikeshare was initially funded by federal Department of Transportation grant of $6 million when it launched in 2010. But advertising and ridership fees were expected to cover about 79 percent of the system's approximately $8.5 million operating budget in this year.
The cheap per-ride price of the new arrivals can be a bit misleading here, too. "If you're talking a buck a ride and you use it to get to and from work, it's not as expensive as a bus pass, but it gets you way above a subsidized bike share membership traditionally as offered, real fast," Kircos says. PeopleForBikes, which has no official position on private dockless bikes so far, works with the Better Bike Share Partnership to expand bike share equity, promoting accessibility for low-income riders and people without credit cards. Among the new dockless programs in D.C., Spin and LimeBike have plans to offer options for the unbanked and low-income.
We'll have to wait and see if the private companies have an incentive to follow through on these standards, which required community outreach from non-profits and brand ambassadors.
"At the moment, you need a debit card or a smartphone. That's a barrier." Kircos says. "Some of these companies have said, 'We'll create this program to eliminate those barriers.' We're like, great. If you have limited reach, if one company is offering some access but the other two don't, and you see a bike but that's not the system you've bought into, you're still out of luck."
Toward the end of the day, I rode a LimeBike from downtown to the Georgetown Waterfront, a common drop-off spot for Capital Bikeshares that often suffers from what we call dock-block, where every dock is full and riders have to seek out different stations. I scoped out the Mobike press event in the Washington Harbour, a place where you definitely are not allowed to ride a bike. Mobike is the largest of the companies, with 7 million bikes in Europe and Asia, but this is their first launch in the United States. After hearing their spiel promising a better form of bike share that sounds like all the others, I'm left wondering if these companies understand anything about the city they've moved to and its actual needs for cycling, especially since most Capital Bikeshare users I know tend to like it.
Walking back toward the LimeBike that I arrived on, my phone lit up with a notification from Mobike, which I used for that quick spin downtown earlier in the day. Apparently I had only just completed a 310-minute joyride, at a cost of $10. I could have sworn I locked that bike, ending the trip—but maybe it didn't take? (It seems I wasn't alone.)
With app-based or sound-based confirmations, these bikes try a new, high-tech way of doing things, but there are certainly bugs to be worked out. (For what it's worth, the old-school docks have issues with this too, from time to time.)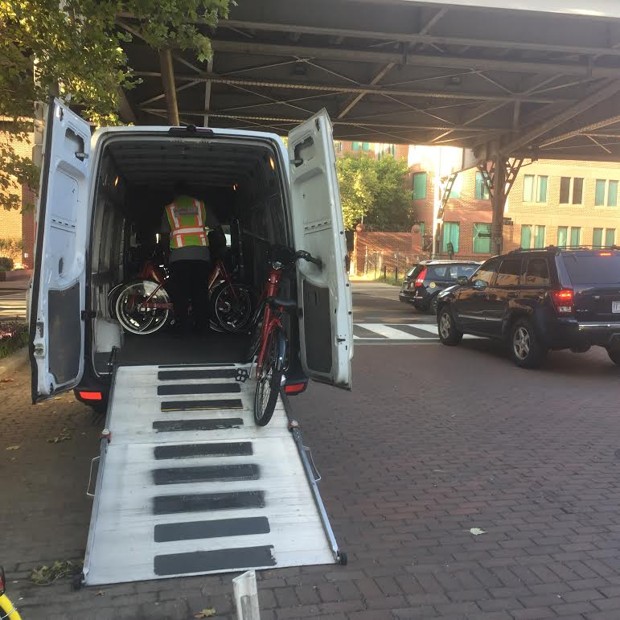 Heading home, I ran into Eric Lyons, a bike balancer who works for Motivate. He was loading Capital Bikeshare bikes into a truck to take them back to where they'd likely be used in the morning. He smiled at the lime green and yellow bike I parked next to his fleet.
"I heard we were going to have some competition today," he says. "They told me to treat them nicely."
Lyons says he isn't worried that the new bikes will challenge Capital Bikeshare. "It's all about moving the bikes to where people live in the morning and where they work in the evening. It changes a little bit on the weekends. I think we're going to be alright," he says. "It's pretty simple, but the key is you've got to know the city."
CORRECTION: A previous version of this story misstated which companies have plans to offer bike share options for the unbanked and low-income.