When Atlanta set out to build the BeltLine in 2005, it had an ambitious goal: Turn a 22-mile railway that surrounds the city's core into a multi-use trail and park—and ensure the development alongside it makes space for affordable housing.
In the nine years since the first segment opened, the plan has been praised widely for its efforts toward sustainability, transit, public health, and urban revitalization. But housing has always been a struggle. The city required Atlanta BeltLine Inc., the organization that manages the project, to fund at least 5,600 affordable homes along the trail when it's completed in 2030. By 2015, however, it tallied just 785 affordable units. In July, an investigation by the Atlanta Journal-Constitution found that BeltLine is falling so far behind that it may not be able to reach the requirement at all, and some affordable units that had been funded have already disappeared:
Beltline Inc. kept units that it funded affordable for only a short time; decreased spending on affordable housing as the city entered its current housing crisis; and even passed up on millions of dollars of potential funds. The untapped funds were enough to more than double the project's affordable housing budget, the investigation found.

Its mission of keeping black families and middle and low-income residents from being pushed from their neighborhoods became an afterthought to building parks and trails, the investigation found.
Meanwhile, nearby home and rental prices have swelled. A Georgia Tech report in February found that the prices of homes near the BeltLine increased faster than homes elsewhere—rising 40 to 68 percent over four years, depending on the segment.
Following the Journal-Constitution's investigation, BeltLine Inc. CEO Paul Morris stepped down, to be replaced this month by Brian McGowan, a principal with the global law firm Dentons.
In a city that's expecting significant growth, the BeltLine's challenges—and any lessons they can provide—are no trivial matter. By 2040, the metro area's population is projected to grow by more than 40 percent, or 2.5 million people. They all need somewhere to live, as do the 5.7 million people already there.
From its inception, the BeltLine was intended to help with this. So far, however, it's struggling to break from a pattern set by New York's High Line, a symbol of Manhattan's inequality that even its creators say has failed to benefit the community around it. Atlanta is far from alone here: The same concerns surround similar projects in Chicago, New Orleans and Philadelphia, just to name a few.
As McGowan prepares to take over the BeltLine, he says it still provides an opportunity for Atlanta to get development right.
"Every city in America should be thinking about affordable housing, whether it's a problem or not, because the more successful your city becomes, the more of a problem that is going to be," McGowan says. "We have this kind of laboratory along the BeltLine where we can try new things and if they work, we can apply those lessons in other parts of our own city."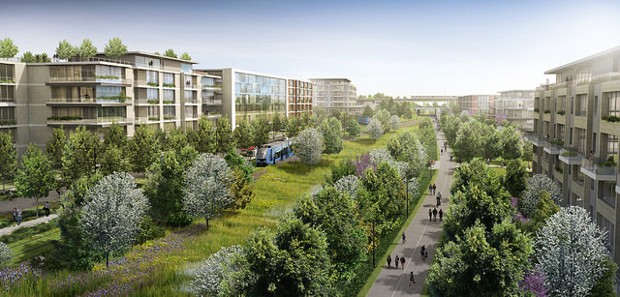 In recent years, the Atlanta City Council has taken more active steps to create affordable housing. In 2016, it passed an ordinance requiring any developer receiving subsidies from a development authority to set aside 15 percent of units for individuals who make 80 percent of the area median income, or 10 percent of units for people who make 60 percent of the area median income.
Councilman Andre Dickens, who introduced that resolution, now has a plan specifically for the BeltLine: Revise zoning laws that cover the BeltLine's path to require any project of more than 10 units to set aside a percentage of its units for affordable housing. In exchange, developers receive incentives to reduce property taxes, reduce parking requirements, and allow for more density.
As part of this plan, developers would have to hold those units for at least 20 years, a lesson learned from the BeltLine. What is affordable today may not be tomorrow, so long-term requirements are needed, says Dickens, who served on the BeltLine's board from 2014 to 2016.
"That's important for us to recognize when we start setting policies," he says. "You gotta get ahead of it."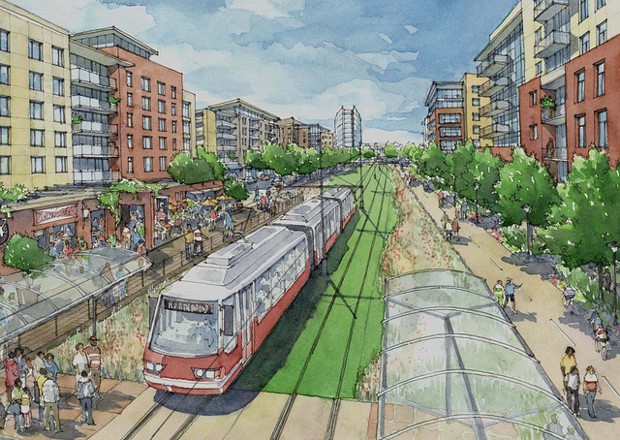 As Atlanta heads into mayoral elections this November, BeltLine creator Ryan Gravel says affordability is a critical campaign issue that Atlanta would face even without the BeltLine. He resigned from the organization that helps raise funds for the BeltLine in 2016 over concerns that not enough was being done to prioritize affordability as the project progressed.
"The problem isn't the BeltLine. The problem is not better transit, parks, trails, and grocery stores," Gravel says. "The problem is the lack of tools to manage changes that are coming to these communities."
Gravel says the major lesson of the BeltLine is that people should discuss infrastructure's role not only in affordable housing, but also job access and racial equity. The BeltLine provides a talking point for these issues.
"It's a tangible thing that we can talk about. It forces us to talk about specific answers that can then apply to the larger city," he says. "It's not causing all the problem and it can't solve all the answers, but it is a tangible thing that we can focus on and deliver specific solutions for."
Gravel, founder of an urban design consultancy, started the nonprofit Generator to tackle these questions about infrastructure. This fall, he's hosting a Generator workshop at Georgia Tech to discuss the future challenges of cities. For that, students are taking a look at Buford Highway, a road running from the city to the suburbs where many immigrants live. While they are not creating an official plan for Buford Highway, Gravel says it's a testing ground for students to talk about future affordable housing issues—the ones that now face the BeltLine.
"When you look ahead at sort of the challenges of retrofitting sprawl with some more sustainable kind of lifestyle, it seems to be that the immigrant population there might have some ideas that the rest of us can learn from," Gravel says.
That kind of collaboration serves as another lesson from the BeltLine. In order to increase affordable housing along the path, McGowan plans to work with housing agencies, nonprofits, private housing developers and Invest Atlanta, the city's economic development arm where he once served as president and CEO.
"If you're trying to solve an affordable housing issue, you need to bring all those assets together and set some common goals," he says.
Councilman Dickens also says the private sector needs to participate in the creation and preservation of affordable housing. "What has happened over the past four years is the private sector has chosen to only develop luxury," he says. "[They] have not taken into consideration our workforce—our police, our fire, our teachers, the bank tellers and the great people that do so many service jobs in our city."
In addition to working with the private sector, Dickens says the government should buy land where it isn't yet expensive, such as Southwest and Southeast Atlanta, in order to focus on sustainable development. "The government needs to be in the speculation business, unfortunately," he says.
Gravel says there is still time to encourage affordable housing, especially in the city center. The BeltLine is still in progress, and affordability is a long road. In mid-August, BeltLine Inc. picked a developer who will create up to 118 affordable rental apartments.
There are movements toward affordable housing elsewhere in the city. The Journal-Constitution reported Aug. 31 that the city plans to sell the Atlanta Civic Center, long a financial drain, to Atlanta's housing authority. The mixed-use project will reserve 30 percent of its residential stock as affordable.
"The fortunate thing for Atlanta is I don't think we're as far along in the problem as cities like San Francisco or New York," McGowan says. "Atlanta is still generally affordable compared to other major cities in America, but it's one of those things that if we don't start now, we're not going to be able to solve the problem."