On Wednesday night, I attended my first hip-hop show. But with artists dropping lyrics like Solar power, you got the power and Throw trash out the window, hope it floats, the Earth can't swallow so it chokes and chokes, this was no ordinary rap battle. The topic of the night: the UN Sustainable Development Goals.
True to its name, "Pitch & Flow" had a simple premise—something akin to Shark Tank, but in rap form. Eight social entrepreneurs focusing on issues like clean energy, waste, and education for the incarcerated were paired with underground rappers to translate their cause and the stories of their work into moving verses. There were three rounds total, with commentary from celebrities in the hip-hop world and an entrepreneurial expert, as well as a $7,500 prize at stake. The judges of the night were the audience—a mix that included both families and young and older professionals—who packed into the John F. Kennedy Center for Performing Arts in Washington, D.C.
Among the entrepreneurs there that night was Lorna Rutto, who had just flown in from Kenya. She reminisced about her childhood, before Nairobi became one of the fastest growing cities in Africa. "The place was green and forested, it used to be so pretty," she said. "But in 1994 due to urban migration, the trees were cut down and what was nice became a dirty town with litter in the streets and clogging the sewages." So she made pollution and deforestation her causes. Now she's the founder of the Nairoi-based company EcoPost, which recycles plastic waste into building materials as an alternative to timber. Her partner, with about a week to prepare their "pitch," was "Natalia Did That," who comes from the world of rap battling.
At first, the pairing seems odd, even by one of the organizers' own admission. "I wanted people to walk away like, 'What the heck was that? That was so weird and unexpected,'" says Kyle Nel, the founder and executive director of Lowe's Innovation Lab—the hardware store's foray into the future of technology and social good.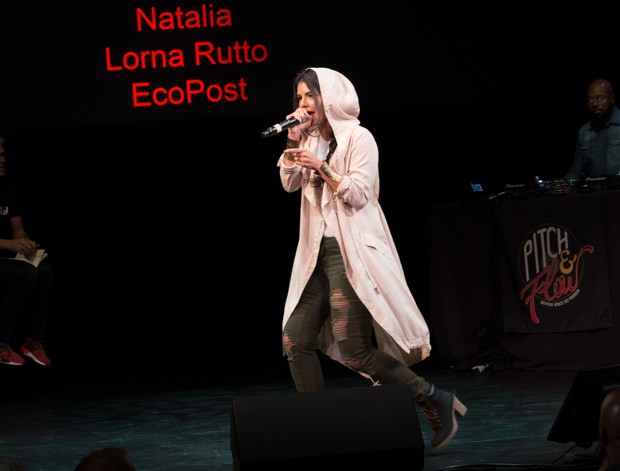 But it makes sense. Despite the urgency of meeting the Sustainable Development Goals, it can be really hard to sell people on the need to pay attention to things like energy storage and deforestation (I say this as someone who frequently reports on these issues). So who better to call than natural storytellers?
"The ones who tell the best story gather more attention and have more impact, and hip hop has been able to do that," said Colin Gayle, founder and CEO of Africa Creative Agency, which took the lead in the putting the show together. "We could have done it with other musical forms but hip hop is so in your face." (In fact, budding entrepreneurs can learn a thing or two from that.)
The artists on stage that night weren't exactly the Jay-Zs and Beyonces of the world, and in a way, that was the beauty of it. Many double as activists and educators, and are in line with the grassroots vibe of the whole event. One of them even served as a Hip-Hop Cultural Envoy for the U.S. State Department. "These emcees have been community leaders, and they're out there performing for 200 people in the park," Gayle said. "And they're doing it for the love of the art."
I caught up with Natalia after the show and asked her if it was hard to come up with not one, but three songs about pollution. It's not exactly a sexy topic. She shook her head no. "I was already doing protest against the Dakota Access Pipeline…, so I've always believed in a clean community," she told me. "When I got to work with EcoPost, I really went into the research on the numbers and how much plastic we can save."
She didn't win the grand prize; that went to "Professor Lyrical"—he's a math professor at Northeastern University—who gave three powerful performances about SunCulture, a company that distributes solar-powered irrigation systems for farmers in East Africa. But Natalia did get a particularly loud applause from the crowd for her lyrics:
Unnatural, and lately everything seems package bound
Where this trash go when it goes out your house?
Out of sight out of mind, better ask around
Because by 2025, it could be in piles
140 million tons in our lungs of her breathing now
I'm speaking out for our habitat
This is real life, no plastic wraps