Perhaps best known for designing Carmel Place, New York's first microunit apartment building, nARCHITECTS are quietly leaving their modern, sophisticated mark well outside the five boroughs.
Formed in 1999 and based in DUMBO, Eric Bunge and Mimi Hoang's firm has a growing portfolio of projects that speak to the basic needs of any urban dweller, both indoors and out. That can best be seen through an intuitive public space solution for the Buffalo Niagara Medical Campus as well as their collaboration with James Corner Field Operations for Chicago Navy Pier. Thoughtful approaches to housing and neighborhood zoning restrictions can be seen in the aforementioned Carmel Place in Manhattan, as well as a planned project in a recently rezoned area near the Bow River in Calgary.
With a clear and assertive design vision that so often embraces the peculiarities of each site, nARCHITECTS's work is certainly worth a closer look. CityLab recently sat down with Bunge to discuss some of the studio's most compelling urban solutions and the various hurdles it had to clear along the way.
You teamed up with James Corner Field Operations on the redesign of Chicago Navy Pier. That site previously felt like an idea of "fun" urban redevelopment from the 1990s, which is not an era people seem to know what to preserve or discard from yet. How did you assess the site?
The Navy Pier has layers of history. It's part of Burnham's plan for Chicago, but only two buildings on the pier are from the original design, the head house and the festival hall. As you say, between those two it's a sushi platter of different times and tacky things. The pier we inherited was filled with clutter of these different eras, including the '90s; a lot of signage, banners, different designs. Each operator had their own look, so we started this process of thinking about what to do with that and what to keep with a very in-depth study of the existing conditions: every existing structure, every boat operator, every kiosk. We then proposed ways in which the pier could be uncluttered with the overriding goal of connecting people to the lake more and making it more green, more natural.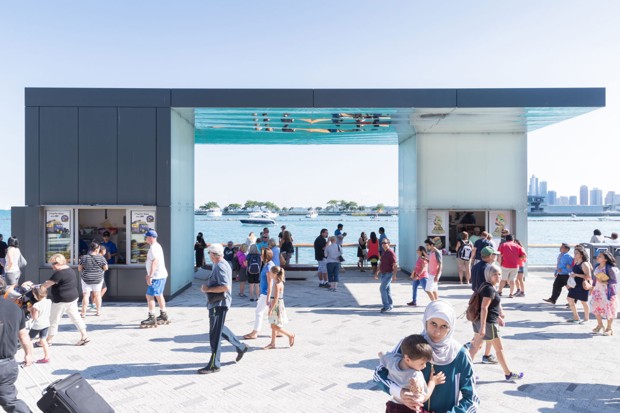 We proposed a series of kiosks of different scales that could accommodate different vendors, starting with a small kiosk up to the Lake Pavilions, where two are joined by a roof with the intention of unifying the pier. The result is fewer objects and more space that can be appropriated by people in unanticipated ways. The Lake Pavilions look ambiguously like a canopy stretched across two kiosks or could be understood as a solid volume with a huge hole in it. They've been used for all kinds of events so far.
Some elements were not initially in the program but we thought were important to have. Shade was in the original program, but we imagined maybe weddings or concerts could take place there by simply providing a roof. We thought it was more interesting to put these parameters together rather than just create shade to exist somewhere uselessly far away. The Wave Wall, a 500-foot-long plinth which resulted in a huge transformation of the perceived urban space at eye level, wasn't in the program, either. We proposed a space that would make people stop rather than always be in motion. We love the idea of having a large public space where you can stop and gather and create social connections.
With regards to what we kept, we couldn't modify the buildings on the pier except for the Wave Wall. We couldn't really affect much of the '90s clutter on a large scale, only in an acupunctural way with different little garden elements, all unified by the new paving and greenery along the south dock by James Corner Field Operations.
Navy Pier is a highly commercialized space with lots of vendors and music floating around, so we felt it was important to make it feel like the "People's Pier" again. We were asked to design a gate that would mark the entry to the pier, but instead we proposed marking the entrance in different ways, including something we call an Information Tower. It's a little slender glass tower as high as the head house, the original building at the western end of the pier. It's 45 feet tall and designed as a mini replica of a typical Chicago tower. When you stand near it you feel as if the urban core has leaped across to the pier. It's a scale shift and a way to connect the foreground to the background. It ends up being a funny, Instagrammable moment—not that we thought about it like that at the time.
Relatedly, what's the effect of Instagram on how people are using buildings or public spaces? Are clients asking for "Instagrammable moments" now?
Our client [A/D/O] for a design space we completed in Greenpoint last year specifically asked for it! But that was for the furniture design. What's turned out to be Instagrammable there is the periscope—a large skylight with two mirrors on it at 45 degrees so when you look out, you see Brooklyn connected to the skyline of Manhattan. There are thousands of photos of this periscope online now, which is really fun because it becomes a shared space of sorts.
It's strange to think about that, though, and we'd rather not. For us it's about bringing people together in a physical space. It's super interesting if it has virtual ramifications, but I don't know if thinking about that will result in better architecture. It ends up reducing the experience to nuggets of disconnected information.
If waterfronts like Navy Pier were the urban renewal trend of the '80s and '90s, then today it's probably medical campuses. Your Ellicott Park project for Buffalo's stands out because it's not typical for these kinds of developments.
It was a very exciting project for us and very early in our career. We were finalists for the Buffalo Niagara Medical Campus (BNMC) competition for an arts masterplan but we came to the conclusion that art wasn't going to help them create a campus with a unified space. The BNMC, like many other medical campuses, were thinking more along the lines of banners and public art that would cement their identity. We surprised the jury instead with an eight-foot-long model of a linear park we called "Ellicott Park."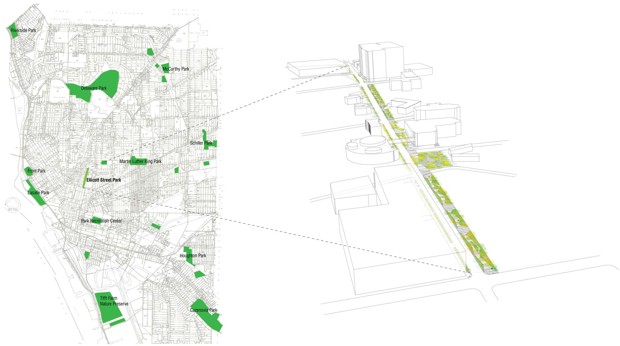 It's not truly a park but we called it that as a provocative act, to say, "Look, this should be like a park and as green as possible." In the previous campus masterplan, we had noticed a recommendation to establish 20-foot-wide setbacks along Ellicott Street for future developments that wouldn't create a new right-of-way but create some sort of spatial experience.
We thought that if we can just go right up to the boundary of these planned future buildings, instead of existing ones already folded into the setback, we can also include the other side of the street and make a linear park that would establish new access for the campus and provide much needed social space. In a very narrow area we were able to create depth of different paths, which widens out by McCarley Gardens [a neighboring housing complex]. The art can come later. And, really, you can think of this as an artwork on the scale of the campus: a 3,300-foot-long streetscape.
We were told we won literally 30 minutes after we presented our idea. I guess they weren't expecting such a proposal but it hit a chord because they were looking to create this idea of a campus on an urban scale. They realized it wasn't enough to put sculptures in corners.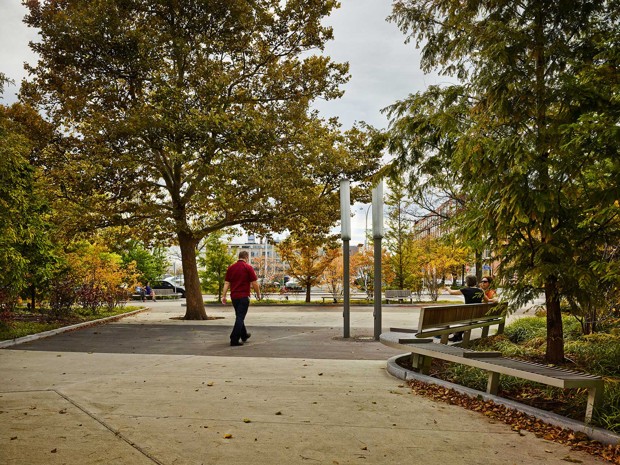 Because of their location and promises of revitalization, medical campuses can end up creating tension with neighbors. In this case, you have McCarley Gardens, which the university anchoring the campus once planned to take over. How did you approach the design so that residents could feel like the space belonged to them as much as the campus employees?
That was one of our main incentives behind proposing a park in the first place, a space that can be common to everyone. From the Fruit Belt to Allentown, we did feel there was already a divide and we thought putting a public space in would help heal it even though some of it is on private land. The BNMC managed stakeholders a lot and there was a lot of outreach to the neighborhood and surrounding communities to help build some support for it. I understand that this received a lot of support because it was a public initiative and inclusive. We designed it for everybody; it's not just an enclave.
You're working on a project in Calgary near the new Central Library by Snøhetta. Can you tell us more about your building and the district it's a part of?
M2 is a mixed-use building, about 23,000 square feet, right on the Bow River. It's in Calgary's East Village, which has been upzoned and rezoned by the city, [and that] initiated an approach to densify the city center and create new living opportunities. It's a response to the region's surplus of subdivisions and low-density suburbs that are unsustainable and a heavy burden on the infrastructure.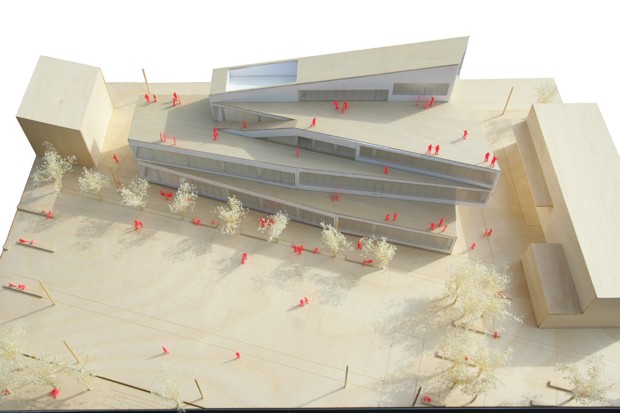 What we're designing is very small compared to the other buildings, and that has to do with what's referred to as a "shadow envelope," which is a zoning requirement that requires East Village buildings not to cast a shadow closer than a certain distance from the edge of the Bow River. Because it's to the north of our site, the form of the building results from the intersection between that shadow requirement and the strange shape of the lot that we're building on, which is triangular and quite challenging. The new riviera has resulted in new ziggurats that are consequences of the code. We had to work within that strange typology and try to make it a little different than that. The building has a restaurant on the ground floor, offices above that, and a residence on top. It's been on hold for a while but we understand it's going out to bid this fall.
How did Carmel Place, the microhousing project in Manhattan, come about?
It came out of the Bloomberg administration's "Adapt NYC" competition in 2012. It was the culmination of some research headed by the Citizens Housing Planning Council (CHPC), which is basically the entity that encouraged the city to look at microunits as a possible new type not permitted by zoning or building codes at the time. There's a great shortfall—around 800,000—of small apartments in the city.

We were invited by Monadnock Development to team up with them in the competition and eventually won. The selected bit of land is on 27th Street, just west of First Avenue, and it's a very small parcel, only 45 by 145 feet, owned previously by Housing Preservation and Development (HPD). It was identified as the plot for this particular development because it was owned by the city, so it'd be easy to relax certain zoning codes. The project received several mayoral overrides for it to happen.
There aren't many companies or architects working with modular construction. That's changing and we aren't the first, for sure. There's a legacy of modular construction in New York but it's few and far between. Monadnock owned Capsys, a modular fabricator, and it was really exciting to learn about modular construction and develop an object out of it. We got right to work, even before the announcement was made.
Architects have been flirting with modular construction for a long time, though. What are the realistic possibilities of mass-produced modular housing today?
It's an important method of construction to continue pushing the boundaries with, but it can't happen overnight. Using modular construction changes the whole industry, not just the technique. It's a very different way to think about sequencing, assemblies, and scale of spaces. It brings together the whole transportation infrastructure and connects the factory to the site, but much of this can be made more efficient.
We've been thinking about how to make it more realistic, not just on this project. Right now it's still subject to the inertia of a large construction industry unfamiliar with the idea that, for example, an electrician has to come back for a second time to connect all the conduits between the modules. It used to be the future and it's certainly not the present, but I think it can still be the future. It makes sense for larger projects but it depends upon where the project is in relation to potential factory sites.
Is microhousing something your firm is still interested in doing?
We're very interested in housing in general and where it's going in the future. Microhousing is one small plank within that thinking. We imagine housing will become less and less singular; it'll intersect with hospitals, hotels, and working environments to create much more diverse kinds of spaces that are less typologically defined.
If zoning codes can continue to change and adapt to the way we live and work and play, we won't see such a clear delineation between housing and other types of spaces in the city, even cultural spaces. It's too siloed right now, a remnant of 19th-century zoning thinking with regards to safety and separation of uses from when we had urban factories. With more intelligent codes we can break down some of those barriers.
Microhousing fits into a larger framework of thinking about how we have to adapt our cities to societal evolution. Household sizes have been decreasing since World War II, and in New York, you have all kinds of non-nuclear households, but we still refer to housing types as one- or two-family units. That's outdated. We have to think about the single parent, or the six adults living together in one home. Expanding the types of housing will accelerate as we unpack more constraints. Housing has to keep up, but it can also play a role in creating those social units or sponsoring them.