We know there's a widening geographic economic gap in the United States, most vividly described in the months leading up to the 2016 election as a battle between the "left behind" and the "coastal elites." Now we have new detail on how that breaks down by locality. One in six Americans are living in ZIP codes that are considered economically "distressed," according to the Economic Innovation Group's 2017 Distressed Communities Index. More than 84 million others—one in four—live in communities that are considered prosperous.
"You have at the top a really strong, booming, disproportionate amount of growth happening in elite communities," explains John Lettieri, EIG's senior director for policy and strategy. "And at the bottom it's not just that the gap is getting bigger between top and bottom—it's that they're pulling in opposite directions."
By tracking data from over 26,000 ZIP codes, the Distressed Community Index sorted cities, counties, and congressional districts into tiers based on their economic well-being: prosperous, comfortable, mid-tier, at risk, and distressed.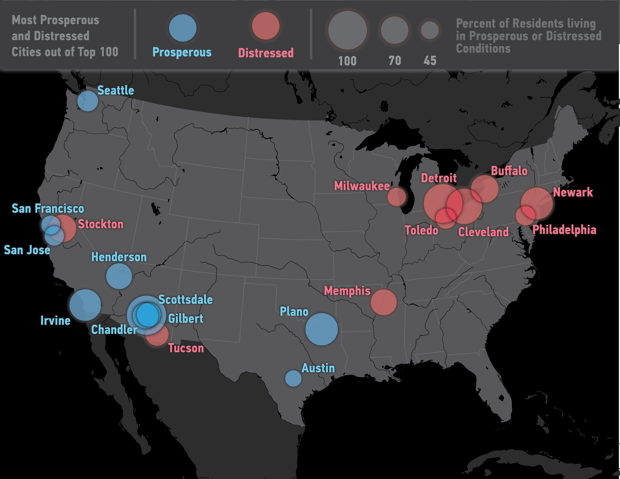 Cities are ranked based on seven criteria: housing vacancy rate, adults not working, the poverty rate, median income ratio, change in employment, and change in business establishments. The higher the rank on each of these metrics, the more distressed they are. Note that by other measures, even cities deemed "prosperous" suffer from other problems of affordability and intracity inequality.
While an analysis of all the ZIP codes reveals that the highest rates of distress are concentrated in the South, the top 10 large distressed metropolitan cities are clustered in the Northeast and Midwest: Cleveland, Newark, Buffalo, Detroit, and Toledo round out the top five. The most prosperous large cities are found on the other side of the coast—Western and Pacific Northwestern tech hubs in Texas (Plano and Austin), California (Irvine, San Francisco, and San Jose), and Arizona (Gilbert, Chandler, and Scottsdale).
The 10 Most Prosperous of the Country's 100 Largest Cities:
| | | | |
| --- | --- | --- | --- |
| Rank | City | Total Population | % Population in Prosperous ZIP Codes |
| 1 | Gilbert, AZ | 230,780 | 99.9% |
| 2 | Plano, TX | 275,650 | 82.70% |
| 3 | Irvine, CA | 238,470 | 80.7% |
| 4 | Chandler, AZ | 250,200 | 64.9% |
| 5 | San Francisco, CA | 840,760 | 47.9% |
| 6 | Henderson, NV | 271,730 | 65.9% |
| 7 | Seattle, WA | 653,020 | 52.6% |
| 8 | San Jose, CA | 1,000,860 | 49.6% |
| 9 | Austin, TX | 887,060 | 41.7% |
| 10 | Scottsdale, AZ | 227,470 | 60.9% |
The 10 Most Distressed of the Country's 100 Largest Cities:
| | | | |
| --- | --- | --- | --- |
| Rank | City | Total Population | % Population in Distressed ZIP Codes |
| 1 | Cleveland, OH | 390,580 | 90.3% |
| 2 | Newark, NJ | 279,790 | 81.0% |
| 3 | Buffalo, NY | 259,520 | 70.0% |
| 4 | Detroit, MI | 690,070 | 98.9% |
| 5 | Toledo, OH | 282,280 | 51.8% |
| 6 | Memphis, TN | 657,170 | 66.1% |
| 7 | Milwaukee, WI | 599,500 | 46.6% |
| 8 | Stockton, CA | 299,720 | 69.8% |
| 9 | Philadelphia, PA | 1,555,070 | 49.3% |
| 10 | Tucson, AZ | 528,370 | 58.6% |
After the Great Recession of 2008, the country as a whole experienced an economic recovery from 2011 to 2015, but this report shows that already-vulnerable communities missed out on most of the growth. Instead of experiencing a sharp dip followed by a slow rise in job creation and prosperity, city employment actually declined by an average of 6 percent and the establishment of businesses dropped by an average of 6.3 percent in the most-distressed communities since 2011. More than half of the growth, meanwhile, in both employment and business development, was concentrated in the prosperous ones.
But while the recession exacerbated economic decline, and introduced new structural barriers to equality, the authors suspect the source of the problem goes back much further. This report extends the timeline of economic health to the year 2000. "We wanted to identify how much of their challenge is a 21st-century growth challenge and how much is a recovery challenge," says Lettieri. Over the course of almost two decades, "you'd expect to see an increase in growth, but what we found was that the vast majority have fewer businesses today than they did in the year 2000, and that actually a majority have fewer jobs and businesses compared to 2000. That's a stark underscoring of how deep this challenge runs in many of these places."
With this data, the DCI tells a story of the geographic nature of divides in country on a community level—revealing how, rather than growing inclusively to benefit a broad array of Americans, the country's growth is passing over some communities. But it also outlines the implications of these economic divides on individual lives. Clear connections can be drawn between community-level prosperity or distress and individual social and health outcomes, as well as educational attainment. Too often, the weight of this distress falls most heavily upon minority communities.
Below are some of the most striking findings from the DCI report.
There's a large growth gap—and it's widening.
It's no coincidence that all of the top-10 large cities are concentrated in Texas, California, Arizona, and the West. Plano is a business hub, San Francisco a tech hub, and Gilbert is a young up-and-comer. The smaller thriving cities are suburbs on the outskirts of bigger metropolitan regions like Dallas, Denver, and Minneapolis, which are experiencing similar surges in vitality.
Across the map, cities that used to depend on single industries that may be in decline or transition—Cleveland's iron and steel, Detroit's cars, Stockton's agriculture—became more distressed. The key point of divergence? Jobs.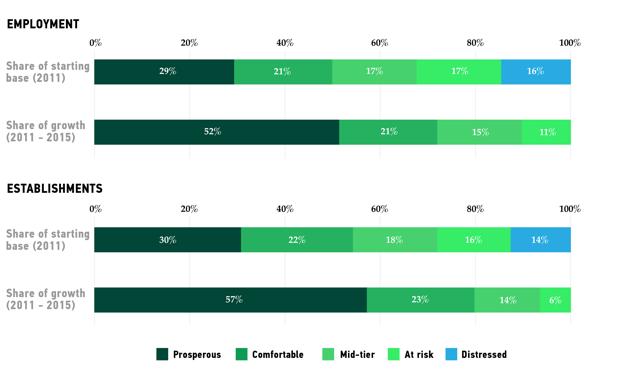 "Jobs and businesses are in many ways the most tangible features of growth, the most tangible features of health of community," says Lettieri. And prosperous ZIP codes are certainly healthy: 88 percent of them added jobs between 2011 and 2015, and 85 percent of them saw a rise in the number of businesses in that same period.
This growth isn't inclusive. The bottom 60 percent of ZIP codes are left only a quarter of the available jobs. Two-thirds of distressed ones have seen marked decreases in jobs from 2000 to 2015, and 72 percent of them had more businesses shutter than launch. As people leave in search of opportunity, many distressed cities are losing population or plateauing instead of growing.
The largest distressed cities are those with old manufacturing and industrial legacies and physically older infrastructure.
Many of the larger distressed cities, like Detroit and Cleveland, are cities whose economies tanked as factories shut down (a pattern also present among the small and mid-size distressed cities, like Flint, Michigan, and Youngstown, Ohio), and where manufacturing still makes up a large part of the employment base.
The age of a city's infrastructure itself is also a good predictor of economic health: The median age of homes in distressed cities like Detroit and Philadelphia is 68; in prosperous Gilbert it's 15 and in Austin 29.
"These are the places that struggle the most at creating new jobs, population growth, and fostering local dynamism," says Lettieri.
Within an increasingly unequal America, there are growing discrepancies between North and South, and urban and rural areas.
In the Northeast, DCI found that distress is concentrated in urban areas, while in the South, that same elevated rate of economic depression is concentrated in rural areas. Meanwhile, areas of medium density—the housing pattern most associated with the suburbs—are thriving nationwide, and many of them among the most prosperous areas in the country. What the report doesn't tease out is that not all medium-density areas are suburban in nature, and not all suburbs are prosperous: As the demographic composition of some suburbs changes, the distance from central metropolitan districts get wider, and as federal and state investment gets funneled into the "inner cities" at the expense of those in outlying areas, these communities, too, can experience distress.
The report describes several archetypes of American distress, based on these geographic features: "Entrenched inner-city poverty in the Northeast and Midwest, deeply-rooted intergenerational, distress in the Deep South, and grinding economic and social isolation on Native American reservations in the West."
The reality evidenced by this chart isn't surprising—the growing decline of the rural working-class and the simultaneous entrenchment of poverty within communities like Detroit and Chicago has been documented extensively—but the magnitude of it is.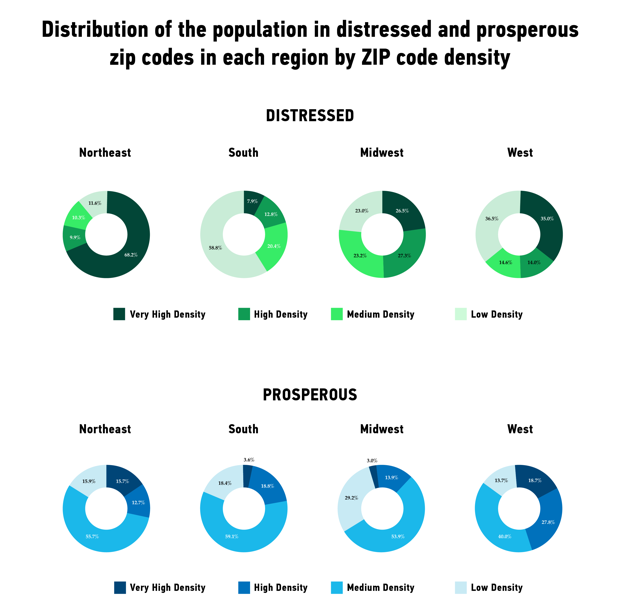 Even within states, community prosperity levels can be wildly uneven. Take California, for example.
Clusters of distressed and prosperous cities appear in the South and Pacific Northwest, respectively, but the orbs hovering over California are both red and blue, indicating the coexistence of prosperity and depression in close quarters. The golden state is a microcosm of the rest of the country: While Irvine, San Francisco, and San Jose thrive, Stockton, San Bernadino, and Fresno are all suffering from economic disinvestment. The distressed ones are former industrial and agricultural centers, sprawling hours away from metropolitan areas, and disconnected from the tech boom that's elevated their more prosperous neighbors.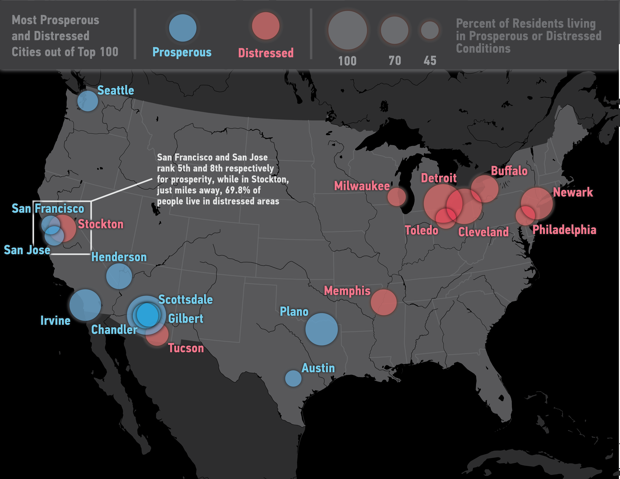 "This concept of distress, while it's heavily concentrated in certain parts of country, exists within every state and within every city," says Steve Glickman, executive director of EIG. Take Washington, D.C., or New York City. The center of the U.S. capital city thrives, while the area beyond the Anacostia River languishes; Manhattan booms while the Bronx is home to many low-income residents. This type of inequality has been the subject of Richard Florida's recent research.
These city-level inequalities are driven by the same forces that the DCI tracks: racial segregation, lack of infrastructure, and economic disinvestment.
Educational attainment is a fault line that separates the prosperous ZIP codes from the distressed ones.
After the recession, almost 100 percent of the new jobs went to workers with some college education, a statistic that's reflected in the current composition of prosperous and distressed cities. Advanced degree holders flock to prosperous ZIP codes and contribute to a thriving economy. More than half of those who stopped at high school live in distressed communities.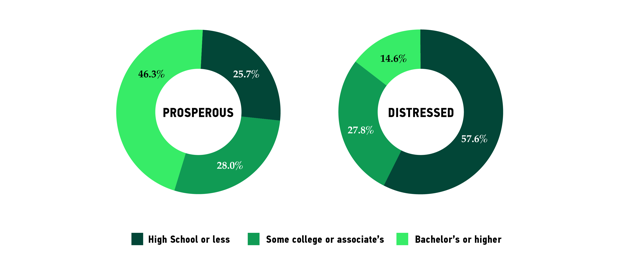 "It matters where these people sort," says Lettieri, referring to those with higher educational attainment. "If they choose to live in a prosperous community, and very few live in distressed one, then that becomes a clear dividing line in where a company can locate." Without an educated workforce residing within the city itself, economic growth can stagnate.
Economic well-being translates into real—and severe— consequences for social and public health.
People living within distressed regions die nearly five years sooner than those who live in prosperous ones, and even slight fluctuations in economic health make a difference: Residents of a county whose distress score is 10 points higher have lifespans .6 years shorter.
The rate of mortality in those populations is also higher, especially deaths associated with mental health risk factors like suicide and substance abuse disorders, as well as cancer and pregnancy complications. This stems partly from access to health care—something rural areas are lacking as compared to more populous and prosperous cities. As density increases in the South, so do life expectancies.
Minority communities are disproportionately affected by the weight of economic distress.
Black, Hispanic, and Native American populations are overrepresented in distressed communities compared to white and Asian populations—and underrepresented in prosperous ones.
Black Americans make up 12.3 percent of the population, but they represent more than double that percentage in poorer areas. And while more than half the residents of distressed cities, towns and counties are minorities, in prosperous areas, that number drops to only about a quarter.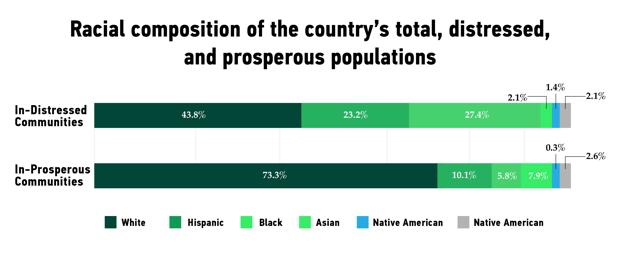 Since white Americans make up so much of the U.S. population, and because many Southern rural ZIP codes are primarily white, they, too, make up 44 percent of the picture of economic decline.
But when analyzing ZIP codes where the majority of the population is a minority (there are 4,100 of them in the United States), the skew is clear: They're more than twice as likely to be distressed as their "typical" majority-majority counterpart.