The isolation wasn't always so profound. Founded in 1878 as a stagecoach stop along the Pony Express, Ely (pronounced "Ee-lee") boomed in 1908, when copper was discovered in nearby hills. Five years later, the town got an extra shot of economic energy when the route for the Lincoln Highway came through downtown. (On plaques dotting 287 miles of largely unpeopled road, Nevada proudly dubs the Lincoln section of US 50 the "loneliest highway in America.") Soon it joined with Route 93, bringing workers from across the country and world to the Robinson mine. By the mid-20th century, Ely boasted 6,000 residents and the state's most productive mine.

Then came 1978, when depressed copper prices forced the pits to close. The smelter soon followed, and the unemployment rate jumped to near 25 percent across White Pine County. Since then, the mine has reopened and closed more times than folks can count, with new owners every time. Currently it's operated by a Polish company on a bit of a hiring kick. But Ely's economy remains strapped to the roller-coaster of the mineral markets. The town's population has dropped by a third. The area's other major employers are a state prison and a small hospital.
Yet Juan Carlos Cervantes saw possibility here. He's the University of Nevada cooperative extension educator for White Pine County, charged with identifying gaps in technical skills and knowledge and using the resources of the county and university to fill them. He thought he could help nudge Ely, the county seat, a little closer to the 21st century. To do that, he'd try deploying data-driven economic development tools—sort of like the ones large cities use.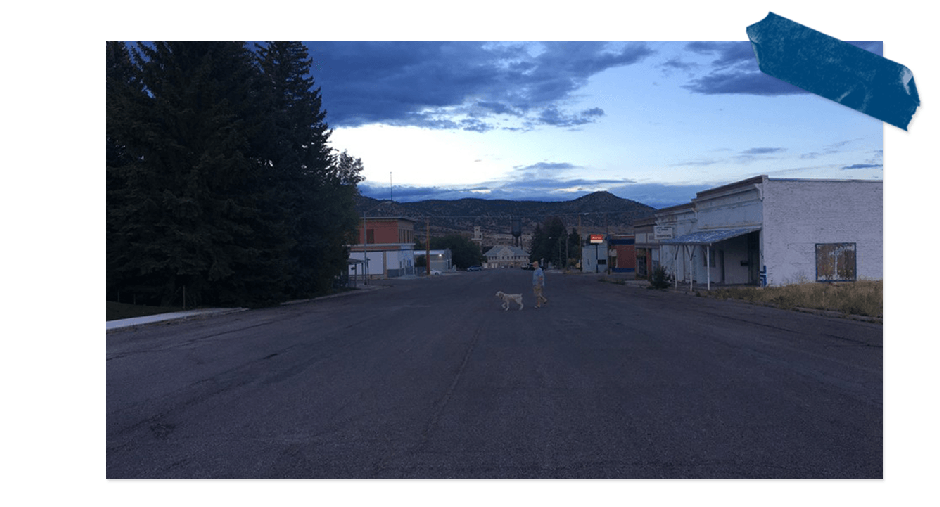 A mining town getting a hard, loving push into modernity sounds like a simple story, and when I rolled into Ely in late August, I expected some heartening lessons in civic engagement. But life resists easy narrative: It turns out that connecting a town like Ely with the rest of the country may be less about technology or tools and more about overcoming other forces—the combined inertia of longtime isolation and local politics.
There are lessons here, but not the ones I expected.
***
Cervantes arrived in Ely in April 2016 from Texas, by way of Mississippi and Minnesota. Charmed by the well-preserved grid and walkable streets, he rented an apartment and imagined putting down roots. With a Ph.D in natural resources science and a master's in urban planning, he seemed to fit the expansive outlines of his job.
Cervantes found that youth around here couldn't imagine much of a future in Ely. "They have this inability to see beyond the provincial view," he told me, with the mine and the prison as the two basic job tracks. Meth is a huge issue. The kids want out.
The same may be true in many small American towns, but Ely's digital divide—there's virtually no high-speed internet in most homes or businesses—makes it especially hard. When it takes hours to download a few JPGs, you can forget distance learning or job training.  
Cervantes isn't much of an internet user himself, so he has focused most of his attention on building real-world opportunities for young adults. He organizes drone "discovery days," coaches girls' soccer, and teaches ranch camps for teens. And he has tried to push leaders to think about diversifying the economy. The preceding extension educator had started to guide Ely through a special method that matches community assets to the desires of outside industries, a program spearheaded by other University of Nevada extension colleagues. "I figured, why not just finish it?" Cervantes told me. Like a dating service for lonely towns wedded to old economies, this "area sector analysis process" (or "ASAP") promised to show Ely an economic path forward.
"Sometimes in Nevada, it's a fight between urban and rural," Tom Harris, a professor at the University of Nevada, Reno and the principal investigator of the ASAP program, told a room of ten locals at the White Pine County Library in late August. With a PowerPoint packed with graphs, Harris recounted the story of Ely's rise and fall, and launched into an explanation of the industries he believed leaders should target for growth.
The bottom line, according to Harris: more extraction. Tesla and Panasonic need copper and lithium for batteries, he explained. If White Pine County could get a lithium smelter, then they might be in business.  
Before I arrived in Ely, Harris had explained the ASAP process like this: In six months of work with extension educators and professors, rural communities are supposed to A) establish a vision of what they'd like to see in their future, B) learn about the industries considered jazzy in the 21st century (i.e., not coal mining) and C) identify what local assets outside industries might want to tap into. Harris then runs those inputs through some software, which spits out a report on the industries that would make good matches. Manufacturing. Tourism. Aerospace. Local leaders are then supposed to use this data to go a-courtin' to businesses.
Theoretically, the process is meant to encourage leaders to wrest control of their town's destiny. It has proven effective for rural counties in Utah that have leveraged nearby national parks for tourism growth. In some ways, ASAP is like the USDA-funded version of the urban networks supported by the Rockefeller Foundation and Bloomberg Philanthropies, which aim to spread skills and technical capacity among resource-strapped cities. As with ASAP, the intent is to build resilience in the face of change.
But in Ely, the process seems to have produced confusion. There had been no community "visioning"; years of meetings had only yielded false starts. The meeting in August, which I had thought would be a continuation of Cervantes and Harris' efforts, turned out to be a premature conclusion. Attendees—the mayor, a BLM employee, a county commissioner, and a few concerned citizens—shifted uncomfortably as Harris talked about the opportunities he saw in "linkages" to mines.
It was a vision for the future for Ely that, to Mayor Melody VanCamp's ears, sounded a lot like the past.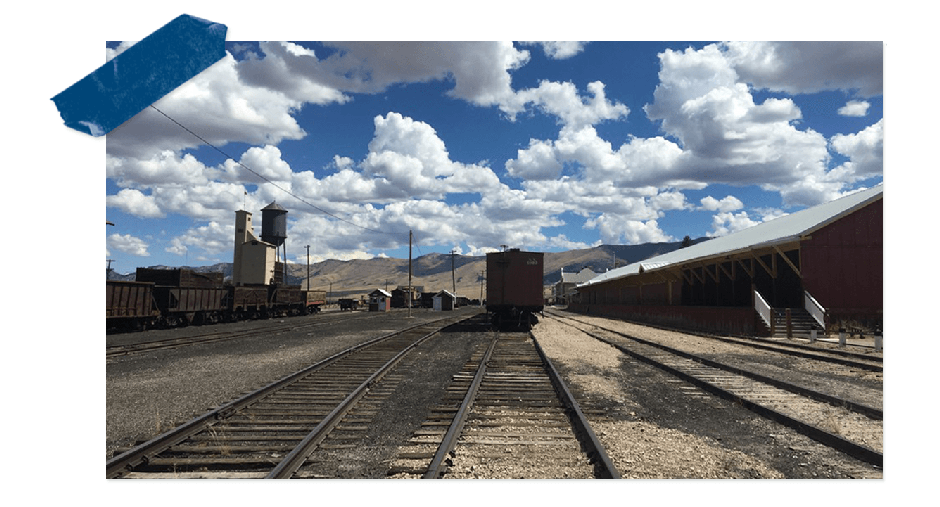 VanCamp knows mining. She spent her twenties as a "bin rat," shoveling copper concentrates. She left that line of work but never quit her hometown, and continues to run a downtown sewing shop. Being mayor isn't a paying gig. Tourism is the sector she wants to focus on, not mining. "We always put our eggs in that basket," she told me over a pulled-pork sandwich at a bar called Rack's the next day.
As mayor, VanCamp's signature issue is to improve signage. She wants Ely to look more navigable and inviting to the visitors who travel through to nearby national parks or happen on Ely's old-timey allure. "I don't want to be just a stop in for gas and a pee break," she said.
As it is, shining up the town for tourists is pretty politically challenging. The city council is so resistant to change that VanCamp has struggled to muster support for a "Welcome to Ely" sign, one local politico told me. VanCamp hasn't really known what to do with Harris' data, which she finds interesting but impenetrable. She'll leave it to a consultant, recently hired by White Pine County, to draft a regional economic plan. Meanwhile, she'll stick to her signs.
***
Cervantes told me he felt disappointed by the weak showing at the ASAP meeting, and annoyed that another outsider was stepping in. Regardless of the specific findings, he'd hoped the process would help the community to take some initiative.
But he wasn't entirely surprised at the outcome. Drumming up interest had been a challenge all along. "Who's supposed to know what's best for a community?" he wondered aloud to me. "The people who live in it. But I'm not so sure that's true."
I should mention that Cervantes is especially sore because he believes the mayor's sister stole his dog. The explanation is complicated, but Cervantes says that VanCamp offered to have her sister watch over his dog for a few days, but the sister then refused to hand the pup back. (Van Camp's account has the sister taking on the dog permanently because Cervantes was living in a tent: He was priced out of his apartment, thanks to the recent hiring spree at the mine.) Relations between he and VanCamp have been frosty since.
The story puts the "local" in local politics, and it also highlights a few things that make it tough to change Ely: the human impacts of its boom-bust economy, the shortage of livable housing, and the intimacy that can come with very-small-town living. How can anything get done when a dispute over a pet sets the terms of communication between two key civic leaders?
A certain dilettentishness has long been a hallmark of White Pine County's elected officialdom, according to Sean Pitts, a local historian and the director of the East Ely Railroad Depot Museum. For decades, Ely relied on the patrimony of Kennecott Copper, the mining company that pulled out in 1978 after wresting astonishing profits from the land. "We are relatively new at the art of politics," Pitts told me, sitting at his roll-top desk on the second floor of the old depot; outside, a century-old locomotive chugged tourists back and forth along a decommissioned track.
Children growing up in the Kennecott era believed faithfully in Santa Claus, Pitts said, because every Christmas a professional Saint Nick was hired to deliver gifts and dinners to every employee's doorstep. And if Kennecott wanted Ely to fix its potholes, they'd give the town the money to do it.
No mining company that's taken residence since has come close to that level of paternalism, but sometimes, Pitts suggested, it's as if folks are still waiting for Santa. No wonder crafting an economic development plan has been a hurdle for local officials: Consensus building is a bedrock political skill, and it's something that the ASAP process seems to assume already exists.
"We're amateurs," VanCamp once told me, talking about partnering with NDOT to install some highway signs. "We don't know what we're doing."
VanCamp is doing her best, juggling embroidery orders, city council meetings, and the occasional dog-sitting request. But trained civic leadership may be as important an asset to Ely as broadband.  
***
I'd heard from Harris that the ASAP process had stirred awareness about the importance of high-speed internet for attracting new businesses. (Also, those poor teenagers.) "With such pitiful access, Ely will have problems competing," Harris told me via email.
I'd gathered that there wasn't much momentum to push it forward. But that isn't so: Independent of the ASAP process, I learned, a woman named Caroline McIntosh was spearheading efforts to bring broadband to Ely—not so much to bring in new business, but to support who's already there. As her predecessors laid train tracks, telegraph wires, and highways, she's laying the groundwork for fiber.
A retired school administrator who has worked in districts around Nevada, McIntosh belongs to one of Ely's most prominent business-owning families. Her brothers Jim and Tom own Bath Lumber, which their father opened in 1948, as well as Ely's only sporting goods store. Her sister Virginia runs a downtown mercantile, and between them all are extensive real-estate holdings. She moved back to her native Ely less than two years ago, and is spending her retirement as an ardent participant of civic life and public service: As of June, she had already launched the town's first Boys and Girls Club.
Thanks to McIntosh banging the drum and pulling connections, the meeting that followed the sparsely attended ASAP presentation overflowed the same modest room in the library. The agenda was clear: testify to the need for broadband in Ely. Police officers complained that they couldn't send photos of criminals across state lines. A letter was read from a funeral home director, describing her struggle to fill out death certificates online. And Mayor VanCamp got up to repeat a complaint she hears at the sewing shop: The Ely State Prison has trouble retaining the guards it hires from urban areas because the young men can't handle not being able to play Warcraft on weekends.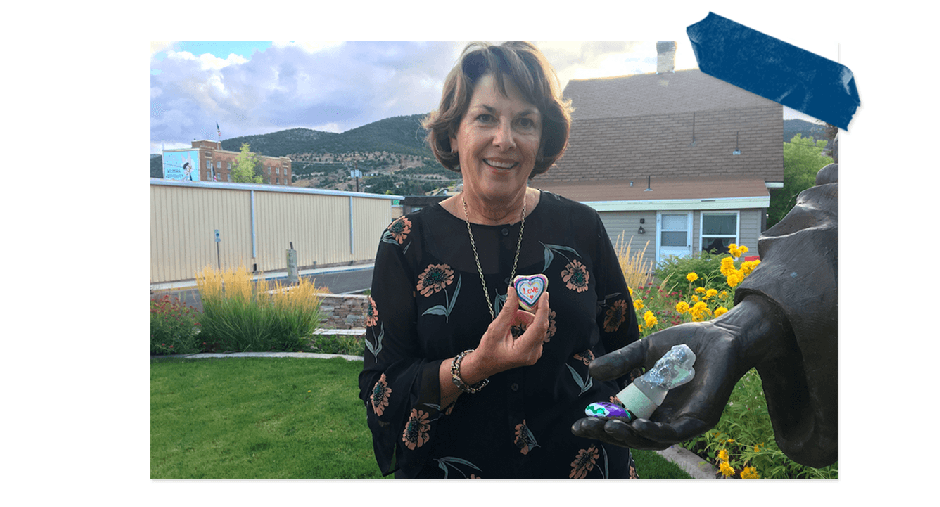 Representatives from AT&T, CommNet, and other fiber providers were also there, brought in by Jojo Meyers Campos, the broadband development manager for the state of Nevada and an old contact of McIntosh's. Meyers Campos had driven in from Carson City herself to let Ely know this wasn't going to be an annual meeting—broadband is the engine of the 21st century economy, she said, and she vowed to get folks connected.
After the meeting, McIntosh and I had a round of lime rickeys at Economy Drug, a pharmacy with an actual soda counter. (It belongs to the family of her late sister-in-law.) During our 90 minute conversation, she greeted eight other people. She had also sat through the ASAP thing earlier in the day, which had rubbed her the wrong way with the emphasis on new industry.
"The only person who likes change is the baby with the wet diaper," she said. "We don't need to become something different. We just need to become a better us."
To her, the aim of economic development should be supporting those who are already here, rather than bringing in competition. For distance education, workforce training, and day-to-day business, the obvious missing link is reliable internet. Her next step is to convene a group to identify connectivity needs across town, and figure out ways to finance potentially pricey broadband hook-ups. After she gets Ely digitally connected to the rest of society, she wants to pull together a team to tackle the housing shortage. "I just take immense pleasure in seeing things done," she said.  
To be sure, McIntosh's interests in the town's economic health cannot be separate from the Bath family's bottom line: Bolstering the town with broadband and housing is bolstering their mini-monopoly. Fortunately for Ely, the Baths appear to be benevolent business titans. Each sibling has a cause of his or her own: arts societies, mural painting, horse fairs, volunteer firefighting, sculpture-garden building. Numerous locals agreed that the family's affection for Ely is sincere—and that their leadership abilities and sensibilities seem to be guided, blessedly, by their exposure to the outside world.
The Baths stay out of elected positions, though. That's because, McIntosh explained, you can get more done.
***
Just about everyone I spoke to in Ely complained about the internet connection, with one exception: a highway builder with whom I struck up a conversation at Rack's the night before I left. He asked me why I'd come to Ely, of all places, to report on economic development and high-speed connectivity. Exposing my biases, I said something about it seeming a weird, cool, interesting place. For a man who'd been drinking since 4 o'clock, his response was brilliant: "But is that because we don't have broadband internet?"
Looking around the bar, I noticed that there's something missing here in Ely: Although there's 4G service, you don't see as many people with their faces glued to phone screens. Flesh-and-blood interactions seem to matter more. It's sort of awesome, a glimpse of the landline-era America so many of us have left behind. If high-speed connections come, will some of the town's anachronistic charm fade as well? And just how much of a mandate for change is there in a town like this?
To me, the answer seems to lie in the young people Cervantes and McIntosh are working for, who might grow up in Ely with little sense of possibility. Entropy seems to be a much realer threat than homogeneity. After all, it's still 180 miles to the nearest Walmart.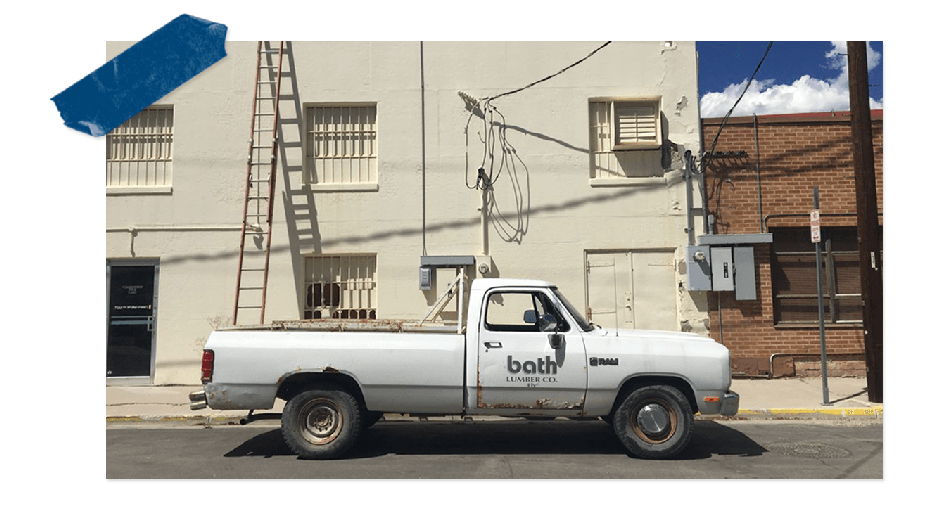 Cervantes doesn't seem to think broadband is coming; indeed, he doubts anything will change. But I wonder if he underestimates the get-it-done power of someone like McIntosh. In an America marked by low levels of civic participation and bottomed-out trust in government, she embodies a useful lesson for a cynical age: If politicians aren't making a difference, put down your head and make it yourself.
Before I left town, I went back to the library to visit Cervantes in his office. He turned down the volume on the training video he'd been watching, and told me he was feeling dejected from the meeting. A year and a half into his quixotic quest to nudge Ely forward, he's not sure about the town in general these days. He missed things about the bigger cities he's lived in: dry cleaners, opera houses, available women. He was happiest about the fact that he'd been able to hook up a shower inside one of the abandoned trailers that surround his tent.
I asked him why he'd come here at all.
"I live by the ethic of trying to leave something better than I found it," he said. "This place seemed like a challenge. There's a lot of growth in that."