Amazon's stunning announcement that it will build a second headquarters that could eventually employ 50,000 has triggered a frantic bidding war that may see the company win billions of dollars in tax incentives and other subsidies. But it's the third such episode in three months. Wisconsin enacted a $3 billion subsidy deal for Foxconn and the State of Iowa with a Des Moines suburb awarded $213 million to Apple.
It's the economic development elephant in the room: Why on earth do governments keep giving corporations tax break packages worth hundreds of thousands of dollars per job—and in Apple's case, more than $4 million per job?
Such "megadeals" are hardly new in the U.S., but they do seem counter-intuitive in 2017, given that unemployment is just 4.3 percent and most state and local governments have barely recovered from their Great Recession revenue hits.
But despite a job market and a fiscal climate you'd think would make politicians stingy, these "megadeals" (which we define as $50 million and above, and most of which are nine or ten figures) show no sign of abating.
History, law, and economics have combined to allow these deals to thrive: Less supply alongside greater demand, a federalist constitutional system that disempowers governors and mayors, a Congress and Supreme Court that have ducked the issue, and a new president who has given the "second war among the states" a more overt endorsement than any of his predecessors.  
Megadeals: Persistently High Since 2008
Although we cannot yet make a reliable tally of 2016 megadeals, here is the trend through 2015: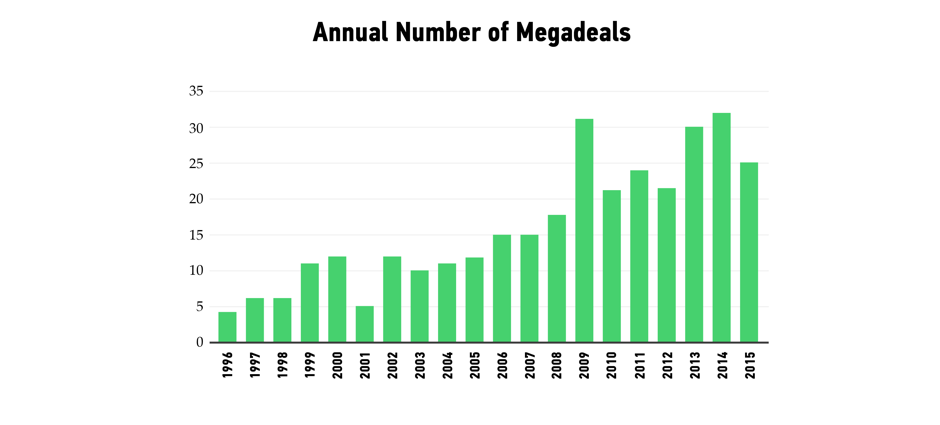 While there were typically fewer than a dozen megadeals per year through 2007, since 2008, that rate has more than doubled to an average of 25.
The costs of these deals have been spikey and I caution readers that the dollar figures here reflect the total value of announced deals, in the year they were awarded, although the costs of such deals typically play out for 20 years or more: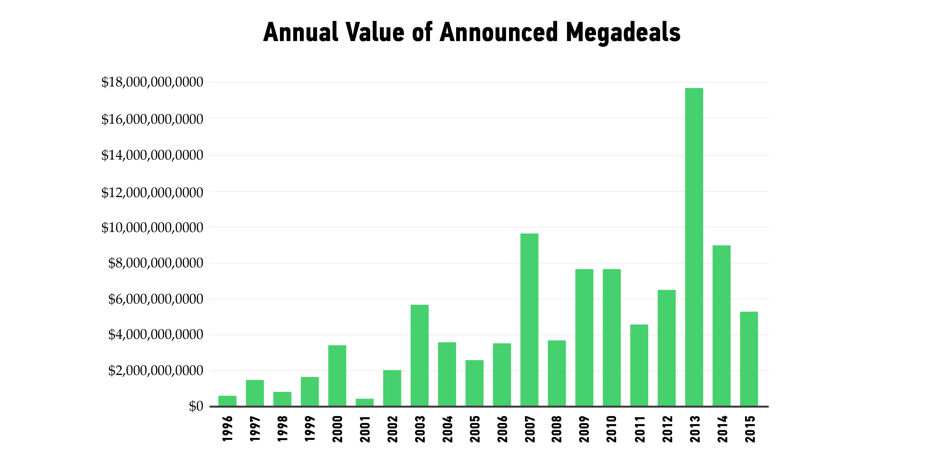 So, for example, the total for 2013 is exceptional because it includes Washington State's second megadeal for Boeing, slated to cost $8.7 billion.
But the long-term pattern is clear: the cost of announced megadeals was about $2.2 million a year through 2006, spiked in 2007 (due to one big deal given Alcoa), and has been about $7.7 billion per year since. Even excluding that huge Boeing deal, the average annual cost of megadeals has tripled since the recession began, persisting well into recovery years.
For decades, critics of many stripes have denounced what Business Week dubbed "the second war among the states," i.e., the state-eat-state competition for capital and jobs that has also been called a "race to the bottom." It costs states and localities at least $70 billion a year, and I detailed how it all came to be in my 2005 book The Great American Jobs Scam (Berrett-Koehler).
This is a dark side of our constitutional federalism, as it plays out in "economic development." In an asymmetrical power dynamic, companies are free to play states and localities against each other while the affected public officials cannot cooperate with each other. Instead, those charged with managing our public budgets passively do what they are told to do: offer more subsidies. Companies can even move very short distances within the same labor market—but across a state line, as in the Kansas City, New York and Memphis metro areas—and be greeted as "new job creators" to legally qualify for huge tax breaks.
The National Governors Association hasn't debated the issue since 1993. The Supreme Court punted on a case in which a federal court had found an Ohio tax-break package unconstitutional. While the case was pending, Congress prepared on a bipartisan basis to use its Commerce Clause powers to overrule anything the Court might have done to reduce the corporate domination of economic development incentives.
But when episodes like Amazon, Foxconn, and Apple occur, the extreme costs cause many observers to rightly ask: How can one company be awarded such a huge sum for a single project? (Foxconn's is the fourth-largest such sum in U.S. history, and the largest ever to a foreign-based company, and site location consultants are already saying Amazon's could be far more.) How can this be?
Supply of All Deals is Depressed, Making Demand for Them High
A supply-demand analysis partly explains the overspending.
It is little known, but the total supply of economic development deals for which states and localities could compete crashed, severely, even before the Great Recession. The chart below is our compilation of total deals (not necessarily incentive deals, but facility openings or expansions of every kind as tracked by Conway Data, Inc. for its Site Selection magazine's annual Governors' Cup award).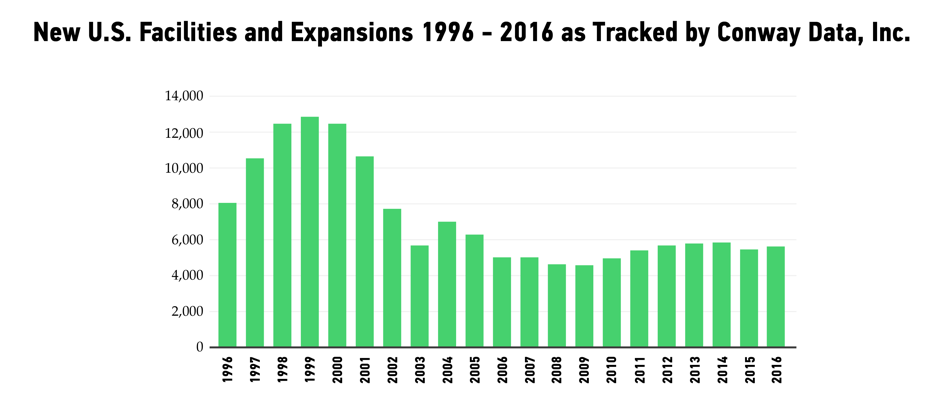 After peaking in 1999, the annual number of deals crashed by three-fifths through 2007, i.e., prior to the recession. It dipped a little more during 2008-2010, but as of 2016 had still not recovered to even 45 percent of 1999 levels. (The persistent dip is actually worse: Conway Data liberalized its definition of a deal around 2008.)
This new, depressed normal is consistent with other findings. The Kauffman Foundation, for example, in its long-term analysis of "Startup Density" (the share of startup firms with at least one employee), also shows a decline since 2006. It concludes that "when compared to the levels in the 1980s, 1990s, and early 2000s, Startup Density is in a long-term decline."
Within the retail sector, there is clearly a big slowdown thanks to the "Amazon Effect," as groups like Civic Economics document the downward pressure caused by e-commerce on retail occupancy rates, rents, valuations and property tax revenues. Amazon may be growing, but its competitors are shrinking, and by more, so the net effect is job churn and job loss.
There are competing arguments for why this is all happening, with groups like the Institute for Local Self-Reliance and legal scholars including Lina Khan arguing that the long-term, bipartisan decline in anti-trust enforcement is a root cause. But there is little dispute about the trend of downward supply itself.
On the demand side, that long slump has made politicians even more anxious than usual to look active on jobs, to improve their re-election prospects. That's why public officials are willing to grant "megadeals," overspending on deals at rates that guarantee taxpayers will never break even.
Indeed, as of our last compilation, for those megadeals we can price-tag, the average cost is $658,000 per job.
Of course, deals of this size are only going to large companies. That helps explain why, in two detailed analyses, we found that small businesses are severely shortchanged, both in specific incentive programs that are theoretically open to companies of any size and in overall state economic development budgets.
Economic Development Was Already Very Corporate-Dominated
This new, persistent supply-demand dynamic fell upon a longstanding site location system that has for decades enabled companies to pit states and localities against each other.  Dating back to the 1937 birth of the Fantus Factory Locating Service, most big companies have employed site location consultants to orchestrate secret auctions. The system puts public officials in a "prisoners' dilemma," with the implicit threat that if they don't passively cooperate, their city will be blacklisted in the next site location search.
Under this system, companies are never required to disclose whether tax breaks ever mattered. But led to believe that more tax breaks will help them win the next big deal, politicians have enacted layers upon layers of them.  
Occasionally companies such as Boeing and Tesla—and now Amazon—choose to run auctions publicly (although even then, all of the negotiating paperwork remains secret during the bidding), enabling some poorly-informed public questioning. But these are the exception. Much more typical was the Apple data center process in Waukee, Iowa, where the largest part of the $213 million deal was announced and then formally approved one day later, with the documentation released just 90 minutes prior to the meeting and only 10 minutes allowed for public comment. (Such arrogant ram-rodding of deals shows the double standard that prevails for multinational companies versus public schools, where citizens get lots of advance notice and the right to vote on property tax levies.)
The Trump Effect
This zero-sum war has been put on steroids by President Donald Trump. No president in post-war U.S. history has stoked the problem so explicitly.
In early December 2016, during his pre-inaugural transition, Trump spoke at the Carrier plant in Indianapolis (where he had cajoled the company's defense-contractor parent to keep about 800 jobs). In an aside, he said:
And [companies] can leave from state to state and they can negotiate good deals with the different states and all of that. But leaving the country is going to be very, very difficult.
It was a little-noticed foreshadowing of the Foxconn episode. As reported by the Washington Post, Trump "personally negotiated the deal" with Foxconn chairman Terry Gou, who visited Trump last spring and also met the President's son-in-law and senior advisor Jared Kushner. The close relationship between Gou and Trump was evident at the July 26 unveiling of the deal in a White House event (at which news media questions were not allowed).
The politics of Foxconn's site location choice were as subtle as an armored vehicle manufacturer locating a factory in the Congressional District of a Defense Appropriations Subcommittee member. Wisconsin was a "blue wall" state that helped tip the Electoral College count for Trump. The southeastern Wisconsin area named as the plant's likely venue is represented by House Speaker Paul Ryan. And Wisconsin Governor Scott Walker, who staged a brief 2016 presidential campaign, has thrice been backed by the Koch brothers and is seeking a third term in 2018 despite a lagging state economy and a privatized economic development agency mired in recurring ethics controversies.
Ending "Buffalo Hunting" Before it Bankrupts Us
Ending megadeals won't be easy, but from both the left and the right, there are many voices arguing that the status quo is unsustainable. Here are my best current suggestions for fighting back.
Bi-State Cease-Fires: This promising model was pioneered by 17 prominent business leaders in the Kansas City metro area. Starting in 2011, they yelled publicly at (and negotiated privately with) Missouri and Kansas, declaring in a lucid analysis that their taxes were being forced up because the two states were allowing a small number of firms to game their incentive codes by hopping the state line, creating few if any new jobs, only new commuting routes, while pulling down eight-figure subsidy packages.
By 2014, they prevailed upon both Republican-led houses of the Missouri legislature and its then-Democratic governor to put a legally binding offer on the table of Kansas Governor Sam Brownback. If Kansas would formally reciprocate, Missouri offered to carve out the Kansas City metro area and deny tax breaks for intra-regional relocations. Tragically, Brownback allowed the offer to expire two years later, in August 2016.  
It was a setback to be sure, but a new, politically potent cease-fire model was born. Instead of "unilaterally disarming," Missouri created a model for mutual disarmament. Memphis, New York, Charlotte and many other metro areas could benefit from such an agreement.
Metro no-raid/cooperation systems: Two related models have long, successful track records. In the Denver and Dayton metro areas, as a condition of belonging to regional economic development promotion networks, local governments must agree: no job piracy and no sitting passively in that "prisoners' dilemma" jail cell if a company in a neighboring city indicates it might want to relocate.
Capping subsidies at $50,000 per job: Governments can also rein in their spending by simply capping the value of subsidies on a per-job basis. Many states already do that for specific programs. And the nations of the European Union limit what they call "aid intensity" (or the ratio between subsidies and private investment) in ways that are far smarter and stingier than American governments.
Public participation and process requirements: It's an area of reform that needs more study, but when taxpayers have more time—or even a say at the ballot box—good things can happen. After a Good Jobs New York project won advance-notice and deal-disclosure requirements from the New York City Industrial Development Agency, for example, the monthly board meetings turned into lively sessions at which some deals were tabled and others were delayed to be improved. Voters in various cities with proposed stadiums have enacted safeguards or defeated bond deals or tax hikes.
Use GASB statement 77 data: A new rule from the Governmental Accounting Standards Board—Statement No. 77 on Tax Abatement Disclosures—now requires most state and localities to disclose for the very first time how much revenue they lose to economic development tax break programs. The data has only recently started to arrive and in most places, it will first appear in late 2017 and early 2018.
Let's put "buffalo hunting," the profession's euphemism for these risky megadeals, in a museum where it belongs.