Walking down a wide alleyway Friday near the University of Washington, I came upon an upon an unusual sight. In this gritty stretch of loading docks near University Avenue was a scene sprung out of an Ikea catalogue: a long beige couch, funky plastic egg-shaped chairs, lush indoor plants, bouquets of flowers, and a bookshelf with puzzles and Pictionary.
This was an outdoor living room, plenty spacious for a dozen people to hang out. Passersby munched on free sandwiches, chatted, flipped through magazines. One guy blasted Michael Jackson on his iPod. Another dozed quietly in the corner. Their backpacks were laden with tents and camping supplies, their rolling suitcases had umbrellas and clothes strapped to the outside. It was clear that most people here were homeless.
In fact, this was a tiny park that offered—for one day only—something that Seattle's homeless rarely encounter: a welcoming public space. Called "(The) Living Room Project," this installation by two local designers brought an outdoor living room to a homeless services center in the middle of a bustling neighborhood.
Right away, this parklet forced visitors to think about what their own living room means to them. Maybe that's a space where you gather with friends, watch T.V., dance to music, or just lie on the floor and stare at the ceiling. Whatever you do, consider yourself lucky if you even have a living room—especially if you live in Seattle. As housing prices soar here, this once standard feature is becoming a precious commodity; new micro-studio apartment buildings don't leave space for this luxury. At 360 square feet, (The) Living Room Project was more than twice the size of some entire apartments springing up nearby.
"I wish I had a living room like this," says Steven Schmidt, who's 54 and has been living on the streets of Seattle for over 20 years. He gets by just on Social Security disability payments and panhandling. He has a missing rib, nerve damage, and neuropathy, which prevents him from standing comfortably for more than 30 minutes at a time. His homeless services case manager has assured him he'll get Section 8 housing soon, but finding a place for his pet ferret has proved an obstacle. On a normal weekday, he says, he'd likely ask for change outside of a grocery store. But the amenities at (The) Living Room Project on a sunny day had proved alluring.
***
In the midst of the biggest boom since the Yukon Gold Rush, the Emerald City is currently the fastest growing city in the United States. House prices routinely climb an average of 10 percent annually, as have rent prices in some popular neighborhoods.
Last month, the research arm of Seattle-based real estate company Zillow published a report that a further 5 percent annual increase in rents would send 258 more people into homelessness—adding to the current citywide homeless population, estimated at 12,240. That gives Seattle the third largest homeless population in the U.S., behind much-larger Los Angeles and New York City.
Nearly two years ago, Seattle declared an official state of emergency over homelessness, which continues today. In that time, the city has added shelters, authorized encampments and RV parks, and attempted to increase the amount of temporary housing available.
The crisis continues despite an unprecedented building boom. New apartment buildings materialize out of the ether and single-family homes are regularly replaced by clusters of townhouses, but supply can't seem to catch up with demand. Indeed, for more and more residents, the very concept of "living room" is an existential question.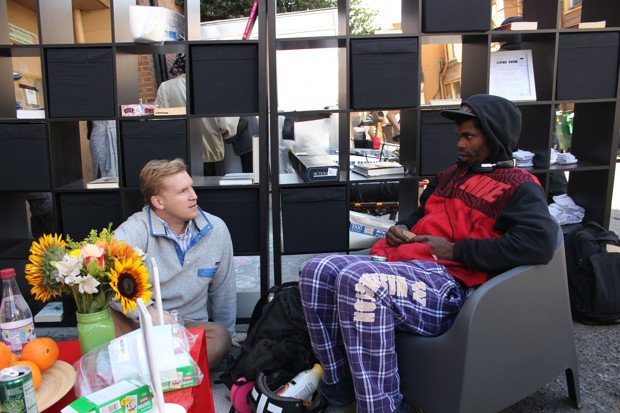 That anxiety is what project creators—planner Sloan Dawson and landscape architect Sara Zewde—hoped to alleviate. "Humans need a place to be—to rest, if nothing else, to zone out," Dawson says.  
That's especially hard when the homeless face a constant threat of eviction. A controversial city policy calls for "sweeping" illegal encampments in an effort to push the homeless into shelters, where they can receive social services. One outreach worker told me that (The) Living Room Project reminded him of a scene at a popular camping spot under the West Seattle Bridge, where he had observed a few couches pulled together to create a common space among the tents. That very encampment is the next target of sweeps.
To build (The) Living Room Project, which was part of the global Park(ing) Day celebration and Seattle Design Festival, Dawson and Zewde secured support from King County's 4Culture office and the Seattle Office of Arts and Culture, and partnered with Facing Homelessness, a nonprofit that offers free socks, tents, sleeping bags, tarps, and winter coats during the day. Facing Homelessness shares a storefront with the People's Harm Reduction Alliance, a needle exchange program. Both organizations did a brisk business offering warm socks and clean needles during parklet's brief existence.
"This is a beautiful opportunity for people living inside and outside to gather and get to know each other," says Sara Steilan, community director of Facing Homelessness.
A city employee, who asked to remain anonymous because she's not authorized to speak with the media, said that tactical urbanism experiments like (The) Living Room Project could help inform city policy going forward. "This was nice for a day, but what does everybody do the other days?" she asked. "What do we do on the rainy or snowy days that aren't so beautiful like this one?" Seattle has two new 24-hour shelters, which she suggested are starting to address that problem.
Other spaces, like public libraries, have absorbed some of the daytime need for the homeless, but they're no substitute for a good old-fashioned living room. "The library isn't designed to be a living room, it's a library," Dawson says. "The living room is a distinct space in the home. When you're not housed, there is no place to be private."
One of Seattle's housed residents who came by was impressed with what he saw. "It's a lot nicer than my living room," said 26-year-old barista Jordan Iverson. "We've got three people living in a two-bedroom apartment, and even though we moved there 13 months ago, it looks like we just moved in." But he added a crucial caveat: "Our living room has a roof over it. That's a big difference.